Proposals worked up with Aecom and 5th Studio will ramp up housing numbers by 21% at Abba Arena site
Outline plans to intensify housing delivery on part of the Olympic Park site are set to be approved by the London Legacy Development Corporation.
A new masterplan for the Pudding Mill Lane area at the south of the park – drawn up for LLDC by Gort Scott, 5th Studio and Aecom – proposes delivering 116,553sq m of new residential floorspace on the 5.1ha plot in three courtyard blocks and a 25-storey central tower.
Papers provided to members of the LLDC's planning applications committee acknowledge that the masterplan does not contain a fixed number of new units. But they suggest the figure would be 948, based on the amount of floorspace and requirements for a mix of housing sizes.
The site currently hosts the temporary Abba Arena, where the Swedish pop legends' live show featuring "digital avatars" is being staged. It is also home to a Snoozebox temporary hotel.
Under the 2012 masterplan for providing new homes at Olympic Park, the Pudding Mill Lane and neighbouring Bridgewater Triangle sites were earmarked to provide around 1,258 new homes.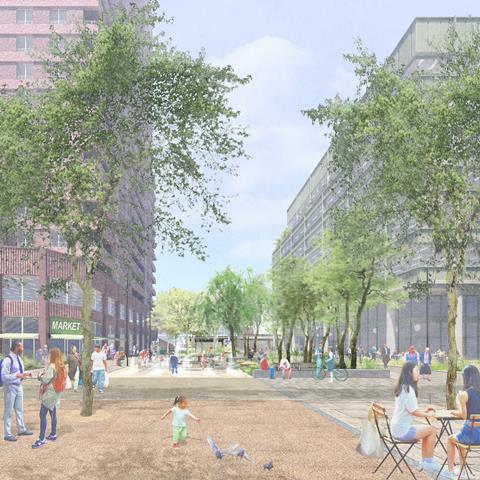 However subsequent revisions have already seen 2019 Stirling Prize winner Mikhail Riches granted outline consent for 575 new homes at Bridgewater Triangle earlier this year. Based on the LLDC's indications, those homes coupled with 948 new homes under the Gort Scott masterplan would represent a 21% increase on original housing-number projections for the sites, which are collectively known as "planning delivery zone 8".
A report to next week's planning applications committee meeting said 45% of the new homes at Pudding Mill Lane would be "affordable", measured by habitable room. The masterplan proposal would also permit 51,738sq m of new commercial space and 273sq m of community space.
Planning officers said the increased housing numbers would contribute to offsetting homes that will not now be delivered on other parts of the Olympic Park because of the creation of the UCL East campus and Stratford Waterfront developments.
Recommending the masterplan proposals for approval, officers said Gort Scott's plans would deliver a significant amount of housing that would be high-quality.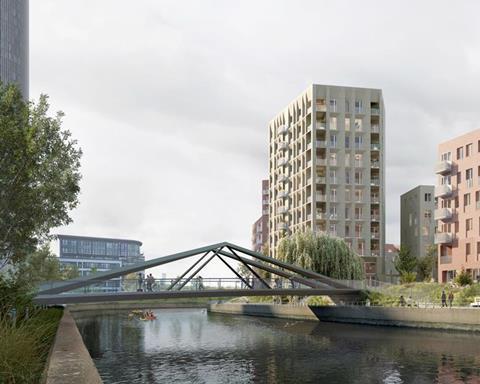 They added that members of the LLDC quality-review panel were "generally supportive" of the proposals, but had suggested that 20 storeys would be a more appropriate height for the central tower, because it would represent a better transition with prevailing building heights in the neighbourhood.
Officers also acknowledged that there would be overshadowing in the residential courtyards under Gort Scott's illustrative scheme.
However they said the impacts of the overshadowing were acceptable on balance when taken in the context of the panel's "clear direction for a tighter grain of buildings and streets" in the new residential neighbourhoods.
The LLDC's planning applications committee meets to consider the masterplan proposal at 6 pm on 25 October.