Opponents claim scheme is 'repeating mistakes of Garden Bridge fiasco'
The full extent of revisions to David Adjaye's National Holocaust Memorial has emerged with the publication of new planning documents reflecting changes to the controversial government-backed scheme.
Opposition to the proposals created by Adjaye Associates and Ron Arad for Victoria Tower Gardens – immediately south of the Houses of Parliament – prompted a pre-planning stages revision of the designers' scheme. Now a second wave of revisions has been submitted, three months after an application for the project was lodged.
Adjaye's main changes above ground relate to the height and footprint of the memorial's entrance pavilion. Below ground, the architect has reconfigured the layout of the memorial's learning centre, reducing its overall footprint but expanding a mezzanine level to maintain floorspace.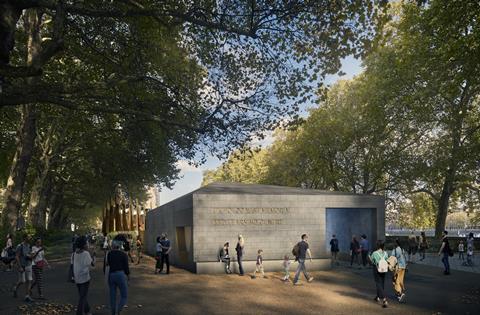 A design and access statement supporting the revised proposals said the new entrance pavilion aimed to be a "a lighter, more transparent element that enhances and harmonises with the existing gardens".
It added that the new design responded to "feedback received regarding the view from the south end of the site".
Other alterations include changes to the layout and perimeter of the memorial courtyard, which the design and access statement said were intended to "adapt to the new entrance pavilion design". The courtyard changes also include a reduction in the height of the boundary fence from 1.8m to 1.1m to allow a clearer view of the Buxton Memorial Fountain from Millbank.
The documents say the memorial's learning centre footprint has been "rationalised" by reducing the size of its basement footprint, pulling the building away from trees on the site and from the existing River Thames storm overflow sewer. An expanded mezzanine level keeps the learning centre's footprint at the same 3,258sq m of floorspace as the originally submitted proposals.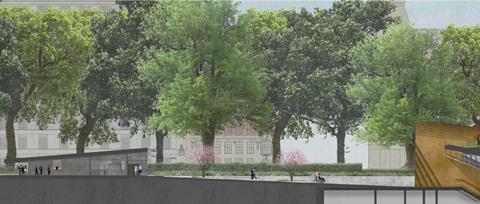 Bodies including Icomos – Unesco's International Council on Monuments and Sites, Historic England and Royal Parks objected to the originally submitted scheme saying it would cause "substantial harm" to the green space of Victoria Tower Gardens and to its contribution to the World Heritage Site centred on parliament and Westminster Abbey.
The Save Victoria Tower Gardens campaign group, of which architect Barbara Weiss is a prominent member, has been vociferous in challenging the proposals' impact.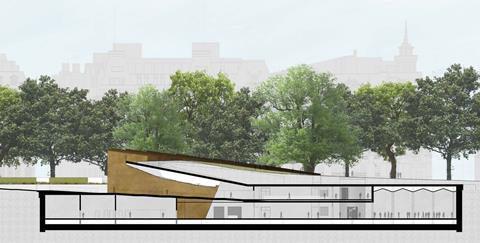 Weiss said the latest changes to the scheme were a "chaotic, piecemeal and expensive redesign" that not only failed to improve the scheme but made things worse.
"The 11th-hour changes underline how the whole project has been beset by confused architectural thinking," she said.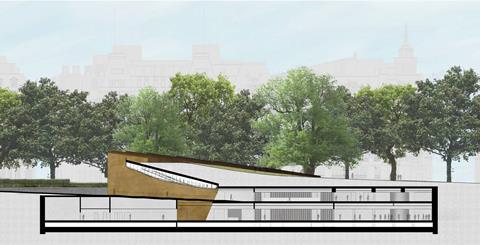 "That is displayed in the folly of deep tree root investigations being carried out only now – after this scheme has been resubmitted.
"This project is not learning from the Garden Bridge fiasco, it is repeating the same mistakes."
Westminster council has launched a fresh round of consultation on the proposals.