Minister declares two teams joint winners of Home of 2030 design competition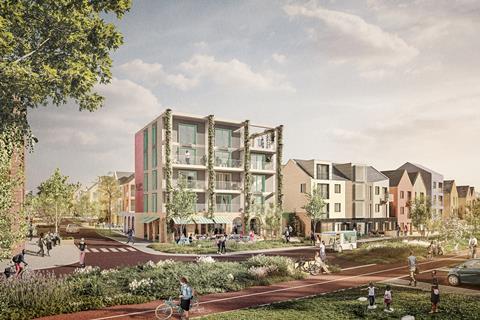 Homes England and its development partners are to meet all the finalists in the government's Home of 2030 competition to discuss their ideas.
Two joint winners in the RIBA-run competition were announced by housing minister Christopher Pincher, but all six shortlisted teams received the invitation to talks.
The contest, launched in March, asked architects, manufacturers and small businesses to come up with ideas for low-carbon homes that could be tailored to suit the UK's ageing population.
The winning projects are +Home, and Connector Housing. Connector Housing was designed by Openstudio with Hoare Lea, LDA Design and Gardiner & Theobald, while +Home was the work of Igloo Regeneration with Useful Projects, Expedition Engineers and Mawson Kerr.
The +Home scheme proposes community-led self-build homes that people can design themselves. Simple to build with affordable frames and components, the homes would be climate friendly and recyclable at the end of their use.
+Home
Connector Housing is a flexible and adaptable system for age-friendly, multi-generational housing and neighbourhoods. It proposes varying densities of houses and apartments, with a variety of site configurations, vertical heights, external appearances and internal layouts that can be adapted to respond to changing occupant needs.
Connector Housing
The other finalists were HLM Architects with Forever Home, Studio Open with Forest City, Outpost Architects with Janus House, and Change Building with Positive+ House.
Chair of the jury Peter Freeman, founder of Argent and newly appointed chair of Homes England, said: "We had an outstanding shortlist for the competition, and making the final selection was very difficult. Our two winners reflect the very best of British design.
"Connector Housing shows how good design can deliver the excellent performance and scalability demanded for the flexible home of the future around attractive communal gardens. +Home is leading the way with a fully digitised housing manufacturing process which delivers a bespoke appearance, diverse aesthetics and mix of uses".
Pincher said the joint winners "really captured the judges' imaginations – their designs show the way housing in this country can be reimagined".
The other finalist teams were:
• Perpendicular Architecture, Humblebee and Changebuilding, with a team including EcoSystems Exterior Architecture and Arup. Their proposal named Positive+ House seeks to maximise the positive contribution to society and the environment, and uses the latest in industry digitalisation and a distributed offsite manufacturing.
• HLM Architects with University of Sheffield Advanced Manufacturing Research Centre (AMRC), Mid Group, Hydrock and Greenbuild. The team proposed a 'Forever Home', with a universal manufacturing platform that enables flexible, affordable, and sustainable homes that perpetuate a circular economy.
• Outpost with Propagating Dan, Strawworks, Gaia Group, Max Fordham, Milk, Momentum and EcoCocon. Their proposal, Janus, combines traditional bio-based construction materials with modern 21st century techniques to create homes that are designed for a post fossil fuel age.
• Studio Ooen with Elementa Consulting. Their proposal is a community-focused 'Forest City' design, with a central garden shared between four homes which are built from locally sourced materials and with modern construction methods. At end of life, homes will be disassembled, and components reused and recycled.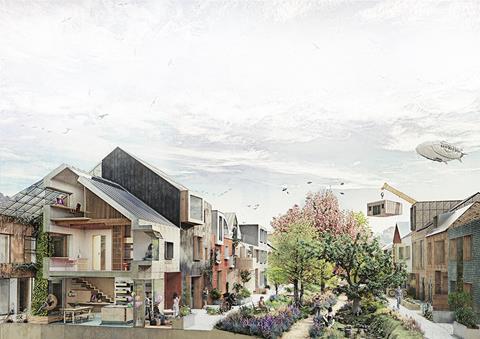 HLM's head of design, Philip Watson, said: "We are greatly looking forward to working with Homes England to develop this new 'Forever Home' concept, which we feel could make a huge impact in our future. Across the UK, there is a strong social imperative to build more homes wherever they are needed and not just in areas where land values are high. Our design focus is shifting as we saw the need to address the quality of these new low-rise homes to improve environmental sustainability and placemaking, while helping to build stronger, more resilient communities."