Heritage boss says Dan Meis and Pattern's proposals would up the ante for World Heritage Site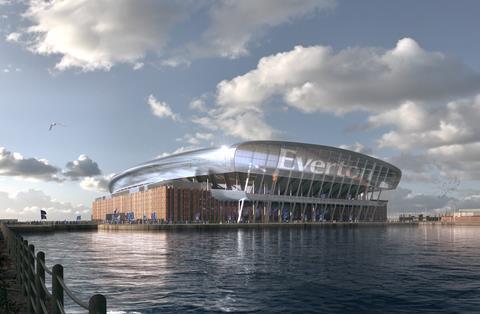 Dan Meis and Pattern Design's proposals for a new Liverpool waterfront stadium to house Everton FC are likely to weigh against the city's case for retaining its Unesco World Heritage Site status, a city official has warned.
The architects' proposals to build a new home for the premiership side at Bramley-Moore Dock went out to public consultation in July and are expected to be lodged for planning in the coming weeks.
But while Everton has insisted the venue will be "unique yet respectful" of Liverpool's Unesco status – a status that has been hanging in the balance in recent years – the chair of the city's World Heritage Site steering group has said he believes the stadium will up the ante for the city.
Mark Kitts told a regeneration conference in the city last week that it may not be possible for Liverpool to support its development ambitions and hold on to its Unesco status – and that the stadium plans were unlikely to help.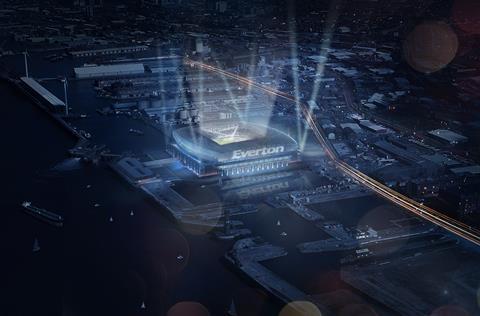 "There is to a degree an incompatibility between the Unesco rule book and the protection and management of Liverpool World Heritage Site, versus the need to deliver economic growth, regeneration, social inclusion and inclusive growth, which is very very important," he said.
According to the Liverpool Echo, Kitts said the risk to the status – bestowed in 2004 – would "grow a little more" when Everton's planning application for the stadium was lodged.
Kitts told the Regen 2019 session that as chair of the steering group he wanted to find a "middle ground" between allowing new development in the city and keeping its Unesco status.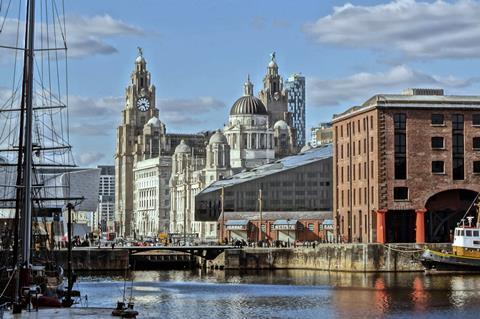 Dan Meis has been working with Everton on the stadium project since 2014. He has described the Bramley-Moore Dock location as "truly inspired", despite the constraints of the waterfront's Unesco World Heritage Site status.
Sheppard Robson was also appointed early on to help Meis with the UK planning system and building regs. The practice was not involved in any designs and is no longer working on the project.
Pattern Design was subsequently added to the project team for its sports experience. The practice designed eight venues for the Pan-Am Games and also has experience of sports venues in Qatar, Azerbaijan and the UK.
The sports specialist, which is working on the Qatar World Cup, was brought in for the design phase of the 52,000-seat project which will see the Toffees move from Goodison Park to Liverpool waterfront after 130 years.
The Bramley-Moore Dock plans involve a deal struck by the Premiership club with developer Peel Holdings to give Everton a 200-year lease on the site, which is conditional on gaining planning consent.