Planners approve taller tower for architect's £44m Gradel Quadrangles project
David Kohn Architects' competition-winning proposals for the expansion of New College, Oxford, have entered the construction phase and are scheduled for completion by September 2023, the practice has said.
Kohn won an invited competition for the project – to be known as the Gradel Quadrangles, after the £44m scheme's principal donor, investment manager Chris Gradel – in 2015. Oxford city council granted planning permission for the project in 2018, when its value was given as £35m.
This month Kohn said the project started on site in March this year and main contractor Sir Robert McAlpine was targeting completion in just under two years' time.
New College was home to the first purpose-designed quadrangle in the city, which was built in 1403.
The Gradel Quadrangles will deliver new student accommodation, study space, a music hall and new facilities for the adjacent boys' preparatory school, New College School, and a 21.8m tower and gatehouse. The new buildings will create three new south-facing quads.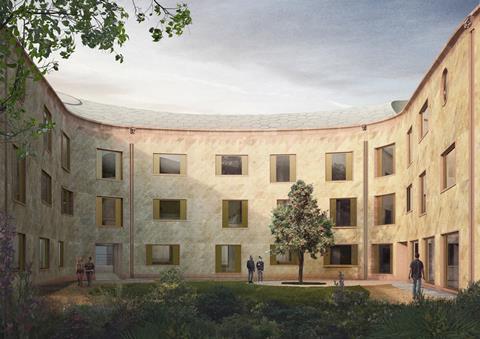 Kohn said the tower approved by planners for the scheme was "much taller" than the one proposed in the practice's competition-winning proposal, and that the final version would offer an incredible view and "take its place among the dreaming spires" of Oxford.
"The Gradel Quadrangles project is highly significant for New College as it achieves a long-term ambition to house all undergraduate students in college-owned accommodation, and makes use of the last remaining central Oxford site owned by the college," Kohn said.
"For our practice, it demonstrates our design approach at an urban scale and within a very complex site.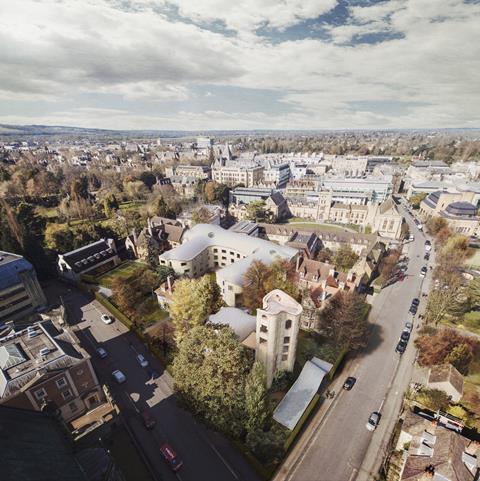 "We have been fortunate to have both an ambitious client and an excellent team, and are convinced Sir Robert McAlpine will deliver on our shared vision that looks to the long term. The leafy site represented the edge of the city in the 19th century, being populated by large suburban villas and gardens.
"Our design places three new buildings amongst the villas to transform the site into a collegiate campus, with three south-facing quads weaving landscape and building together to make an environment conducive to study and community."
Project team
Architect: David Kohn Architects
Project manager: Ridge
Lanscape architect: Todd Longstaffe-Gowan
Planning consultant: Turnberry
Structural engineer: Price and Myers
M&E consultant: Skelly & Couch
Quantity surveyor: Arcadis
Principal designer: Oxford Architects
Theatre consultant: Charcoalblue
Main contractor: Sir Robert McAlpine
Delivery architect: Purcell