Knock-back for Docklands build-to-rent and student-housing proposals
Councillors in east London have flown in the face of advice from planning officers and rejected proposals to replace their current town hall with a scheme that includes two SimpsonHaugh-designed residential towers.
Tower Hamlets Council's strategic development committee voted 5:2 to refuse the practice's designs for a 36-storey student-housing block and a 30-storey build-to-rent block on the site of the borough's Mulberry Place headquarters and a neighbouring office building in Blackwall.
Tower Hamlets is due to move out of its current town hall, which is leased, and into a new base at the grade II-listed former Royal London Hospital building in Whitechapel, which has been converted to designs by AHMM.
Last week councillors dismissed SimpsonHaugh's proposals as "bulky" and a negative impact on the nearby Naval Row Conservation Area, which includes a stretch of the grade II-listed East India Dock wall.
They also expressed concerns about the mix of affordable housing proposed under the scheme, which was drawn up for developer EID, which is a subsidiary of LaSalle Investment Management.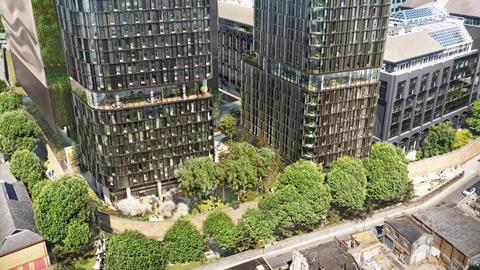 The rejected application proposed a total of 716 student rooms and 150 apartments, and also sought outline consent for two further buildings: a 35,000sq m data centre and a smaller building featuring 5,940sq m of commercial space and up to 660sq m of space for community use.
At their meeting, strategic development committee members appeared to decide to reject the proposals without discussing the scheme's pros and cons, prompting planning officers to ask what their reasons for rejection would be.
Abdul Wahid, of Tower Hamlets' ruling Aspire Party – set up by elected mayor Lutfur Rahman, who returned to power in May's local elections – said the proposals were too "bulky" and out of keeping with the neighbourhood.
"I don't think the design fits in right with the character of the local area," he said. "It seems exceptionally dense.
"I believe it looks out of place within the conservation area and the grade II-listing that we have."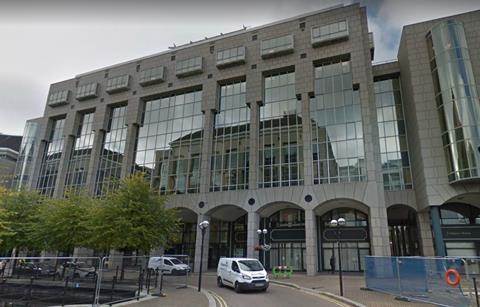 Fellow Aspire councillor Kabir Hussain questioned the mix of affordable rent and intermediate homes proposed by the developers. Officers' report to councillors had described the 50 proposed affordable units as "policy compliant", however they noted that there was an over-provision of one-bedroom flats in some tenures and an under-provision of two-bedroom flats.
Officers pledged to work up two grounds for refusal based on councillors' rejection, but warned the authority would find it "difficult" to defend the decision if it goes to appeal.
In their report recommending the plans for approval, officers had said SimpsonHaugh's tower proposals were of "high quality and interesting design" and would complement the surrounding built context.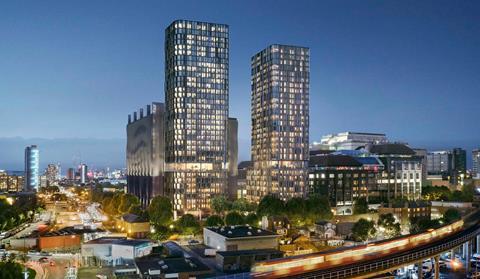 "The facade design strategy was inspired by the appearance and expression of the listed dock wall," they said.
"The design has also been informed by solar analysis of the buildings façades and uses a grid with series of horizontal and vertical fins, the depth of which varies in response to the need for solar shading. Overall, this approach produces a fine-grained appearance, with a warm tonal palette."
Officers said the tones selected for the blocks had been derived from those of the grade II-listed wall. East India Dock itself was filled in for the development of the current buildings.