Architects vow to push on with race to net zero despite frustration at UN climate talks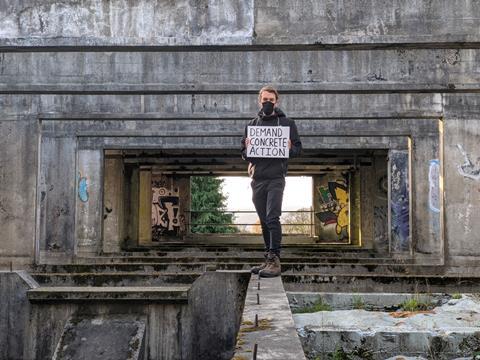 Architects Declare and Haworth Tompkins co-founder Steve Tompkins has sounded a rallying cry for the profession in the face of potentially crushing disappointment at the outcome of the COP26 climate talks.
He said the whole industry must take responsibility for understanding the issues we face and respond with action.
Tompkins tweeted his support for dRMM architectural assistant Kat Scott who is working with the Architects Climate Action Network (ACAN) and who tweeted at the weekend: "I hope the sense of disappointment and frustration post COP26 means more built environment professionals are inclined to give time, money or ideas to action groups like @archdeclare @LETI_London @ArchitectsCAN. We don't have time to compete, we need to collaborate – get involved."
I hope the sense of disappointment and frustration post COP26 means more built environment professionals are inclined to give time, money or ideas to action groups like @archdeclare @LETI_London @ArchitectsCAN. We don't have time to compete, we need to collaborate - get involved.

— Kat Scott (@KatAScott) November 14, 2021
Tompkins responded: "Too much pressure going through the same bunch of committed people. It's up to all professionals to understand what's at stake, take responsibility and step up now. Stronger together."
Scott added: "I'm not feeling surprised or defeated by COP26; by being involved in these groups I have real hope. We have the tools and knowledge to rapidly decarbonise and make the built environment ecologically regenerative. I know change is underway despite what our governments do.
"We can't afford to wait for policy, we are in a crisis. We have to be the change we need ourselves. And we keep campaigning for policy change all the while too regardless, shifting the Overton window together as much as we can. That's why we need more hands on deck."
Clara Bagenal George, from Elementa Consulting and the initiator of LETI (the London Energy Transformation Initiative), shared a similar sentiment in the Building Talks… Net Zero podcast, saying: "I just focus on the positivity of what we are trying to do together, and I don't go in the dark corner of despair."
Former RIBA president and HTA Design chief Ben Derbyshire praised the voluntary groups working for change in the built environment, a sector responsible for around 40% of global carbon emissions.
He said it felt hard not to "succumb to a sense of anti-climax" at the close of COP26.
"Progress may have been made at a geo-political level but it's difficult to see how that helps in an immediately practical way," he said.
"I keep thinking that development industry boardrooms must be full of people who care but just don't know what to do in the absence of meaningful mandates. We need more inspired political leadership underpinned by effective policy and regulation.
"We do our best with voluntary programmes like the excellent RIBA 2030 Climate Challenge. But so long as the government fails to pin zero carbon colours to its mast, in day-to-day practice the industry follows as if the action is somewhere else, for somebody else, in another time. Thank goodness for groups like LETI, Architects Declare, UKGBC and, yes, RIBA who understand that the time for action is now."
Studio Bark architect Tom Bennett, a member of ACAN who was arrested during an Extinction Rebellion protest in 2019, was in Glasgow to take part in the Global Day of Action demonstration.
He said his expectations had been low since all 25 previous conferences had failed to make a dent in global emissions.
"In some ways Glasgow felt like a re-do of Copenhagen, a hasty and watered-down pledge cobbled together by exhausted and somewhat irreconcilable delegates, and barely anything to tackle huge emissions globally by built environment," he said.
"A key sticking point is climate justice and a blank refusal by wealthy nations to own their historic responsibility for the situation. COP is a flawed process and would ideally be replaced by a global citizens' assembly.
"Until then, it falls to movements and civil society to make change at a community level and build political pressure at the scale of the nation state. Our climate is subject to tipping points and non-linear change. History shows that social and political change can also follow this characteristic. If a glimmer of hope remains, it will be found there."
ACAN supporters unfurled banners demanding action at various locations in Scotland on November 11, which the UN had designated built environment day at COP.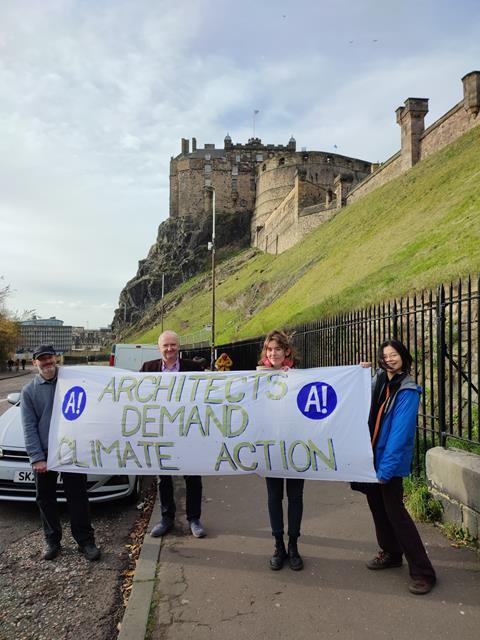 ACAN Scotland's Gloria Lo, who designed the group's Architecture of Crisis exhibition at New Glasgow Society, said she had mixed feelings having spent time in both COP's official blue zone and the green zone where industry and activist events took place.
"On the one hand, I feel even more powerless hearing the facts and challenges we face and the enormity of what we are dealing with," she said, adding that the human race had backed itself into a corner.
"There is always more that can be done," she said. "Take technological improvements such as tracing supplier sustainability in real time or monitoring deforestation with satellites."
She warned against writing off everything the government said as "greenwash" and called for a "wider cultural transformation".
"We need both a top-down and bottom-up approach. Everyone can do more – together."
Julie Godefroy, head of sustainability at CIBSE and one of the co-founders of LETI, said she was disappointed but that it wouldn't stop them as they launched a survey on net zero defiinitions.
"As we take a breather and reflect on the last few weeks, with COP26 not quite delivering on what we had hoped, now more than ever we need to rally together and provide clarity on what the built environment needs to do," she said.
"A big part of this is clarity on the terminology and details of what we mean by net zero carbon. CIBSE and LETI have been working together on this topic and are now carrying out a big engagement survey, to make sure the definitions are applied consistently in as many real-life situations are possible, and that they deliver the right outcomes."
You can complete the survey here. The deadline is November 28.