Joint bid with Toronto practice beats teams featuring Renzo Piano Building Workshop, BIG and Wilkinson Eyre
David Chipperfield Architects and Toronto-based Zeidler Architecture have won a design competition to create new administrative space for the Canadian parliament in Ottawa.
The practices beat rival bids for the project that included shortlisted teams featuring Renzo Piano Building Workshop, Bjarke Ingels Group and Wilkinson Eyre.
The competition called for proposals to redevelop a prominent urban block opposite Canada's Gothic Revival parliament building to provide office space for the Senate and the House of Commons. Other requirements were allowing for the future consolidation of parliamentary accommodation, including space for the Library of Parliament.
The project site brings together 11 buildings of varying size and condition with "several layers" of heritage designation on the block, which is also known as the "fourth side" of Parliament Square. The block is also due to host a new building and square called the Indigenous Peoples' Space that will promote dialogue between parliamentarians, the indigenous community and the wider public. It is not part of the competition.
Chipperfield and Zeidler said their proposals were "inspired by indigenous values of respect and of good stewardship" and would retain most of the existing structures on site, combining them with new low-carbon, efficient buildings.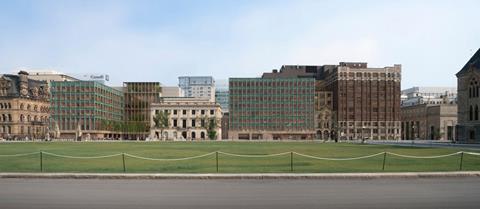 David Chipperfield said the practice had sought to develop an urban and architectural response that was "both respectful and radical", and which embraced the past at the same time as looking to the future.
"We are grateful to the jury for recognising the values of our scheme," he said. "It has been a rigorous, stimulating and enjoyable competition and we look forward to working with the government of Canada on the next stage of the process."
Vaidila Banelis, senior partner at Zeidler, said it was a privilege to be able to craft a design on a site with such national significance.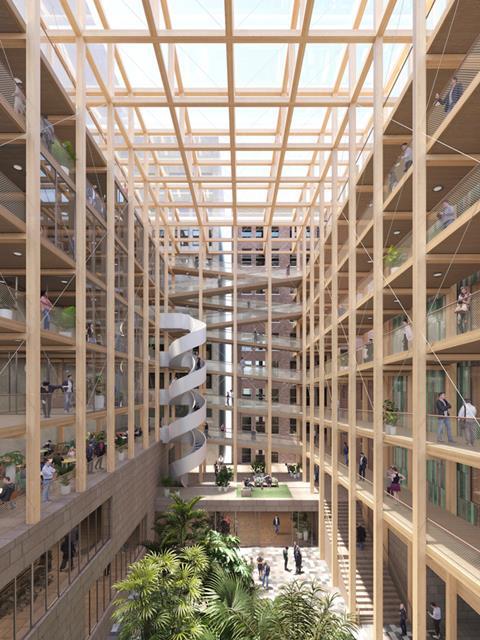 "This is a rare opportunity, and our entire team understand the responsibility of representing the Canadian government and the Canadian people," he said.
"Our vision is purpose-led and people-led, uniquely Canadian and contemporary in style for a nation that is confident in itself and its future."
The Canadian government said Public Services and Procurement Canada would now enter into negotiations with the Zeidler/Chipperfield team to establish a contract to allow the the design concept to be further refined ahead of construction work starting in an anticipated 18 months to two years.