RIBA survey finds 31% of practices expect workloads to increase, though last year's upwards trend has slowed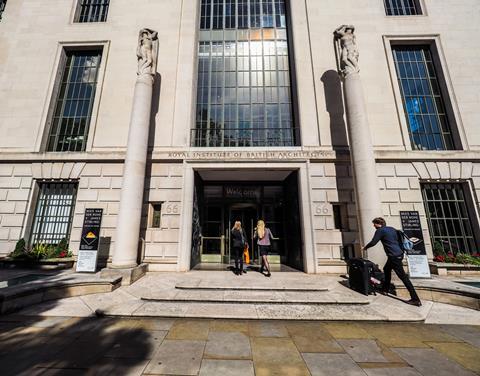 Architects remain positive about future workloads over the coming three months despite a flattening of the optimistic trend seen at the end of last year.
RIBA's Future Trends survey for January found 31% of practices expect workloads to increase, while 55% expect them to stay the same and just 13% foresee a decrease. It found that all practice sizes are confident about future workloads.
But with the survey returning the same index for workload expectations as December, +18, it shows that the surge in optimism seen before Christmas has slowed.
RIBA head of economic research and analysis Adrian Malleson said that supply challenges including shortages of materials, tradespeople and professionals were putting a brake on growth.
"Inflationary pressures are mounting, and escalating costs and reduced availability of construction materials continues to impact project delivery.
"Some practices even report clients abandoning projects in the face of rapidly inflating product costs."
But he added that January's survey was a strong start to the year and that architects were confident about the coming months.
"After two years of unprecedented swings in the monthly workload predictions, some stability has returned to the sector, and we can see workloads are continuing to increase.
"The commentary received in January paints a positive picture, as practices report strong levels of enquiries and new work coming in."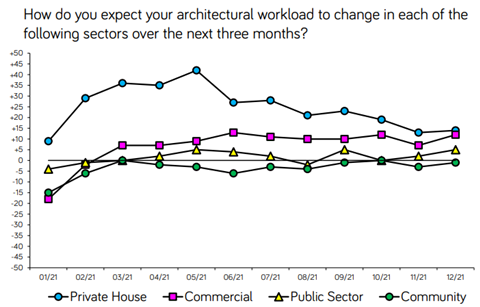 Private housing was the sector expected to grow the most over the next three months, with a workload expectation balance of +20, up six points from December.
But it was the only sector surveyed which saw a rise. The commercial sector fell by six points to +6 after a five-point rise in December.
The public sector fell back to zero after rising by three points in the last survey, and the community sector stayed put on December's figure of -1 following a two-point rise last time.
Expectations of future staffing levels were more positive, however, with a one-point increase over December's index. January's survey found 14% of practices expect to employ more permanent staff over the next three months, 5% expect to employ fewer and 81% expect headcounts to stay the same.
Staffing expectations were highest among medium and large practices with more than 11 staff, while only 10% of smaller practices are looking for more staff.
Regionally, confidence was broadly positive. London saw a nine-point rise since December to +16 last month. The north of England saw an even greater increase, rising by 12 points to +40, while the south of England surged by +18.
But confidence has taken a turn for the worse in the Midlands and East Anglia, which saw its index plunge by 20 points over Christmas to -5.