Architects need to get in on the act, says Perkins & Will chief as British Land and Alinea back the sector
Developer British Land and consultant Alinea have both said they are targeting life sciences as a sector with strong post-pandemic growth potential.
Alinea's founding partner Mark Lacey said it was looking at doubling business in the market. "Life sciences is going to be massive for London," he said. "King's Cross is a bit of bullseye for life sciences because of the Francis Crick Institute, the Wellcome Trust and the universities around there."
British Land also said it is targeting tenants from life sciences as well as moving into the logistics market as it looks to new areas of business to plot a recovery from the covid-19 pandemic.
It comes as a study earlier this month by Perkins & Will, Savills and Blackstock Consulting predicted investment in the sector would break records this year, fuelling a related boom in development.
Firms in the sector, which includes drugmakers, medical equipment manufacturers and diagnostics, raised £10.6bn in the first quarter of this year - halfway to the total for the whole of the previous year.
Perkins & Will's managing director, Steven Charlton, said: "The news that British Land, which is known for offices and retail, is diversifying its portfolio into life sciences following revenue loss is further evidence that investor interest growing."
He added that demand for suitable space was rapidly outpacing supply. "Because laboratories are complex workspaces with unique requirements, architects have a crucial role to play in creating spaces that can house future innovators and attract and retain the highly skilled talent that scientific progress depends on," he said.
AHMM is one of the architects getting in on the action. Its £1bn 10-storey pharma centre in King's Cross for Precis Group was granted planning in March.
British Land is best known for being behind a swathe of high-profile office buildings in the City in recent years including Hopkins' recently completed 100 Liverpool Street scheme at Broadgate as well as RSHP's Cheesegrater tower, which it sold four years ago to a Chinese firm for more than £1bn.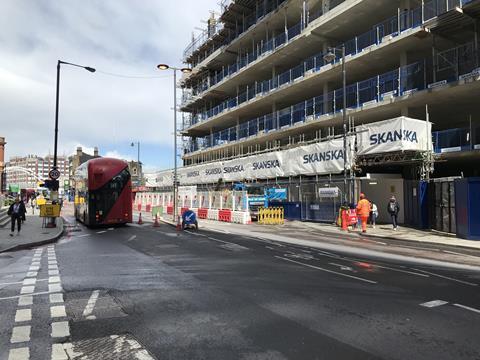 It is also behind a series of so-called campuses – mixed-use hubs – across London including sites at Paddington, Broadgate and Euston as well as a huge mixed-use scheme at Canada Water.
But the firm, which earlier this year got the green light for a 37-storey office block at 2-3 Finsbury Avenue designed by 3XN, said it has begun moving into new sectors after the pandemic cut the value of its portfolio by nearly 11% in the year to March while only 71% of its expected rent in the retail sector was collected during the period.
British Land said its campuses now account for nearly 90% of its offices portfolio and added: "As the nature of demand changes, we are well placed to target successful businesses in innovative growth sectors as we have done successfully at Broadgate. One clear opportunity is in life sciences at Regent's Place, benefiting from its location in the Knowledge Quarter."
The Knowledge Quarter, the area around King's Cross, the Euston Road and Bloomsbury and which is home to the Wellcome Trust and the Francis Crick Institute by HOK and PLP, is being tipped as the capital's future hub for the life sciences industry.
New chief executive Simon Carter, who took over from long-running boss Chris Grigg late last year, added: "At Canada Water our planning permission is deliberately flexible, enabling us to deliver a range of uses aligned to growth and long-term trends."
He said these included life sciences, healthcare, senior living and higher education with TEDI-London, a partnership between King's College London, Arizona State University and UNSW Sydney, signing up to move into a new campus at the site.
British Land said enabling works at Allies & Morrison's £3.3bn Canada Water development had begun with main construction work starting on the first three buildings later this year after it and Homes England agreed a deal which will see the government's housing agency provide a £100m loan for infrastructure works.
The firm has also bought its first logistics warehouse, a 216,000 sq ft warehouse in Enfield which it said it can expand.
It added that it has splashed out £197m on retail parks, including the A1 Retail Park in Biggleswade, Bedfordshire, with these now accounting for more than half of its retail portfolio.
It said: "These are increasingly preferred by retailers, because they are affordable and support an online offer by facilitating click and collect, returns and ship from store. They are also preferred by business which are more online resilient, including discount food and homeware retailers."
British Land said its £350m Norton Folgate mixed-use scheme in Shoreditch, which was designed by a team of architects led by AHMM and started on site last year, is due to complete by the third quarter of 2023. It gave no date when the tower at 2-3 Finsbury Avenue would begin. AHMM's £330m 1 Broadgate scheme, it added, is due to finish by the middle of 2025.