London mayor agreed to postpone decision on scheme after request from developer less than two weeks before scheduled hearing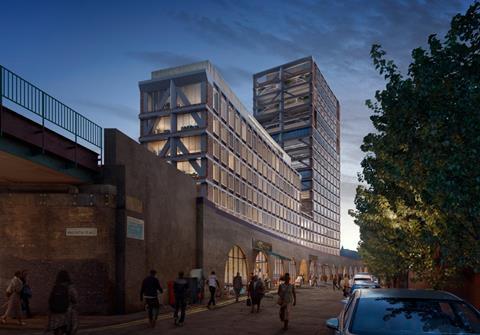 Adjaye Associates has been told to rethink its designs for a 20-storey office tower in Brixton less than two weeks before the mayor of London Sadiq Khan was due to make a decision on the scheme.
Developer Hondo Enterprises instructed the practice to go back to the drawing board following the publication of a damning appraisal of the plans by Historic England and local campaigners.
The 98m-tall block, earmarked for a site on Pope's Road overlooking Brixton's historic Electric Avenue market, had been approved by Lambeth council by four votes to three in 2020. But it has stirred controversy due to its scale and prominent setting in the centre of Brixton, a predominantly low-rise area.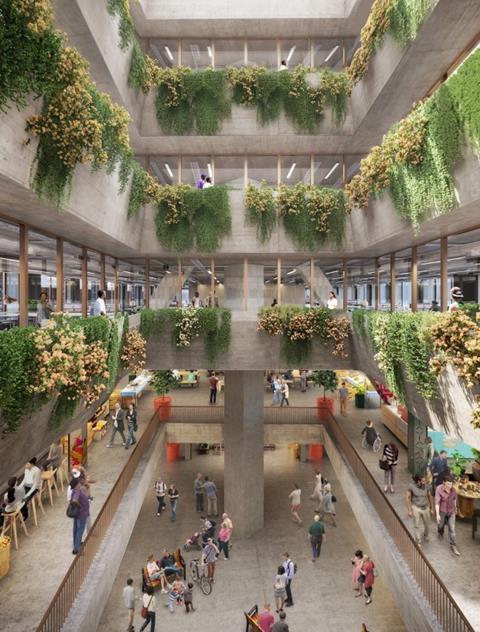 Khan had said he would let the plans proceed, but backtracked on this position in 2021 when he announced he would be stepping in to take a second look at the scheme following an appeal by campaigners.
The mayor had been due to decide on the application this Friday, but the Greater London Authority announced that this hearing has been postponed following a request from the applicant on 31 May.
A statement on the GLA's website said that "significant concerns" had been raised by Historic England and other which would "require commensurate changes" to be overcome. It added that "re-engagement should involve the local community as well as statutory bodies".
Nearly 2,000 objections by members of the public have been posted on the scheme's planning application against 264 comments in support.
In addition, around 7,000 local residents signed a petition against the scheme with opponents also including the Victorian Society, the Brixton society and local Labour MP Helen Hayes.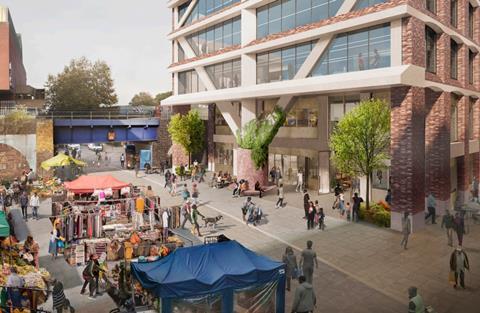 In an excoriating statement published last week, Historic England inspector of historic buildings and areas Alex Bowring said the proposals had demonstrated a "clear disregard" for London planning policy which states that tall buildings are required to avoid harm to local heritage assets.
Bowring said the block, by being far larger than any others in Brixton, would become a focal point in many views and cause "far-reaching" harm to Brixton's "distinctive local character".
He added that its scale and "assertive" design means it would "loom aggressively" over Electric Avenue and block views out of the market street, while "subjugating" the Church of St Matthew and Budd Mausoleum, both of which are grade II*-listed.
Bowring also highlighted a modelling exercise carried out by Lambeth council officers which found the scheme would be at least 38m taller than what the site could "reasonably accommodate".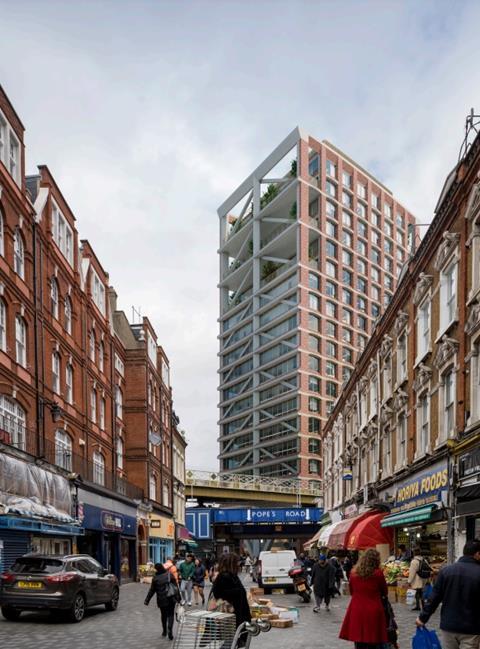 Describing the design as "alien" to the surrounding townscape, he concluded that it had failed to "respond positively to context" and had instead been "determined principally by a desire to provide a specific quantum of commercial floorspace".
Meanwhile, Danai Nardi of local campaign group Fight The Tower said Hondo's tower was the "biggest attempt yet" at gentrifying Brixton and would drive out small scale organisations and traders.
Nardi added: "We are sick of schemes being supposedly designed to enhance our communities but doing the exact opposite.
"The Windrush generation and the people who have made Brixton what it is today have been marginalised and priced out of Brixton."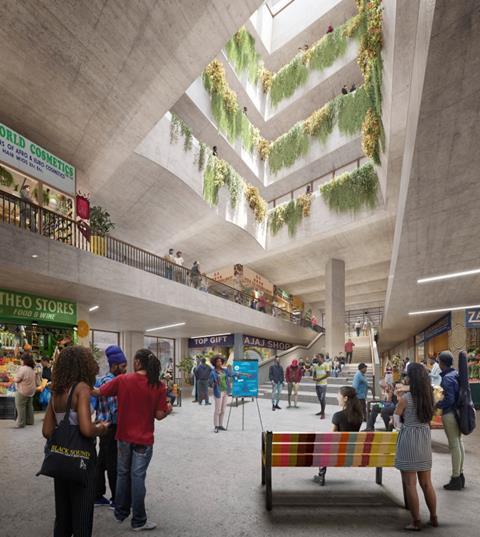 And another campaigner, civil engineering student Tsiresy Domingos, said the office tower would draw in predominantly middle-class people who then inflate the rents and property prices.
"Instead, what we need is affordable housing, rent controls and investments in local businesses that can preserve and uplift our local communities," Domingos said.
The GLA said a new date for the hearing on the scheme would be given in due course.
A spokesperson for Hondo said: "We're committed to delivering a scheme at Pope's Road which creates the benefits and opportunities the wider community deserve, which is why we're working with the GLA to refine our plans."
Adjaye Associates have been contacted for comment.