Practice reaches milestone in £12m transformation of art deco landmark
Interrobang Architecture and Engineering has completed the first apartments in its £12m residential conversion of west London art deco landmark the Hoover Building.
The grade II* listed structure, designed by Wallis, Gilbert & Partners in 1931, was the vacuum cleaner firm's UK headquarters and manufacturing plant until the 1980s and is renowned for its Egyptian-themed design.
While parts of the Western Avenue factory site were redeveloped by supermarket giant Tesco in the 1990s, the main building was retained and updated as office accommodation – but is now being converted and extended as a development of 66 flats.
Interrobang said its comprehensive renovation focused on a careful conservation of the building's historic fabric and insertion of a new timber structure to minimise the increase in weight while maximising the number of new homes that could be created.
It said a mezzanine had been formed within the double height ground floor, creating 14 maisonettes that benefited from the full height refurbished Crittall steel windows.
The building's original sweeping staircase leads to 21 flats on the first floor while the remaining homes are all accessed from the second floor.
Interrobang's scheme for client level IDM developments introduces 12 lofts at the new third floor level, each of which has its own spiral-stair entrance. The two towers that bookend the main building incorporate maisonettes that utilise original listed staircases.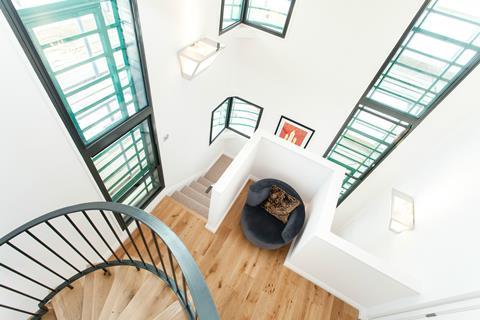 The practice said it had refurbished and reused many of the building's original art deco features.
"The building's original colour scheme is celebrated in new art deco style corridors with green interiors and high waisted dado rails," it said.
"The light fittings, grand staircases with wrought-iron bannisters and terrazzo lobby floors have all been protected and restored. The rich heritage of the façade is poised against the modern internal features including the latest models of Hoover appliances fitted within all apartments."
Show flats at the development are now finished, with the entire scheme scheduled to complete in March.
Interrobang was founded in 2015 and is a transdisciplinary architecture and engineering practice within Webb & Yates. It is led by Maria Smith.