Rogue developers get to halfway stage in court-ordered rebuild of north-west London boozer
Builders working to recreate a north-west London pub that was demolished by rogue developers keen to pre-empt the building's expected listing have reached the half way stage.
Government heritage adviser Historic England was poised to award the 1920s Carlton Tavern in Kilburn protected status when developer CLTX largely demolished the building in a single day at Easter 2015.
The firm, whose sole director was Tel Aviv-based businessman Ori Calif, had been refused planning permission to demolish the building legally and replace it with a Brooks Murray-designed scheme including a new "pub" and 10 flats on the Carlton Vale site.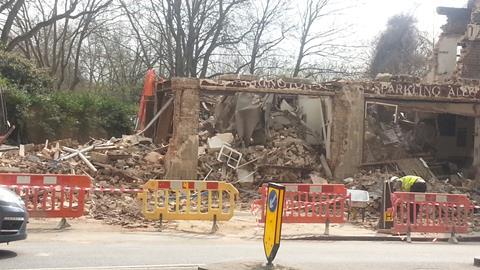 Westminster council subsequently ordered CLTX to "recreate in facsimile the building as it stood immediately prior to its demolition" within 18 months – in a move that was lauded by local residents and campaign group Save Britain's Heritage. The developer appealed the decision, but lost.
Last year, Westminster also declined to determine an application submitted on behalf of the developer by Kent-based BHD Architects, which sought to rebuild the pub with a configuration that would also include three apartments. The council said there had been no material change in circumstances since the enforcement notice to rebuild the pub had been issued and upheld at appeal.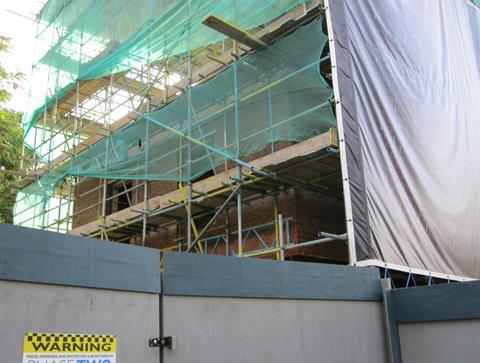 Despite falling well outside the original timeframe, work on rebuilding the pub commenced in July and has now reached well past window height on the first floor. Documents submitted to Westminster suggest the contractor is Mant Construction.
A hoarding facing Carlton Vale announces: "Carlton Tavern – Coming back soon". It does not specify a timeframe.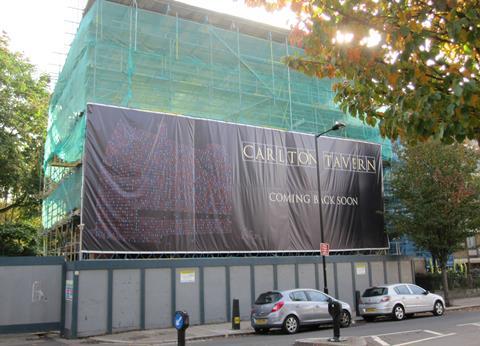 In September an east London pub named the Carlton Arms was demolished without consent, prompting calls to Tower Hamlets council to adopt the same approach as Westminster and to demand a full rebuild.
The owners of the Bancroft Road boozer had planning consent for partial demolition of the building from its first floor upwards for the creation of a three-storey extension that would include five flats.