Iconic Wallis, Gilbert & Partners-designed factory converted into 66 apartments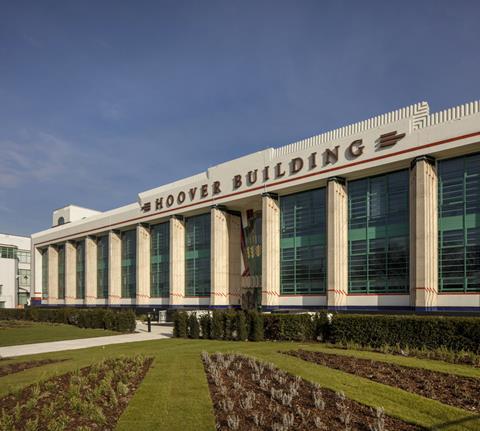 Work to convert the iconic Hoover Building on the outskirts of west London into a residential complex has finished with the former factory now housing 66 flats.
Refurbishment of the 1933 grade II-listed structure, designed by Wallis, Gilbert & Partners, took two years to complete and was undertaken by London-based developer and contractor IDM.
The architect on the project was Interrobang, also based in the capital and whose other projects include the Hackney Arts Centre, formerly an art deco cinema designed by William R Glen and opened in 1936.
The Hoover building originally housed the company's manufacturing and repairs operation, and after a number of changes of use the site was bought by supermarket giant Tesco in 1989 for office and retail space, before lying vacant for a number of years.
The factory revamp, which finished last month, features a new third floor and new timber trusses which were made off-site.
Many of the building's original art deco features have been retained and refurbished, including its famous staircases, wrought-iron bannisters and light fittings.
As well being a landmark on the nearby A40, the Hoover Building was immortalised in song back in 1980 by Elvis Costello & The Attractions.