Student flats would have replaced Swiss chalet-style school
Guy Hollaway Architects has been refused permission for a block of student flats in Canterbury that would have destroyed a former Victorian school.
The 146-bedroom scheme, submitted by Canterbury Holdings, was refused for heritage and design reasons.
It would have seen 17 cluster flats built in a four- to five-storey building on the A28 opposite the city walls and the ancient Dane John burial mound, part of the city's Norman bailey.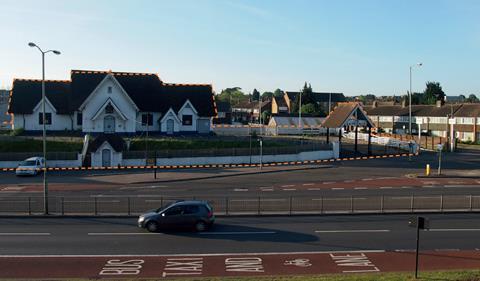 Save Britain's Heritage objected to the scheme because of the loss of the former St Mary Bredin School which dates from 1860 and is described as a "fine example of the Swiss Chalet style".
Save's director Henrietta Billings said she was "delighted" the scheme had been turned down.
Hollaway's proposal, in the Rhodaus Town area in the south of the city centre, used Portland stone, zinc tiles and glazing and was said to reference Canterbury's traditional architecture with stepped-in ground floors, protruding bays and staggered elevations.