Istanbul vies with Dubai and Beijing for title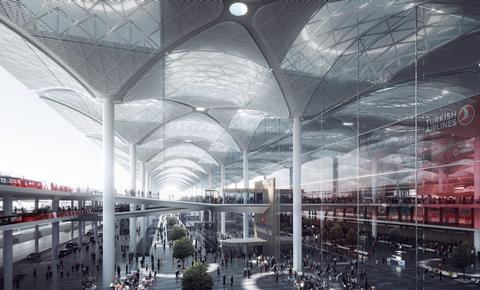 New Istanbul Airport by Grimshaw, Nordic and Haptic
Grimshaw and Haptic Architects have unveiled images of what they say will be the world's biggest airport terminal under a single roof.
The $9 billion Istanbul Grand Airport will eventually serve more than 150 million passengers a year with its six runways.
It was originally billed as the world's largest airport but Dubai and Beijing are also hungry for the title.
A spokesman for the Turkish project said Istanbul's new terminal 1 would be the "world's largest airport terminal under one roof", with a gross floor area close to a million square metres.
Masterplanned by Arup, it will be built on the Black Sea coast 35km outside Istanbul. It will be delivered in four phases, with the first opening in 2018.
Andrew Thomas, a partner at Grimshaw, which also worked with Haptic and Norway's Nordic Office of Architecture on the project, described the project as "bold and aspirational".
He said: "In spite of its size, the terminal building is conceived as one that sits calmly in its context, with a clear horizontal expression."
The vaulted ceiling geometry would help guide passengers from landside to airside, he said.