Redesign by BIG and Heatherwick has focussed on interior of HQ building
Google will submit revised plans for its new £1 billion UK headquarters at London's King's Cross next month.
The scheme, which has been redesigned by US-Danish architect BIG and Heatherwick Studio, is expected to appoint the first subcontractors over the summer to allow a rapid start on site
BIG and Heatherwick – who are also behind Google's planned global headquarters in Mountain View, California – were hired for the London job last year after the tech giant parted ways with previous architect AHMM after four years. The executive architect is BDP.
It is understood the redesign has focussed more on the interiors rather than the exterior, with the mass and volume similar to AHMM's originally-consented scheme from 2013.
AHMM's 330m-long groundscraper, which if upended would be taller than the Shard, would have provided close to 81,000sq m of office space in a building ranging in height from seven to 11 storeys.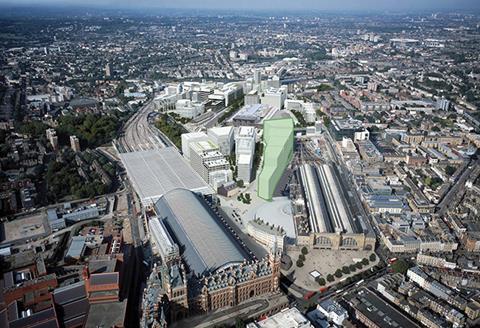 According to BD's sister title Building, the tech firm is understood to have refined its thinking around where teams will be located, the best working patterns for different professionals and age groups and rearranged the interior space around longer 'streets' that run the length of the building.
Design features from the original AHMM-consented scheme expected to survive the cut include the running track and plans for cycle lanes inside the building.
A source close to the project said Google was now pressing ahead quickly with the scheme: "The work carries on in terms of design [once plans are submitted] and they'll start tendering for sub-contractors over the summer. Some clients stop during planning but they won't."
The project will also fill a 1ha site at the southern end of developer Argent's wider 27ha regeneration scheme, next door to King's Cross station.
Another source said: "Everyone's delighted it's moving on. I don't think there's any doubt it'll go ahead. It's massively important to the overall Argent scheme, it gives two sides to the main boulevard leading up from the station and will help [Argent] attract retailers. It'll be a terrific addition."
Google has been contacted for comment.
The job, which will be built by Lendlease, has an estimated construction cost of £350 million.