City of London approves controversial proposals to redevelop Inns of Court library
Proposals to redevelop part of an historic Inns of Court library to provide a training centre with "breakout rooms" for barristers have been granted planning permission – in spite of opposition from campaign group Save Britain's Heritage.
The scheme, designed by Hugh Broughton Architects, seeks to create a new fourth floor for Inner Temple's Treasury Building, which houses its library and hall, to deliver new a new auditorium, offices and meeting rooms.
The project involves the addition of a new mansard roof, but internal works would also see internal alterations, including reducing the height of the galleried Inner Temple Library, which occupies the second and third floors of the Treasury Building.
Although the library was severely damaged in the Second World War, it was restored with oak panelling in a project supervised by Edward Maufe, architect of Guildford Cathedral.
Save Britain's Heritage said reducing the height of the library would make it a darker and more oppressive space than was currently the case, and that it was "unbelievable" that Inner Temple was proposing to "butcher its own heritage in this brutal and insensitive fashion".
While Inner Temple's Buttery Building is grade II* listed, the Treasury Building does not have protected status and Historic England declined a 2015 request for it to be listed.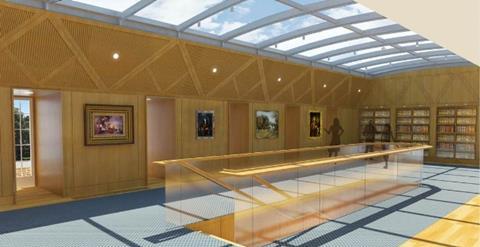 An Inner Temple spokesman said approval of the plans represented "an exciting new chapter in its history".
He added: "The new designs will ensure that the Treasury Building of the inn, originally built in the 1950s, has world-class facilities to support its members and the future development of the Bar through widening participation, educational activities and continuous professional development."
Hugh Broughton said the scheme would allow Inner Temple to respond to the demands of members in the 21st century.
"The designs have evolved through extensive consultation and have been meticulously conceived to enhance connections between floors and to preserve the traditional character of the building, while also introducing elegant and light-filled new spaces befitting a modern professional building," he said.
Historic England declined to comment on the proposals. Its consultation response to Inner Temple's planning application merely urged the City of London Corporation to assess the scheme against local and national planning policies.