Landowner wants Mayfair garden square to be more welcoming
An international competition will be held next year to find a way of giving a new lease of life to Grosvenor Square in Mayfair.
The contest will be overseen by a panel of "high-profile creatives, designers, horticulturalists, architects and urban specialists", said landowner Grosvenor Britain & Ireland.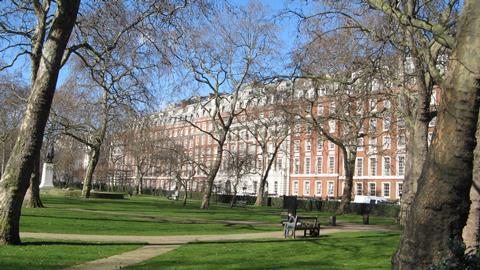 It announced the plans after research showed the public finds the 25,000sq m green space "imposing" and "unwelcoming".
London's second-largest garden square – after Lincoln's Inn Fields – it unfolds eastwards towards New Bond Street from what is currently the US embassy. The listed Eero Saarinen building is soon to be converted into a hotel by David Chipperfield and the rest of the neo-Georgian square is being "repositioned" as a desirable residential address.
Grosvenor opened a public call for ideas earlier this year, called Shaping the Square, and found people want play areas for children, a community garden, a technology-free zone and entertainment and food reflecting London's diversity.
Now it plans to hold a contest to turn the ideas into reality.
Will Bax, executive director, Grosvenor Britain & Ireland, said: "We have a vision to transform our London estate to be more open and accessible, and Grosvenor Square's evolution underlines our commitment. Mayfair is an important district for the West End and an asset to London, but we think it could do more for the capital.
"The polling shows that Grosvenor Square has a low profile. We agree that a more welcoming space would better reflect London's character. We want the square to be a haven where locals and visitors can enjoy the best of the city, whilst helping make Mayfair more appealing."