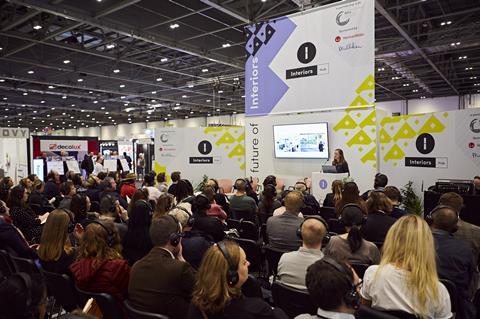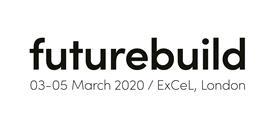 Recent climate change demonstrations and government declarations make one thing clear; we must all come together to take action against the climate change challenges we are facing. Put simply, without collaboration, we will fail.
Against this backdrop, Futurebuild 2020 (03–05 March, ExCeL London) will inspire visitors to join fellow industry leaders and innovators to be the catalyst for change that is so urgently needed to help deliver a more sustainable built environment.
Setting the agenda
Futurebuild's highly-regarded Arena programme is returning for 2020, bigger and better than ever before. Following a three-day progression, the Arena will host a number of sessions focusing on the solving the current climate and ecological crisis. These will be led by politicians, academics and industry shapers.
Unmissable sessions include 'The future is regenerative' chaired by New London Architecture's Peter Murray. The session is guaranteed to spark debate and encourage new ways of thinking by asking the question: 'How do we make our cities fit for purpose, our buildings net zero and champion green retrofit?'.
On day two (04 March) a panel, including London Mayoral candidate Rory Stewart, will discuss 'Carbon neutral cities of the future', exploring the pathway to healthier, more resilient cities.
With conference discussions focusing on issues facing the built environment at a macro level, six Keynote Stages located across the event will look at the specific challenges impacting Buildings, Offsite, Energy, Interiors, Resourceful Materials and Critical Infrastructure. This programme of solution-driven sessions will share the latest thinking and research, to educate, inform and inspire visitors to make a positive change. Each day, the six stages will host a focused keynote presentation by a recognised expert in their field.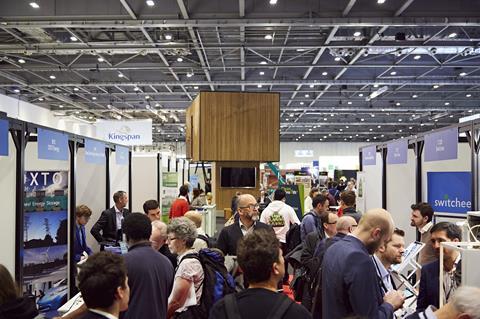 Beyond the stages
Around each Keynote Stage will be an exhibition of innovative brands, offering unique solutions to the challenges discussed in the companion knowledge programme. It will feature some of the largest headline brands in the sector, alongside SMEs and start-up organisations, creating a dedicated platform to connect these companies with forward-thinking specifiers and buyers.
Of particular interest will be the Buildings section, featuring key exhibitors including Smart Systems, Internorm, Prefa UK and SIGA AG. This section is expanding for 2020 include two new showcase areas; the Whole House Retrofit Zone, in partnership with the Retrofit Academy and Osmosis, and the Digital Impact Zone, sponsored by Sir Robert McAlpine and UK Connect. Here, visitors will have the chance to discuss an array of refurb and retrofit solutions, as well as the latest developments in digital construction.
The hugely popular RIBA Bookshop will also return to the Buildings section, this will be a vibrant space for book signings from a number of RIBA selected authors.
With innovation running through the whole event, Futurebuild has announced the UKRI (UK Research and Innovation) Transforming Construction Challenge partners are joining forces as its Lead Innovation Partner. The Challenge is made up of three organisations - The Active Building Centre, the Construction Innovation Hub, and the Transforming Construction Network Plus. Together, these organisations are unleashing and nurturing the construction sector's innovative potential by working with industry and academia to drive change in how we build our buildings. They want to ensure we build safer, healthier, more affordable, more energy efficient buildings which deliver better outcomes for those who use them and for wider society.
The centrepiece of the partners' presence at Futurebuild 2020 will be a centrally located Innovation Lounge. With the Challenge offering a range of opportunities for UK-based researchers and businesses, the lounge will provide visitors with the opportunity to meet with experts across the three organisations, and find out how they can become involved.
Along with TCC, Futurebuild's innovation partners will be recognised through a dedicated Innovation Trail. A guided route will take visitors on a journey through the event enabling them to learn more about the latest thinking from these leading brands, including ACO Technologies, Renson, Steico, 540 World, Energy System Catapult, Photonomi and Forterra.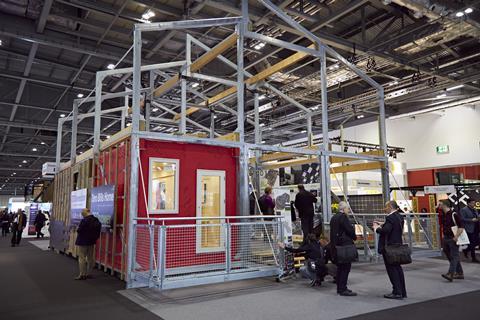 The game changers are back
Championing innovation is the central purpose of Futurebuild and the 2020 event will see the return of the Big Innovation Pitch. Hosted across the event, in conjunction with BRE as technical partner, the competition is industry's largest call-out for innovation to date and will identify and celebrate novel new approaches to tackle of the biggest challenges facing us all.
Entrants will present their ground-breaking ideas on each of the six Keynote Stages on day one, before shortlisted entries go head-to-head in the Arena on day two. A panel of renowned judges will determine the overall winning idea, which will be incorporated into BRE Academy Training and showcased in the BRE Innovation Park.
Martin Hurn, Event Director of Futurebuild, said: "The responsibility for tackling the climate emergency lies in all of our hands and we must collaborate in order to find solutions to secure our future. Futurebuild 2020 provides the perfect platform for forward-thinking decision makers across the built environment to come together and play a key part in driving positive change.
"Innovation to us is more than just futuristic concepts, it's about sharing the latest thinking and ideas, processes and solutions, products and materials. All of these things coming together under one roof at Futurebuild 2020 will inspire people to do things differently and create real change."
For more information about Futurebuild 2020, the home of innovation, visit www.futurebuild.co.uk.