City council approves latest element of £500m Wilson Gunn development
Wilson Gunn Architects has won detailed planning permission for the latest part of the practice's 28ha Edinburgh Marina development.
Edinburgh council has now approved the final designs for a 104-home retirement scheme that will form part of the £500m project, at Granton on the Forth River.
Wilson Gunn's masterplan for the marina won consent in 2015 and included a 123-bed spa and conference hotel, more than 1,500 homes, berths for 300 boats, and retail facilities.
It was subsequently revised, raising the housing level to 2,000 units – including affordable homes and retirement properties – and upping the size of the hotel to 180 rooms.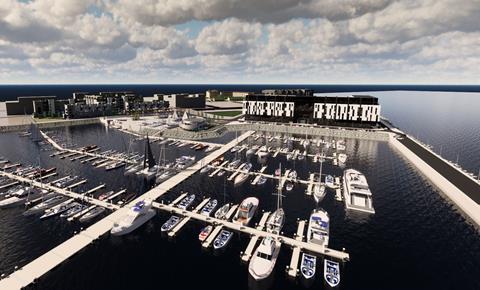 Kevin Fawcett, of project developer Granton Central Developments, said the over-55s element of the scheme, named "Living for Retirement" would "raise the bar" for such provision in the city.
"The creation of Edinburgh's first prime waterside residential quarter encompassing our Living for Retirement concept, adds major impetus to the city's attraction," he said.
Granton Central Developments said it expected detailed planning permissions for the remaining elements of the marina scheme to be secured in the coming weeks, with construction scheduled to begin towards the end of the year.