Architect submits plans for 6,500sq m facility that will feature a museum, an auditorium and a large communal foyer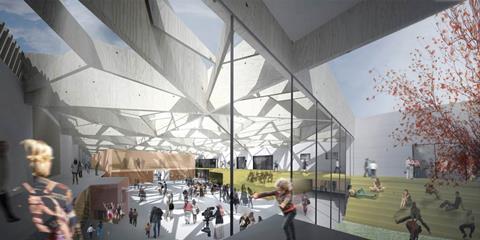 The Forum is a 1,000sq m community foyer at the heart of the building.
London-based RCKa has submitted plans for a new community facility on the outskirts of Norwich.
In addition to the new building, a vacant car showroom and workshop will be transformed to create part of the 6,500sq m facility.
The scheme features a motor museum and an auditorium plus a family restaurant and childcare suite, along with flexible rooms and facilities for community groups.
At the heart of the scheme is the Forum, a community foyer that offers over 1,000 sq m of space for a range of community-organised events. The Forum contains a café and informal meeting spaces and is placed adjacent to an internal planted courtyard.
The roof is formed of a triangular structural grid that creates a large column-free space for the Forum. The facade of the building is clad in inclined louvres to provide solar shading and visual interest.
RCKa said: "The building represents an ambitious new model for the delivery of community services, based upon the shared belief of the Lind Trust and RCKa that the best way
to ensure success is to identify and work closely with those in the local community keen and able to deliver services."
RCKa won an invited design competition and interview process for the project in May 2012. The building, developed with charity the Lind Trust, is designed to cater for existing and future community needs.
Construction on site is due to start in September 2013, with completion planned for the end of 2014.