Rainscreen cladding, which employs an inner and outer leaf to create a seal against moisture, has been in use for decades. But modern systems offer a more flexible, lightweight protection. This CPD module is sponsored by Kalzip
How to take this module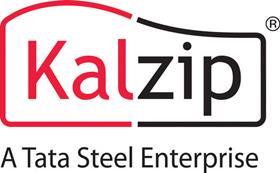 To take this module read the technical article below and click through to a multiple-choice questionnaire, once taken you will receive your results and if you successfully pass you will be issued automatically with a certificate to print for your records.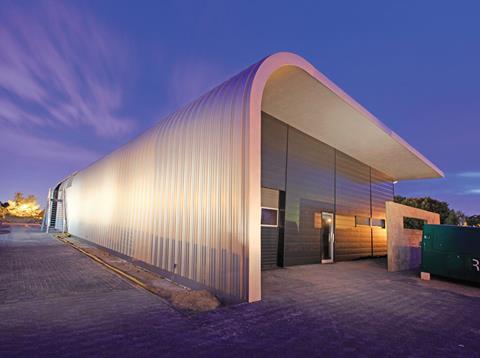 Rainscreen cladding systems consist of an outer leaf with air gaps, a ventilated cavity and an inner wall. Though the concept has been around for centuries, modern rainscreen cladding was developed in Scandinavia during the 1940s using timber cladding.
One of the earliest and best-known examples of this type of construction is the 30-storey Alcoa building in Pittsburgh in the United States, which was built in 1952 and clad in open-jointed aluminium baffle panels. However, it wasn't until the 1970s that the term "rainscreen cladding" was adopted and such systems became commonplace.
In a rainscreen cladding system, the outer leaf shields and controls the majority of rainwater, and is typically made from high-pressure laminate, aluminium, stone or glass.
The cladding system's inner leaf or structural wall acts as the final barrier to moisture, and insulates the building. The primary air seal of the wall must also be achieved by the support wall or by an applied vapour barrier.
The inner leaf may be constructed of concrete, steel, timber or, on a refurbishment project, the existing outer brick wall. All other facade elements — such as windows, curtain walling and doors — must be sealed to this element in order to ensure compliance with air leakage regulations.
Under extreme conditions, a small amount of water may splash on to the face of the insulation layer. Some moisture vapour will also migrate through the building fabric and reach the ventilation zone. This may be removed in several ways, depending on whether the rainscreen is back-ventilated and drained, or pressure-equalised:
In a back-ventilated system, there are openings at the top and base of the system, and there may also be open joints between panels.
A back-ventilated system has a continuous cavity that can run for several storey heights or panel widths, limited by the requirement for cavity barriers under Building Regulations (see below). Any water ingress drains down the back of the external cavity, and either runs out at the opening at the bottom of the cavity or evaporates and escapes at the top or through the horizontal joints.
In a pressure-equalised system, cavities in the cladding are compartmentalised, and pressure is equalised on either side. This prevents rain ingress into or across the cavities, and drains or vents between compartments allow any water ingress to escape.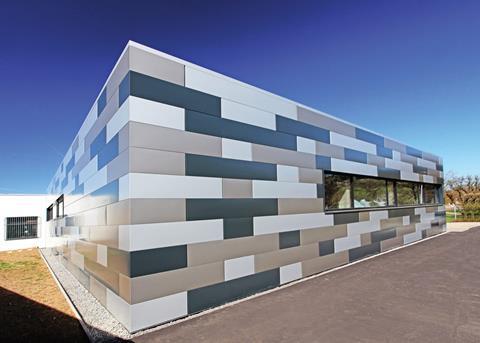 Benefits of rainscreen systems
Rainscreen systems provide a range of benefits for both new-build and refurbishment schemes:
They offer good thermal performance, allowing designers to create very efficient thermal envelopes to meet the highest environmental standards.
They can be included as part of refurbishment projects to extend the life of a building, weatherproof it, and improve its thermal performance.
They are simpler and quicker to install than traditional constructions, reducing construction time and costs.
The systems' inherent flexibility means they can be installed with relatively little impact on building users and interior spaces.
A range of finishes and materials are available, including high-pressure resins, terracotta tiles, stone tiles, timber cladding, fibre cement panels or metals such as aluminium, aluminium composite material (ACM) or steel.
Aluminium rainscreen cladding systems are lightweight, durable, cost-effective, offer many colour choices, are suitable for both new build and refurbishment schemes, and have a design life in excess of 40 years.
Design considerations for rainscreen systems
There are various considerations when designing rainscreen systems to meet Building Regulations. The three most important are structural performance, which is covered by Approved Document A, fire performance, and thermal performance and the risk of condensation, outlined in more detail below.
The Centre for Window and Cladding Technology has also developed a performance standard for the weathertightness of building envelopes, which covers airtightness, impact resistance, watertightness and wind resistance.
The testing and certification of curtain wall systems has been carried out for many years, but rainscreen systems present greater complexity:
Testing a rainscreen system on a standard back wall will give an indication of its likely performance, but its watertightness will be influenced by the complete wall construction, and particularly the effect of any membranes incorporated into the wall and the detailing of interfaces around windows.
The airtightness of the system will be entirely dependent on the backing wall.
To demonstrate adequate wind resistance, calculations for the layout of panels, rails and brackets will generally be required.
Impact resistance of rainscreen panels may be affected by the rigidity of the back wall. Tests carried out with rainscreen panels supported on a rigid structure will have the widest application.
Where the full details of the wall construction are known, tests for weather-tightness and impact resistance can demonstrate the likely performance of the proposed wall construction.
The Kalzip FC rainscreen system has been tested for wind resistance at the IFI Institute for Industrial Aerodynamics at the Aachen University of Applied
Sciences in Germany, and for water resistance and impact resistance at the Lucerne University of Applied Sciences and Arts in Switzerland.
Fire performance covered by Approved Document B
The fire-resistance of a rainscreen system is determined by the backing wall. With regards to spread of fire, the CWCT standard is more restrictive than Approved Document B, requiring both the external surface of the envelope and the inner face of the rainscreen to satisfy Class 0 or equivalent.
Such materials or products are generally required to be non-combustible, or to have a Class 1 rating for surface spread of flame. Fire stops to restrict the spread of heat and smoke must be provided between the building envelope and compartment walls and floors, and must have the same resistance level.
Approved Document B requires cavity barriers at the perimeter of cavities, window openings, and along compartment walls and floors, and they may also be required to limit the maximum extent of the cavity to 10m or 20m, depending on the materials used in construction. The CWCT standard requires that insulation materials have appropriate resistance to combustion, and a minimum of one non-combustible fixing per square metre.
Thermal performance covered by Approved Document L
Various types of insulation can be used to meet thermal performance requirements, and product choice may also be influenced by fire performance criteria.
When calculating thermal bridging, the overall construction must be taken into account as the support sub-structure will determine the appropriate U-value for the wall.
The regulations for air leakage allow a maximum of 10m3/hr/m2, but in practice the airtightness requirement may be greater, depending on the desired CO2 emissions for the overall building.
Most air leakage occurs at interfaces, such as between the wall and the roof, or between windows and the wall. Performance is therefore dependent on the detailing at design stage, and on good quality workmanship on-site.
The risk of condensation can be reduced by avoiding cold bridges, using a vapour control layer to keep moisture out of the wall and by ventilating cold cavities.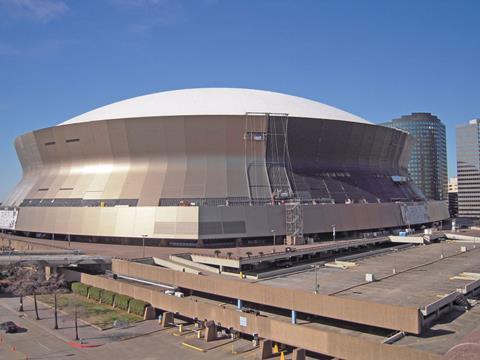 Case study: Superdome, New Orleans
Kalzip's Fix Click (FC) rainscreen system was first installed on the 34,000sq m facade of the Superdome in New Orleans, which required significant refurbishment after the devastation wrought by Hurricane Katrina in 2005.
At the beginning of 2009, the FC system was in the early stages of development when the State of Louisiana's Facility Planning & Control Agency called for tenders, but Kalzip's engineers accelerated the process and won the contract to overclad the stadium in time for the 2010 football season.
The brief was to replicate the iconic stadium's original aluminium appearance, while protecting it from future hurricanes with windspeeds of up to 120km/h. The cladding had to be cost-effective, flexible and lightweight, and fast and safe to install with scaffolding up to heights of 80m.
The Kalzip FC system is installed on vertically fixed modular click rails, with each lightweight aluminium panel hooked at the top and push-clicked into place at the bottom, using no rivets or screws. This means that individual panels can be replaced without affecting adjacent components, allowing any future storm damage to be repaired.
BD's free continuing professional development distance learning programme is open to everyone who wants to develop and improve their professional knowledge. These modules can contribute to your annual CPD activity and help you maintain membership of professional institutions and bodies.
This module will contribute 1 hour towards your CPD obligations. If successfully completed, certificates will be distributed two weeks after the module closes.
Duration: 1.5 hour
Postscript
Privacy policy
Information you supply to UBM Information Ltd may be used for publication and also to provide you with information about our products or services in the form of direct marketing by email, telephone, fax or post. Information may also be made available to third parties. "UBM Information Ltd" may send updates about BD CPD and other relevant UBM products and services. By providing your email address you consent to being contacted by email by "UBM Information Ltd" or other third parties. If at any time you no longer wish to receive anything from UBM Information Ltd or to have your data made available to third parties, please write to the Data Protection Coordinator, UBM Information Ltd, FREEPOST LON 15637, Tonbridge, TN9 1BR, Freephone 0800 279 0357 or email ubmidpa@ubm.com.