Modern curtain walling comes in a range far greater than its 19th century equivalent, which is why many factors must be considered when choosing, designing and installing it. This CPD module is sponsored by Bowater
How to take this module

To take this module read the technical article below and click through to a multiple-choice questionnaire, once taken you will receive your results and if you successfully pass you will be issued automatically with a certificate to print for your records.

Traditionally, curtain wall-ing was the name given to the outermost wall surrounding a castle. By the late 19th century this "outer wall" was playing a key role in the transformation of British cities in the wake of the industrial revolution.
Oriel Chambers in Liverpool, for example, designed by Peter Ellis in 1864, was one of the world's first metal-framed, glass curtain walled buildings. The extensive glass walls allowed light to penetrate further into the building, allowing more floor space to be used and reducing lighting costs.
Oriel Chambers was an early forerunner of the curtain walls we know today. The term refers to a form of vertical building enclosure that supports no load other than its own weight, that of ancillary components and the environmental forces that act upon it.
Typically, a curtain wall will be a glazed screen, usually on the outside of a building and supported by the floor slab and/or by intermediate fixings such as steel beams or floor slabs.
Types of curtain wall
Types of construction include:
These are supplied in pre-machined mullions and transoms for assembly and installation on site. They are mostly used on low and medium-rise build-ings, where there is a high degree of uniformity and relative simplicity of design — whether it be a vertical or sloping facade. Stick curtain walls have the lowest material cost of all systems. Vertical versions can be used for roof glazing.
These are supplied in storey-height, pre-assembled panels and may include factory-fitted glazing. They are often used in high-rise buildings, particularly in areas that are difficult to access. The units are hung from the structure, and installation is quick and relatively low cost, as scaffolding is not required. The fact that the units are pre-assembled in a controlled environment helps to guarantee quality.
These are panels set in front of a water-proofed wall. They come in various shapes and materials, including metal, polycarbonate, glass reinforced plastic and acrylic.
These use unframed panes of glass that are attached to a building's support structures using silicone adhesive or bolt connectors. This increases the facade's transparency.
For high-specification projects, complex, large-span systems can be designed, but they often have long lead-in times.
Design factors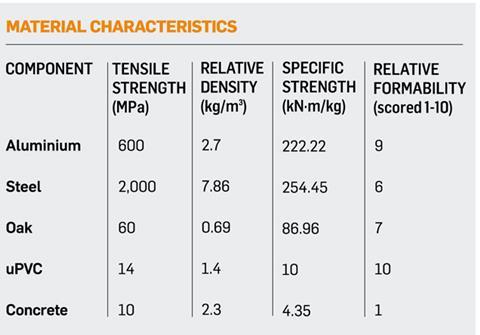 There are many issues to consider when designing or specifying a curtain wall system, including aesthetics, structural loads, fixings and the required thermal and weather performance.
Curtain walling can be made from aluminium, uPVC, steel or timber. Aluminium represents 80% of the market. Two of the main characteristics of aluminium are its strength-to-weight ratio and its flexibility, as shown in the table below.
Aluminium does not rust, it is resistant to corrosion and it is lightweight, weighing one third of the steel equivalent. It is also fully recyclable, with minimal loss in quality, and at least 70% of building industry scrap aluminium is recycled according to the Aluminium Federation.
Finishes for aluminium curtain walling
Aluminium can be treated to enhance a building's appearance, most often by polyester powder coating in a wide range of standard colours, or anodising for a silver, bronze or coloured finish.
Glazing for transparent areas
Glass is the only reliable option. It can retain heat, expel heat, be clear or obscure, and can be screen-printed, toughened or patterned. Developments in glass technology mean that it can be self-cleaning, backed with "invisible" insulation or have improved acoustic performance, as well as many other attributes. Infill or spandrel panels can be made in many materials, including aluminium, steel, plastic, composite or photovoltaics.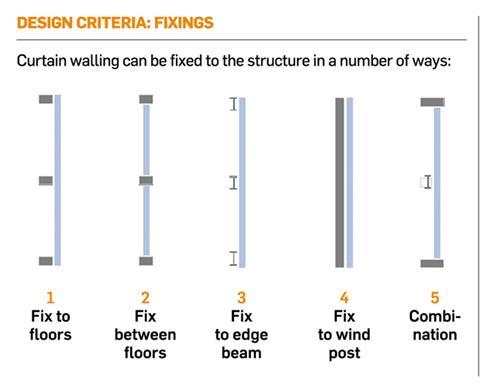 Curtain walling can be fixed to the structure in a number of ways: to floors, between floors, to edge beams or wind posts, or a combination of these.
Fixings can be fabricated from steel or aluminium angles, customised extruded shapes, or steel or aluminium spigots.
Wind loads are calculated using BS6399 based on local wind speed, topography, height above sea level, distance from sea. The calculation also takes into account the substantial effect that can be caused by the surroundings, such as wind tunnels around adjacent buildings. Other loads that need to be measured include seismic, snow, thermal and blast loads.
There are two methods of drainage used by the major systems: mullion drained systems, where any water that enters the curtain wall runs along the transoms, down the mullions to the floor and the outside; and "zone" or "field" drained systems, where the water passes through slots in the pressure plates and external transom caps.
In addition, all systems approved by the Centre for Window and Cladding Technology (CWCT) must be fully sealed and pressure equalised, which means that the pressure inside the system must be the same as that externally. This encourages drainage to the outside, mainly through the mullions. All internal joints must be sealed to ensure that air penetration is not possible.
Curtain walling should provide a U-value of 2.0W/m2K or better. Basic measures that can help to achieve this include keeping the metal on the outside of glazed screens to a minimum, and avoiding small pane sizes (ensuring there is more glass than frame).
This can be provided by a number of approaches including mechanical ventilation or passive measures such as: trickle or slot vents in the glazed area; openable windows, which can include features such as "night vent" locking; electronically operated sash openers; ventilation through the eaves or spandrel panels.
It is important to remember that curtain walling cannot normally be cleaned from the inside. External options need to be factored into the design, such as scissor lifts or cherry pickers for low-rise buildings or cradles for high-rise.
Regulations & standards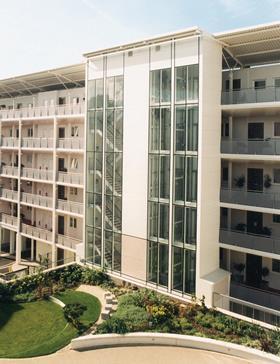 Curtain walling systems are exposed to rigorous testing — a water penetration test under CWCT Section 7 will expose a system to 14,170 litres per hour. By way of comparison, the highest rainfall ever recorded over 24 hours was a monsoon in India that reached 1,840 litres per sq m.
A curtain wall is tested by the CWCT to withstand exposure to 5,904 litres per sq m over a 24-hour period.
Key regulations and standards that must be conformed to when designing or specifying a curtain walling system include:
Building Regulations
Part L, Conservation of Fuel & Power
Part F, Ventilation
Part N, Glazing' Safety in Relation to Impact, Opening & Cleaning
Standards / Codes of Practice
BS EN 13830 Specification for Curtain Walling
BS EN 12207 Air Permeability Classification
BS EN 12208 Watertightness Classification
BS EN 12210 Resistance to Wind Load Classification
BS 6262 Code of Practice for Glazing of Buildings
BS 6399 Wind Load CWCT testing
Code for Sustainable Homes
How to take this module
BD's free continuing professional development distance learning programme is open to everyone who wants to develop and improve their professional knowledge. These modules can contribute to your annual CPD activity and help you maintain membership of professional institutions and bodies.

This module will contribute 1 hour towards your CPD obligations. If successfully completed, certificates will be distributed two weeks after the module closes.
Duration: 1 hour
MODULE 18 DEADLINE: January 11 2013
Postscript
Privacy policy
Information you supply to UBM Information Ltd may be used for publication and also to provide you with information about our products or services in the form of direct marketing by email, telephone, fax or post. Information may also be made available to third parties. "UBM Information Ltd" may send updates about BD CPD and other relevant UBM products and services. By providing your email address you consent to being contacted by email by "UBM Information Ltd" or other third parties. If at any time you no longer wish to receive anything from UBM Information Ltd or to have your data made available to third parties, please write to the Data Protection Coordinator, UBM Information Ltd, FREEPOST LON 15637, Tonbridge, TN9 1BR, Freephone 0800 279 0357 or email ubmidpa@ubm.com.