Polycarbonate panels offer the advantages of thermal performance, strength and aesthetic appeal, making them suitable for use in glazing, cladding and roofing. This CPD module is sponsored by Rodeca
How to take this module

To take this module read the technical article below and click through to a multiple-choice questionnaire, once taken you will receive your results and if you successfully pass you will be issued automatically with a certificate to print for your records.

Polycarbonate panels are used mainly for facade glazing and cladding, as an alternative to glass or GRP (glass reinforced plastic) curtain walling and clad-ding, as well as conventional rain-screen systems. They can also be used for roofing, canopies and interior design elements.
This module will consider the benefits of using polycarbonate, including the aesthetic advantages of translucent panels and the inherent strength of this type of polymer, before outlining the manufacturing and installation processes.
Polycarbonate is a type of thermoplastic — that is, a polymer that becomes pliable or mouldable above a specific temperature and returns to a solid state upon cooling. Polycarbonate has a glass transition temperature of about 150ÞC, so it softens gradually above this point. The recommended processing temperature is around 280-300ÞC.
Polycarbonate belongs to the group of "engineering thermoplastics". These are grouped together not because they are similar in chemical structure or morphology but rather because of specific properties that allow them to be used in rigorous applications, particularly in the electronics, automotive, construction and manufacturing fields.
For example, acrylonitrile butadiene styrene is used to manufacture car bumpers and dashboard trim, polycarbonate is used in motorcycle helmets, and polyamides (nylons) are used for skis and ski boots.
The main properties of polycarbonate that distinguish it from other thermoplastic resins and make it ideal for construction applications include:
Inherent toughness
Transparency
Stability across a wide range of temperatures, from -40ÞC to 115ÞC
High refractive index (so it reflects heat radiation)
Good thermal performance
Ease of adding colour, including bespoke colour, and of mixing to create new compounds.
Polycarbonate panel benefits
Polycarbonate provides a number of benefits when used for glazing, cladding or roofing. These include:
Aesthetics Polycarbonate panels come in a range of colours and degrees of translucency. Blocks of coloured panels can be arranged into patterns and illuminated facades can be created by combining translucent panels with LED or ambient lighting systems. As a thermoplastic, polycarbonate can also be moulded into curved panels to create bespoke facade treatments.
Thermal performance Trans-lucent polycarbonate wall panels can be manufactured with U-values of 0.71-0.77 W/m2K as a single-wall construction and 0.36-0.43 W/m2K as a double-wall construction. These panels can be used to allow natural daylight to enter a building without compromising its thermal efficiency. Light transmission through translucent panels can be up to 65%.
Weight Polycarbonate panels are lighter than glass or solid wall systems, so require lighter support structures, which can help to reduce costs.
Strength Polycarbonate has excellent impact properties and are up to 200 times stronger than glass. Polycarbonate elements do not crumble or splinter.
Weather resistance Polycarbonate panels have been tested for air and water permeability, including a simulated hailstorm test at Swiss testing laboratory EMPA.
Using a shot radius of 20mm, the Rodeca panels achieved the highest test class (class five). Even an ice hockey puck hurled against the element at 130kmph could not cause damage.
Solar resistance Ultraviolet filters can be extruded into the polycarbonate, reducing solar gain without blocking natural daylight or the need for a separate film over the panel.
Fire resistance Polycarbonate has a very high ignition temperature of about 450ÞC and, in case of fire, produces very little smoke.
Acoustic protection Despite their light weight, polycarbonate elements have a good sound insulation value of up to 27dB — meeting DIN EN ISO 140-3 in test facility conditions. With a double-wall construction, a value of up to 43dB is achievable.
How a polycarbonate panel is made
The manufacturing process of a polycarbonate panel is similar to that of many thermoplastic products.
First, polycarbonate granulate is fed into an extruder, where it is heated to its flow temperature and pushed through a die head, which is in the shape of the panel.
Secondary extrusions or co-extrusions are used to feed in colour and UV stabilisers.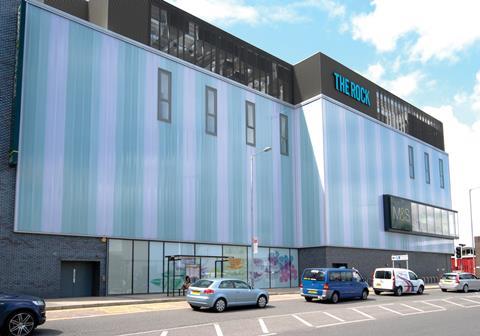 Finally as the panel moves along the automated line a protective film is applied and then panels are cut to the required lengths.
Polycarbonate elements can be smoothly cut with common tools — for example, a fine-toothed circular saw.
There are many variables that need to be controlled in order to extrude a panel uniformly — primarily the cooling of the polycarbonate and the speed of the process.
Failure to control these variables will result in irregularities in the panels' shape and structure. As an example, the tolerances of a Rodeca translucent panel are:
Length: 10-15mm (depending on size of panel)
Thickness: +/-1%
Width: +/-1%
Weight: +/-5%
Concavity length: +/-0.5% of panel length
Concavity width: +/-1% of panel width.
Polycarbonate is a fully recyclable material, and up to 30% of reworked or recycled material is used in each panel produced.
Polycarbonate scraps can come from products at the end of their life, from industries such as luggage fabrication, automobile production, electronics and household appliances, through to digital storage media such as CDs and DVDs. PC scraps are a tradable commodity.
Installing a polycarbonate window wall system
A typical wall system will use a framing system that is both air- and watertight. This will be composed of perimeter aluminium channels with head, base, side and corner sections and front and rear thermoplastic elastomer gaskets. This framing is fixed to the structure and can be supplied mill-finished, anodised or polyester powder-coated to any RAL colour.
The translucent building elements are delivered — depending on the finish — with one-sided or both-sided protective foil. This film must be kept on throughout installation.
Panel ends are sealed with a combination of aluminium/ butyl tape and vent tape to prevent water, insects, gases and other fine particles from gaining access to the panel chambers. All sealants and tapes must be polycarbonate-compatible, and all silicone must be neutral and solvent-free.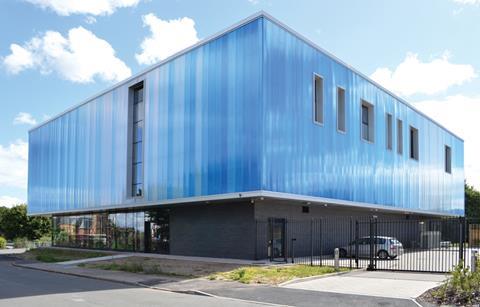 The first panel is inserted into the perimeter frame and held in place by an aluminium fastener that slots into the panel's tongue and groove joint. Clips, continuous fasteners or translucent mullions may be used depending on wind loads, fixing centres and aesthetic requirements.
Once the fastener is fixed to a horizontal rail the next panel is inserted and pushed into the first panel, thus covering the aluminium fastener from external view. This process continues along the wall structure.
A key aspect of this method is that the panels are "retained" rather than fixed, allowing them to glide along the fasteners when thermal expansion and contraction takes place. The expansion coefficient for polycarbonate is 0.065mm per degree Celsius and per metre — three times as high as the expansion coefficient of aluminium. As a rule of thumb, it expands 3mm per metre per 50ÞC difference in temperature.
Key standards
In addition to helping project teams meet key fire safety, acoustic and thermal regulations and air and water permeability performance, polycarbonate panels have been tested and certified to the following standards:
Fire resistance Depending on element thickness and material composition, typical products meet DIN4102 B1 (low inflammability) or B2 (normal inflammability). Panels achieve class 1Y of BS 476 Part 7: Surface Spread of Flame, and polycarbonate ceilings meet class B-s1, d0 (the highest rating) of EN 13501.
Impact resistance Panels meet class B of the ACR[M] 001:2005 Test for Non-Fragility. They also have unlimited ball rebound safety to DIN 18032 T 3 (see the ice hockey puck test above).
How to take this module
BD's free continuing professional development distance learning programme is open to everyone who wants to develop and improve their professional knowledge. These modules can contribute to your annual CPD activity and help you maintain membership of professional institutions and bodies.

This module will contribute 1 hour towards your CPD obligations. If successfully completed, certificates will be distributed two weeks after the module closes.
MODULE 18 DEADLINE: January 04 2013
Postscript
Privacy policy
Information you supply to UBM Information Ltd may be used for publication and also to provide you with information about our products or services in the form of direct marketing by email, telephone, fax or post. Information may also be made available to third parties. "UBM Information Ltd" may send updates about BD CPD and other relevant UBM products and services. By providing your email address you consent to being contacted by email by "UBM Information Ltd" or other third parties. If at any time you no longer wish to receive anything from UBM Information Ltd or to have your data made available to third parties, please write to the Data Protection Coordinator, UBM Information Ltd, FREEPOST LON 15637, Tonbridge, TN9 1BR, Freephone 0800 279 0357 or email ubmidpa@ubm.com.