Several key areas of legislation and regulations apply to roofing: Building Regulations, the Code for Sustainable Homes, BREEAM, British Standards and other legislation. This module will provide an introduction to the most important elements of each
Click here to take the CPD module.
How to use this module: BD Reviews' free continuing professional development distance learning programme is open to everyone who wants to develop and improve their professional knowledge and skills. These modules can contribute to your annual programme of CPD activity to help you maintain membership of professional institutions and bodies. All you have to do is read this module then take the questions via the link above or at the bottom of the page.
Module 9 deadline: October 28 2011
Building Regulations
Three sections within the Building Regulations can have an impact on the roof design. These are: Part A — Structure, Part C — Moisture, and Part L — Thermal Performance.
In Scotland, various technical documents also apply. Complementary guidance such as BB93, which covers acoustic design in schools, or HTM documents within the health sector can also influence roof design.
Part A — dead loads and wind loads
Approved Document A deals with the structure of buildings, and under this section the most important aspect of a roof is how it applies a dead load, and how that dead load might be added to by, for example, snow. Wind can also apply additional loads.
Roof timbers must support the weight of the roof covering and snow, and fixing specifi-cations must protect against wind. When specifying and constructing a roof, the most critical things to consider are:
The timber framework of the roof must support the chosen roof covering: Rafter length and spacing are influenced by the dead load of the roof covering, which can vary from 0.21kN/m2 for fibre cement slates up to >0.75kN/m2 for clay plain tiles. When under-taking refurbishment projects, it is necessary to consider whether the existing rafters will support the proposed covering.
Other dead loads: Don't forget that snow can significantly increase the dead load applied to the structure via the roof. In areas prone to heavy snowfall, steeper pitches and flatter slate or tile profiles will help shed the snow more readily.
Wind loads: Ensure the roof covering is fixed on properly. Poor fixing specs are the most common cause of roof failure and water ingress.
Eurocode 1 BS EN 1991-1-4 is now in force and applies to all buildings below 200m in height. Use the zonal method National Building Specifications or manufacturers' own bespoke specifications to ensure sufficient fixing for the level of exposure. This will often include mechanical fixing of all eaves, verges, ridges, hips and valleys where mortar is not sufficient. Tail fixings must be adequate to avoid wind chatter and ingress of wind-driven rain.

Part C — moisture from inside & out
Approved Document C deals with keeping moisture out and preventing internal build-up. The UK is at high risk from severe driving rain, as well as deluge conditions. Internally, there is a risk from moisture in the form of condensation. Both of these are influenced by the roof.
Part C is linked with Part F1, Means of Ventilation, the new version of which came into effect on October 1 2010. The choice of roof can help to counter moisture from both inside and outside in the following ways:
Getting the design right: Use an integrated roofing system with tiles and slates,
dry fix components and purpose-designed ventilation systems (for Part F) that are designed and tested to work together.
Specifying the right product: Many interlocking tiles can be specified down to 15 degrees. Fibre cement profiled sheeting can be specified for roofs as low as 5 degrees. Granular products should not be used at lower pitches, as the granular surface can contribute to water retention. Products should be matched to rafter length.
Getting the manufacturer involved early: Roofing manufacturers can help design out problems at an early stage, and provide integrated solutions that combine all of the aesthetic, weather resistance, thermal and other performance characteristics required. This might involve simply ensuring the underlay is secured at the eaves and underlay support trays are used to help prevent the ponding of wind-driven water.
There are also more complex ways in which a manufacturer can help, such as assessing the whole roof ventilation requirements and providing detailing for eaves-to-ridge dry fix ventilation systems. This will also ensure the roof is in line with Part C. Whether a roof is warm and habitable or cold and used as storage, it is a key ventilation zone. Warm roofs — for habitable roof spaces — are increasingly popular and are worth more points under the Code for Sustainable Homes for habitability. These require ventilation at rafter level which is generally eaves-to-ridge. Cold roofs will attract condensation if not properly sealed and ventilated. With cold roofs, the whole roof space is a ventilation zone and ventilation can be eaves-to-ridge or eaves-to-eaves.
Manufacturers can suggest universal or product-specific ventilation systems at eaves, ridge, abutment or roof slope which are simple to install and mechanically fixed, avoiding mortar and its possible future failure.
Part L — thermal efficiency and sustainability
The roof is absolutely critical to the sustainability of a building. The main variables are:
External envelope U-values for walls, roofs and floors
Thermal bridging details
Ventilation strategy for ensuring fresh air
Airtightness, especially of ceilings
When designing or installing a roof, it is necessary to consider:
The position of insulation: Insulation can be at ceiling level or at rafter level, depending on whether a warm roof or cold roof is required. Within these two options other permutations are possible — between rafter or joist, or over and between rafter and joist, for example. Pitched roofs can be designed to incorporate up to 300mm of insulation at rafter level, and even more at ceiling level.
Correct detailing: Ensure that roof pitch insulation interfaces properly with wall insulation to form a seamless envelope without cold bridges. Involving the manufacturer at an early stage is important because it will be familiar with accredited details and can offer cad details which can be easy incorporated directly or modified and used in design.
Airtightness: Correct fixing specifications, along with underlay detailing and the choice of ventilation system, will optimise airtightness.
For instance, if you plan a large projecting eaves detail, two sets of rafter roll may well be needed to create a clear passage of air between insulation and roof covering.
Compared to the 2006 version of Part L, the 2010 version aims to reduce carbon dioxide emissions by 25%.
Code for Sustainable Homes
The Code for Sustainable Homes applies in England and Wales. It was introduced in April 2007 and became mandatory for all new housing from May 1 2008. It sets minimum standards of the sustainability of a home against nine design categories, rating the whole house as a complete package. In Scotland, the BREEAM EcoHomes rating is still used.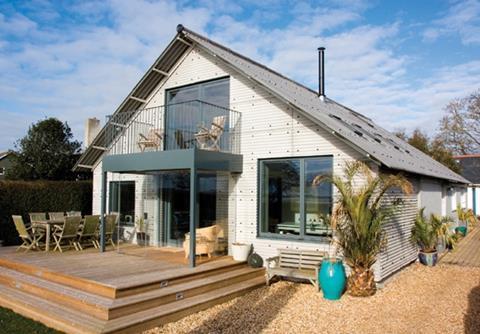 By 2016 all new public housing projects will have to be zero carbon. Private housing is around two years behind and must only comply with Building Regulations, but many private housing projects seek to achieve the same levels of sustainability.
Roofing can contribute to a Code for Sustainable Homes rating in a number of ways:
Materials: specifying products with a good rating in the Building Research Establishment's Green Guide to Specification can contribute up to three points to the overall rating in the materials category.
Surface water run-off: when used with rainwater harvesting systems, roofing may help in the surface water run-off category.
Pollution: reducing NOx emissions from boilers achieve extra points. NOx-absorbing roofing products can remove pollutants from the atmosphere.
Waste: small element roofing is by nature easy to order in the correct quantities, to sort and recycle, and concrete and clay products can be crushed and reused as general aggregate. This means small element roofing is very easy to incorporate into Site Waste Management Plans.
On some projects, Marley Eternit has introduced waste specialists to architects, resulting in a 20-30% waste stream reduction.
BREEAM ratings
On non-domestic projects, the environmental performance is assessed using the BREEAM rating scheme.
It is not yet mandatory, but encourages use of sustainable materials and practices, awarding credits in a similar way to the Code for Sustainable Homes. Buildings are then given a rating from "pass" to "outstanding".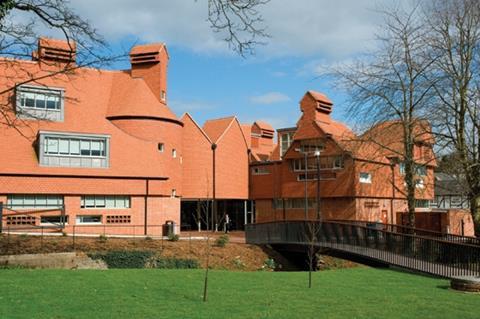 When specifying materials, it is important to consider not only the raw materials but also the embodied energy used to create each element. BREEAM rewards products with low embodied energy and/or high recycled content — for example, a photovoltaic module or a pollution-reducing product such as Ecologic, which contains up to 50% recycled material.
Under the Code for Sustain-able Homes and BREEAM, points are allocated towards an overall rating through the applications detailed in the Green Guide. It is important to get an A or A+ rating to maximise points in the materials category. An A+ rating earns three points, while an A rating earns two.
British Standards & other legislation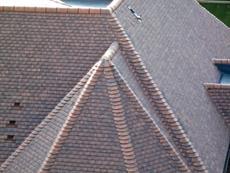 British and European standards and codes of practice can also influence roof design. While standards are designed for voluntary use, laws and regulations may refer to certain standards and make com-pliance with them compulsory. Examples include:
Company standards: ISO 14001 for environmental systems, ISO 9001 for manufacturing. Both of these are required to meet legislation, for example the Code for Sustainable Homes.
Product and application: Reputable manufacturers will offer products tested to British Standards by independent bodies to meet strength, fire and weather resistance criteria. National Building Specifications specifications apply to most types of detailing, including flashings and interfaces with other materials. Manufacturers may also write bespoke specifications for clients.
Design: An example of best practice for roofing is BS5534, currently under review. It may contain recommendations to mechanically fix all tiles or slates — ie, without relying on mortar alone.
MODULE 9 DEADLINE: October 28 2011
Postscript
To complete this CPD, read the module and click here to take the test online. If you experience any problems viewing the test online, contact bdreviews.cpd@ubm.com

MODULE 9 DEADLINE: October 28 2011
Privacy policy
Information you supply to UBM Information Ltd may be used for publication and also to provide you with information about our products or services in the form of direct marketing by email, telephone, fax or post. Information may also be made available to third parties.
"UBM PLC" may send updates about BD CPD and other relevant UBM products and services. By providing your email address you consent to being contacted by email by "UBM Information Ltd" or other third parties.
If at any time you no longer wish to receive anything from UBM PLC or to have your data made available to third parties, please write to the Data Protection Coordinator, UBM PLC, FREEPOST LON 15637, Tonbridge, TN9 1BR, Freephone 0800 279 0357 or email ubmidpa@ubm.com
Sponsor
For more information, go to www.marleyeternit.co.uk/me