This CPD sets out the potential of innovative ceiling design to improve sustainability. It is sponsored by Armstrong
Click here to take the CPD module.
How to use this module: BD Reviews' free continuing professional development distance learning programme is open to everyone who wants to develop and improve their professional knowledge and skills. These modules can contribute to your annual programme of CPD activity to help you maintain membership of professional institutions and bodies. All you have to do is read this module then take the questions via the link above or at the bottom of the page.
Module 10 deadline: November 4 2011
There are many definitions of sustainability, but one of the most widely accepted is the Brundtland Definition, from the United Nations World Commission on Environment & Development, 1987. It describes sustainability as "meeting the needs of the present without compromising the ability of future generations to meet their needs".
This doesn't only refer to preserving the world's natural resources, but also to meeting needs such as health, education and quality of life, something that is reinforced by sustainability models such as the Natural Step and the Five Capitals Model.
The Natural Step uses a science-based framework to help understand sustainability and sustainable development. Four conditions are deemed critical in a sustainable society: nature should not be subject to systematically increasing concentrations of substances extracted from the earth's crust (1), concentrations of substances produced by society (2) and degradation by physical means (3), and human needs must be met worldwide (4).
The Five Capitals Model is based upon five types of sustainable capital from which we derive the goods and services we need to improve the quality of our lives (natural capital, human capital, social capital, manufactured capital, financial capital). It states that we need to maintain and increase our stocks of the five capital assets and that we should be able to live off the income from these assets without reducing the capital itself.
The whole building industry has a huge impact on the quality of the environments in which many people work and the homes that they live in, as well as the natural environment and the world's natural resources.
Rating sustainability performance
When choosing sustainable products or ascertaining the sustainability of a supplier, there are a number of things to take into account.
At manufacturer/supplier level, firms should have a published environmental policy and may have achieved the environmental management standard ISO 14001 at their plants. It is also important to look at where products are manufactured and the impact of transporting them.
At project level, there are a number of assessment schemes, including the UK's BREEAM (Building Research Establishment Environmental Assessment Methodology). Buildings are assessed and rated poor, good, very good, excellent or outstanding using the BRE's Envest2 rating tool. Assessment schemes are often split into four general areas covering energy efficiency, resource efficiency, interaction with the local environment and quality of indoor environment.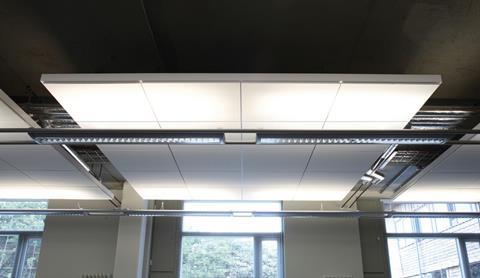 BREEAM also encourages the use of materials that have a lesser impact on the environment, through the Green Guide to Specification. This provides environmental data on more than 250 materials and gives them a rating from A+ to E. Construction materials can impact significantly upon the total score. Suspended ceilings were removed from the Green Guide in 2008.
Other ratings tools include the US system LEED and Ska Rating for fit-out and refurbishment projects. There are also product assessment/declaration schemes. In the UK, the most widely recognised of these is the BRE's Environmental Profiles Certification Scheme.
According to the BRE, all ceiling tiles have the same life cycle of 25 years, but it is possible to assess the impact of individual products or groups of products using the BRE Ecopoints scoring system.
Sustainability of building components
There are a number of factors in the sustainability of building components. These include:
Extraction of raw materials, both in the energy required and the depletion of natural resources
Energy and emissions in manufacture
Recycled content
Impact of transport of both raw materials and finished product
Amount of waste during construction and how it is disposed of
Energy used during the life of the component, and its effect on the amount of energy required within the building
Product life and replacement timescale
Recyclability at the end of life.
Components must also meet the needs of a building's occupants, providing a comfortable, high-quality internal and external environment that is suitable for the tasks to be performed there.
Factors to take into account include: acoustic comfort, fire safety, hygiene, thermal comfort, indoor air quality, service integration and visual comfort.
No matter how "green" a building interior or how much energy is saved by the use of a building product, if it produces an environment that is uncomfortable for users, it cannot be said to be producing a truly sustainable building interior.
Use of recycled materials in suspended ceilings
Recycled materials in ceiling products include:
Waste wools — used to make wet felt "hard" mineral fibre tiles
Newspaper — used to make wet felt "hard" mineral fibre tiles
Glass — glass wool "soft" tiles can be manufactured from recycled glass
Steel — recycled content in the steel used to make metal ceiling tiles and grids
Aluminium — recycled content in aluminium used to make extruded grids and trims
Recycled wood — in chip-board substrate for some wood veneer or paper laminate tiles
Cardboard — "dunnage" packaging can be made from 100% recycled paper and card
Plastic — shrink-wrap packaging can be made from recycled plastic.
The definition of recycled content used by most manufacturers is that given in ISO 14021:2001, which states that it is: "the proportion, by mass, of recycled material in a product or packaging. Only pre-consumer and post-consumer materials shall be considered as recycled content". Pre-consumer relates to the manufacturing process, while post-consumer relates to waste generated by product users.
Recycled content of ceiling materials

Wet felt "hard" mineral fibre tiles
19-70%
Resin-bonded "soft" mineral fibre tiles

15-25% (rock wool)

40-70% (glass wool)

Metal tiles
20-68%
Wood tiles
30% (steel)
Suspension systems
50-85% (aluminium)
Reference should also be made to WRAP's Guidelines for Calculating & Declaring Recycled Content in Construc-tion Products. The recycled content of a suspended ceiling will depend on the material it is made from (see table below), and also on the way the product has been formulated.
Changes to ceiling products
There have been a number of changes to the raw materials and ingredients used to make mineral fibre ceilings. Any changes must be balanced with the need to maintain product performance in terms of fire, acoustics, handle-ability, durability, waste and product life cycle.
Bio-soluble wools: One of the most significant was in the late 1990s with the introduction of bio-soluble mineral wools, including both rock and glass wools. Bio-soluble wools are classified by the International Agency for Research on Cancer (IARC) as group 3 — not classifiable for carcinogenicity. Bio wools must have a half-life of less than 40 days, according to EU directive 97/69EC. Most have a half-life of between 23 and 28 days.
Perlite: This naturally occurring volcanic glass has been introduced to replace some of the mineral wool in wet felt "hard" mineralfibre tiles, as have recycled newspaper and waste glass wool. Perlite has a lower environmental impact and also weighs less, reducing carbon emissions associated with transporting products.
New technologies such as low-density wet felt ceiling tiles are being introduced to improve acoustic performance and product handle-ability.
Acoustic fleece: New technologies for acoustic infill for metal tiles have also been introduced. These can extend a product's life-cycle and reduce its weight, while still achieving required performance levels.
Chipboard: This is used instead of wood in certain situations because it weighs less, and also includes greater recycled content.
Gauge reduction: There is little opportunity to change the raw materials used in ceiling grids - the gauge of steel can only be reduced when accomp-anied by technical innovations that maintain product strength and performance. Changes to the shape of tile profiles can increase strength, as can stitching. The use of staked-on clips on cross tees retains connection strength.
Ceiling product supply chains and distribution
The way products are transported to site can have a significant impact on the sustainability of a project. Ceilings consist of several key components — primarily tile and grid — which may be manufactured by different suppliers. Manufacturers generally ship full 40ft trucks for efficiency and minimum environmental impact.
In the UK, the suspended ceilings industry, like many others, has evolved into a distributor-supplied market. This means that local distribution centres are used, which allows materials to be delivered from the manufacturer in full trucks — typically 720 cartons — to a location close to site.
Distributors then use smaller vehicles to deliver to the site itself. Greater efficiency can be achieved by delivering multiple materials in one trip and making multiple local site drops to several projects and customers.
User comfort and well-being
Ceilings have a huge impact upon many aspects of user comfort within spaces.
They are integral to achieving a number of regulatory requirements in new buildings, and may also earn BREEAM credits.
For example, emissions of volatile organic compounds (VOCs) are coming under increasing scrutiny, and as part of mandatory European CE marking, ceiling tiles are tested for formaldehyde emissions. Achieving "E1" — the best possible rating — as well as the "no asbestos" declaration, can contribute to the BREEAM credit HEA 9 for VOCs.
Canopy ceilings & thermal mass performance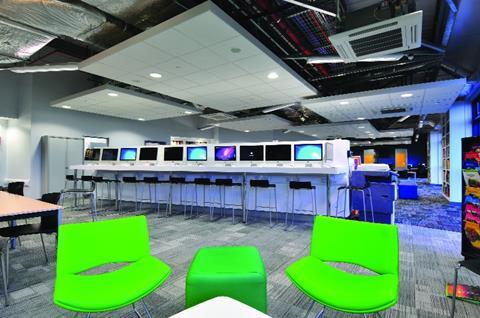 One way of reducing the heating and cooling load in a concrete building is to use the thermal mass of the structure to absorb excess heat during the day and release it at night-time. This can help reduce the need for mechanical heating and ventilation.
To achieve this, the concrete slab must be left exposed to allow thermal transfer, but it is very difficult to achieve other requirements, such as acoustic performance or the integration of building services, without the use of a suspended ceiling. One solution is to replace traditional wall-to-wall ceilings with discontinuous canopy ceilings. The use of a central floating raft, multiple linear strips, or a perimeter band of suspended ceilings can provide acoustic control and the screening and integration of services, while still allowing air to flow next to the concrete slab for thermal transfer.
Alternatively, open-cell tiles can be integrated within a normal ceiling system to create "grilles" to allow the warm air to rise through to the slab.
By suspending the ceiling rather than sticking absorbent material directly to the concrete soffit, it is possible to maintain 100% of the area of the concrete for passive cooling. This can also provide greater sound absorption than using the same tiles in a wall-to-wall solution or fixing them directly. There is a wide range of design options that allow architects to create visually stimulating ceilings.
Postscript
To complete this CPD, read the module and click here to take the test online. If you experience any problems viewing the test online, contact bdreviews.cpd@ubm.com
MODULE 10 DEADLINE: November 4 2011
Privacy policy
Information you supply to UBM Information Ltd may be used for publication and also to provide you with information about our products or services in the form of direct marketing by email, telephone, fax or post. Information may also be made available to third parties.
"UBM PLC" may send updates about BD CPD and other relevant UBM products and services. By providing your email address you consent to being contacted by email by "UBM Information Ltd" or other third parties.
If at any time you no longer wish to receive anything from UBM PLC or to have your data made available to third parties, please write to the Data Protection Coordinator, UBM PLC, FREEPOST LON 15637, Tonbridge, TN9 1BR, Freephone 0800 279 0357 or email ubmidpa@ubm.com
Sponsor
For more information, go to www.Armstrong.co.uk