This CPD explores the use of architectural cladding to create a practical, decorative and sustainable facade. It is sponsored by Ruukki.
Click here to take the CPD module
How to use this module: BD Reviews' free continuing professional development distance learning programme is open to everyone who wants to develop and improve their professional knowledge and skills. These modules can contribute to your annual programme of CPD activity to help you maintain membership of professional institutions and bodies. All you have to do is read this module then take the questions via the link above or at the bottom of the page. Module 5 deadline: June 4 2011.
The facade of a building is one of its most prominent features. Cladding serves not only a practical purpose, maintaining a weathertight, secure building envelope, but also a decorative one.
For an architect, the choice of cladding is an opportunity to complement structural characteristics, play with colours, textures and shapes to express rhythm and flow, and create an individual signature on the landscape.
Cladding can also make an important contribution to the sustainability of a building.
Shapes
Cladding solutions are available in a variety of shapes to add character to a facade. Ruukki's range includes:
Liberta rainscreen panels provide a versatile way of creating an elegant and unified surface for the facade of the building. Unique facade surfaces can be created using panels of different sizes, materials, colours and joint widths. Especially large panels are also available - Ruukki's Liberta Grande products are manufactured with a high-density insulation board which, glued on the back of the cassette, acts as a stiffener. Panels are installed with concealed or visible fasteners, and the facade system can be finished with corner panels, which extend around the external corner of a building. Pitched panels have a pitched upper edge with no fastening holes, suitable for the eaves of a building. The lower or vertical edges of a panel can also be pitched, but it is generally recommended for only one edge of each panel.
Cladding lamellas can create a harmonic and modern image. The wide variety of shapes enables visually interesting vertical and horizontal surfaces and highlights. Fasteners are concealed or visible in different models. Vertical joints and endings are finished with specially designed flashings, and some models allow two separate lamellas, slanted at 45°, to be combined to fit external and internal corners.
Design profiles and complementary flashings bring minimalist diversity and rhythm to facades. The versatility of design profiles enables multiple applications for the facade, interior walls and suspended ceilings of a building.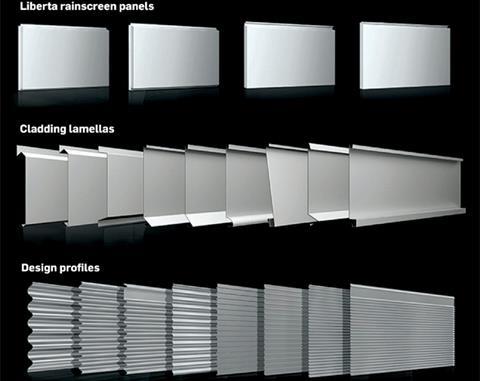 Materials
There are a number of different materials that may be sed in cladding, such as steel, aluminium and Cor-Ten, with different properties and environmental impacts.
Cor-Ten steel is a copper chromium alloy, and its chemical composition gives it a significantly better ability to resist atmospheric corrosion than similar structural steels. The weather resistance of the product is due to the protective oxide layer that forms on the steel surface when it is wetted and dried repeatedly. The rust-like patina will form in normal weather conditions within 18 to 36 months.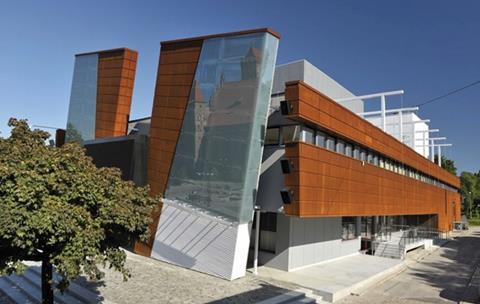 It is initially reddish brown in colour, becoming darker in tone over time. In industrial environments, the patina forms more rapidly on the steel and darkens more than in cleaner rural environments. The protective patina layer cannot form, however, if the surface of the steel is continuously damp or dirty.
Cor-Ten steel can be used in architecture applications without requiring any separate surface treatment during the manufacturing and operational periods. This lowers the environmental impact of the product and its costs over its life cycle. In addition, steel facade cladding products can be reused or recycled and used as a raw material for new products, which further improves sustainability.
Designing a facade
Before ordering panels, lamellas or profiles, project-specific plans should be made, considering the background structures, frame structures, installation direction, joint width, ventilation, thermal expansion and gaps as well as flashings and fastenings.
The plans should be made by a structural design company familiar with facade planning or the structure planner of the building project. Installation drawings are made based on the facade drawings. The components are identified with unique ID numbers, and their dimensions must match the architect's plan, which is complemented by detailed dimensions of the vertical and horizontal joints as well as details of any corner, window and door connections.
Based on these plans, the installer can report the component dimensions as the work progresses.
At the same time the location, number and fastening method of the substructure should be specified. These are determined based on wind loads and component dimensions.
Colour finishes
There are several different types of colour coating used for facade panels, with different levels of durability.
A PVDF matt surface is recommended for normal exterior use, where it is important that the facade retains its colour over time, because it has high resistance to UV radiation and stains.
The structure of PVDF-coated steel is as follows: backing coat, steel sheet, zinc coating, passivation layer, primer, PVDF coating.
A powder-coated matt surface is recommended for normal and more demanding exterior use, and includes an epoxy-coated galvanised steel substrate. The structure of powder-coated steel is as follows: backing coat, steel sheet, zinc coating, passivation layer, primer, epoxy coating, powder coating.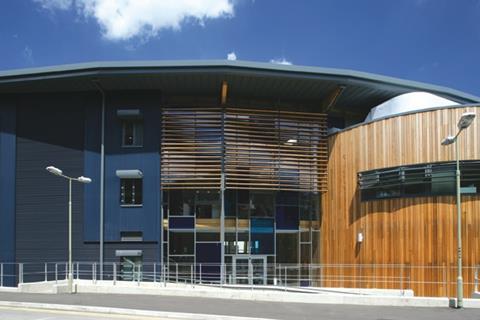 Maintenance
Facades are exposed to pollution including sulphur, chlorine and nitrogen compounds, which cause acid rain, and various mineral salts, dirt and soot. These impurities, combined with water and UV radiation from the sun, will affect the coating.
The durability of coated steel sheet will be affected most where there are knocks and scratches, which allow the impurities to come into direct contact with the zinc layer underneath the paint coating or, worse, with the steel core.
Impurities in the air have the greatest effect in coastal or industrial areas, and emissions containing sulphur or chlorine are the most damaging. Regular cleaning is an important part of maintenance of facade coatings.
Achieving environmental ratings
Choosing cladding materials with a low environmental impact can help projects to achieve environmental ratings such as BREEAM and LEED, developed in the UK and US respectively, but increasingly chosen by clients on projects worldwide.
Projects must meet a number of criteria to gain credits.
BREEAM
Under the BREEAM scheme, for example, in the Materials specification (Major building elements) category, up to six credits may be earned, depending on the sector. Credits are also earned for:
Reuse of facade: 1 credit. The versatility and strength-to-weight ratio of structural steel enables the retention and reuse of existing facades.
Responsible sourcing of materials: 1 to 3 credits. Manufacturers can work to achieve the ISO 14001 certification, which recognises good environmental management throughout their operations. 100% of Ruukki's sites have this certification.
Designing for robustness: 1 credit. With adequate protection of exposed parts of the building and landscape, the frequency of material replacement can be minimised. Steel columns are inherently robust against damage from pedestrians and vehicles.
LEED
Material specification is also important in achieving LEED accreditation. For example:
Building reuse: 1 to 3 credits. This category offers points for extending the life of existing buildings, thus con-serving materials that would have been used for a new building. This includes the building's envelope and cladding. To score one point, a minimum of 55% of the existing structure should be maintained. Again, the versatility and strength of steel cladding means existing facades can be retained and reused.
Construction waste management: 1 to 2 credits. This credit aims to address the huge volume of waste generated by construction projects. If 50% of the weight or volume of construction waste is diverted from landfill, one point is awarded. If 75% is diverted from landfill, two points are awarded. Steel components generate very little waste because steel is a valuable material and any waste generated from demolition or offcuts from the manufacturing process can be readily sent for recycling and reuse.
Recycled content: 1 to 2 credits. This aims to increase demand for building materials that incorporate recycled content, and is again based on the percentage of the total value of materials in a project. If 10% of materials is recycled, the project will receive one point, and if 20% is recycled, two.
One of the greatest environ-mental advantages of steel is its recycled content – it can be recycled many times without a drop in quality, the infrastructure for steel recycling is well-established and its magnetic qualities make it easily extracted from the waste stream. Steel is produced through one of two methods: the Basic Oxygen Furnace (BOF) typically uses about 25% scrap steel, and the Electric Arc Furnace (EAF) uses more than 95% scrap steel. Both processes are used to make building products, including cladding.
LEED certification requires documentation from steel suppliers verifying recycled content and the manufacturing process used, which Ruukki can provide.
How to use this module
BD Reviews' continuing professional development distance learning programme can contribute to your annual CPD activity and help you maintain membership of professional institutions and bodies. To complete this CPD, read the module and click here to take the test online. If you experience any problems veiwing the test online, contact bdreviews.cpd@ubm.com

MODULE 5 DEADLINE: June 4 2011

Privacy policy
Information you supply to UBM Information Ltd may be used for publication and also to provide you with information about our products or services in the form of direct marketing by email, telephone, fax or post. Information may also be made available to third parties.
"UBM Information Ltd" may send updates about BD CPD and other relevant UBM products and services. By providing your email address you consent to being contacted by email by "UBM Information Ltd" or other third parties.
If at any time you no longer wish to receive anything from UBM Information Ltd or to have your data made available to third parties, please write to the Data Protection Coordinator, UBM Information Ltd, FREEPOST LON 15637, Tonbridge, TN9 1BR, Freephone 0800 279 0357 or email ubmidpa@ubm.com