This is the third of our CPD modules for 2011, designed to help you broaden your knowledge
while you work. This module is sponsored by Marley Eternit.
Click here to take the CPD module
How to use this module: BD Reviews' free continuing professional development distance learning programme is open to everyone who wants to develop and improve their professional knowledge and skills. These modules can contribute to your annual programme of CPD activity to help you maintain membership of professional institutions and bodies. All you have to do is read this module then take the questions via the link above or at the bottom of the page.
Both Building Regulations and consumer pressure are demanding ever-increasing levels of sustainability in new buildings. This module will explain some of the ways in which roofing products and their manufacture can contribute to a more sustainable built environment.
Roofing systems may con-tribute to sustainability by having low embodied energy, being recyclable, or being made from recycled materials. Or products might simply last a long time, so that they do not need replacing for a number of years. Roofing systems may also help to generate energy from renewable sources.
It is not enough that products contribute to sustainability, they must also be made in a sustainable fashion. Sustainable roofs will combine a number of these features to make the most positive impact on the environment.
More than one third of our CO2 emissions are produced by the construction and operation of the built environment. Specifiers must choose systems which make the minimum impact on the environment, while maximising the energy efficiency of buildings.
Every new roof, whether as part of a new build or refur-bishment, is an opportunity to reduce the carbon emissions of our built environment.
Sustainability in use
The residential sector in England, Wales and Northern Ireland must comply with the Code for Sustainable Homes (CSH), under which all new housing since 1 May 2008 must meet minimum standards against nine design categories.
New public housing projects must achieve continuous improvement until 2016, when all new projects must achieve "zero carbon".
Private housing is around two years behind and must comply with Building Regulations, though many projects are seeking to achieve the highest levels of sustainability already. In Scotland, the equivalent standard is Breeam Ecohomes, on which the Code for Sustainable Homes is based.
The choice of roofing material can help a project meet the standards of the Code in several categories.
Materials
Roofing can contribute up to three points to the overall score, according to its rating within the Building Research Establishment's Green Guide to Specification.
Surface water run-off
Roofing may incorporate rainwater harvesting systems.
Pollution
Some roofing products can absorb harmful NOx emissions from boilers, taking pollutants straight out of the atmosphere.
Waste
By its nature, roofing for small areas is easy to order in the correct quantities, it can be sorted and recycled, and concrete and clay products can be crushed and reused as general aggregate. This makes small-element roofing easy to incorporate into site waste management plans. We have found that introducing waste specialists to architects can reduce the resulting waste stream by 20-30%.
Non-residential projects must meet Breeam requirements. Here, credits are also awarded in each of nine areas according to performance, and buildings are rated on a scale from Pass to Outstanding. Breeam is not currently mandatory. It encourages use of sustainable materials, and takes into account the full life cycle of a project, by rewarding materials with low embodied energy, responsibly sourced materials, recycled materials and innovative products.
For roofing materials, both the Code for Sustainable Homes and Breeam allocate points towards overall ratings through specifications detailed in the Building Research Establishment's Green Guide to Specification. It is the system that achieves the A+ rating, not the product.
Generic roofing constructions that achieve an A+ rating in the Green Guide include:
Fibre cement slate roof
Timber trussed rafters and joists with insulation, roofing underlay, counter battens, battens and UK-produced fibre cement slates
Clay plain tiles
Timber trussed rafters and joists with insulation, roofing underlay, counter battens, battens and UK-produced clay plain tiles.
Unless an imported product has been individually tested, it cannot receive a Green Guide rating or gain any points in the materials category.
Common perceptions of the environmental impact of different roofing materials are not always correct. While many people might guess that natural slate and clay would have a lower embodied energy than fibre cement and concrete, in fact the correct order from the lowest KgCO2/m2 to the highest is: concrete, fibre cement, clay, natural slate (see table below).
Environmental criteria for selection of roofing material
Roofing material
Weight
(kg/m2)
Life expectancy
(years)
Material resources
Recyclability
Embodied carbon
(kgCO2/m2)
UK clay tiles
40-75
60+
Abundant
Good
16-28
UK concrete tiles
38-74
60+
Abundant
Good
12-15
UK fibre cement slates
20-21
60+
Abundant
Medium
20
Sustainability in manufacture
Roofing manufacturers may achieve sustainability in a number of ways.
Reducing waste
Wherever possible, waste should be recycled rather than sent to landfill. Waste-to-heat power plants may be installed at factories, converting many types of waste, from cement bags to irreparably damaged timber pallets, into heat. At the end of their life, tiles and slates can be recycled, for example as an aggregate in other concrete products.
Saving energy
The use of electricity, gas, oil and water should be measured and compared across factories, and monthly data used to identify where improvements could be made. At one site, for example, Marley Eternit has used methane produced by local landfill to generate heat to cure tiles and heat the workplace.
Cutting pollution
Use eco-friendly, low-emission and fuel-efficient vehicles, and try to ensure that there is a return load for every trip.
Responsible sourcing
Using suppliers that have demonstrated a commitment to carbon reduction in the manufacture of their products.
Sustainable supply chains
Engage with customers and all parties within the supply chain to ensure use of sustainable products which have a low embodied energy throughout.
Product development
Bring to market environ-mentally sustainable products. Companies may gain the ISO 9001 and 14001 certification for the quality and good environmental management of their operations.
Maximising sustainability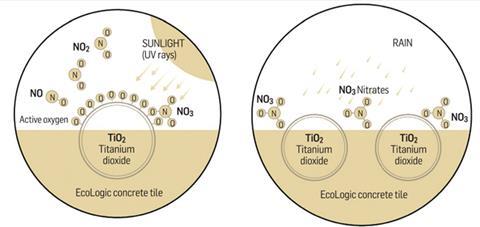 Because of its elevation and orientation, the roof is the key atmospheric and meteorological interface of a building. The roof is an integral part of the building envelope, instrumental in maximising heat efficiency.
A roof also has a number of passive attributes that contribute to a building's sustainability - it is watertight, weathertight and heat tight.
But roofs can also make an active contribution to sustainability by:
capturing and using solar power to heat water and create electricity
capturing wind energy to create electricity
capturing and reusing rainwater
absorbing pollutants such as nitrogen oxides
incorporating ventilation apertures to control the temperature within.
Photovoltaic systems are a proven technology that converts the sun's energy into electricity, and generates energy even in cloudy conditions. They have a life expectancy of around 20 years. Systems are compatible with ordinary pitched roof components, and can blend in unobtrusively.
To achieve a Level 6 rating under the Code for Sustainable Homes, some form of renewable energy system must be incorporated. Photovoltaic technology is one option. Photovoltaic systems can also provide an income for building owners through government Feed-in Tariffs, potentially reducing payback times on an initial investment in the technology.
Some roofing products incorporate a surface coating that absorbs harmful nitrogen oxides which can cause asthma. Marley Eternit's EcoLogic tiles are made from approximately 50% recycled materials, and achieve an A+ rating in the Green Guide.
A granular layer containing titanium dioxide is embedded in a slurry and fused on to the surface of the concrete tiles (see figure 2).
The titanium dioxide is activated by the ultraviolet part of sunlight, to produce extra oxygen. This bonds with the NOx molecules to become harmless nitrates which will be washed away by rain. The granular finish of the surface coating maximises the active surface area and the efficiency of the NOx removal process.
How to use this module
BD Reviews' continuing professional development distance learning programme can contribute to your annual CPD activity and help you maintain membership of professional institutions and bodies. To complete this CPD, read the module and click here to take the test online. If you experience any problems veiwing the test online, contact bdreviews.cpd@ubm.com

MODULE 2 DEADLINE: May 21 2011

Privacy policy
Information you supply to UBM Information Ltd may be used for publication and also to provide you with information about our products or services in the form of direct marketing by email, telephone, fax or post. Information may also be made available to third parties.
"UBM Information Ltd" may send updates about BD CPD and other relevant UBM products and services. By providing your email address you consent to being contacted by email by "UBM Information Ltd" or other third parties.
If at any time you no longer wish to receive anything from UBM Information Ltd or to have your data made available to third parties, please write to the Data Protection Coordinator, UBM Information Ltd, FREEPOST LON 15637, Tonbridge, TN9 1BR, Freephone 0800 279 0357 or email ubmidpa@ubm.com.
Postscript
For more information about continuing professional development in BD, email bdreviews.cpd@ubm.com
This CPD module is sponsored by Marley Eternit www.marleyeternit.co.uk