This CPD explores design opportunities for composite rainscreen technology. It is the first in our regular series of CPD modules for 2011 and is sponsored by Steni.
*** This module is now open until 31 March 2011 ***
This module is now closed
How to use this module: BD Reviews' free continuing professional development distance learning programme is open to everyone who wants to develop and improve their professional knowledge and skills. These modules can contribute to your annual programme of CPD activity to help you maintain membership of professional institutions and bodies. All you have to do is read this module then take the questions via the link below or at the bottom of the page.
Composites are "hybrid materials in which two or more substances with very different physical and chemical properties are combined to form a new superior material" (definition from the Welsh Composites Consortium, Swansea University).
A common example is concrete with steel-bar reinforcement. A composite can also be a mix of a polymer and a filler which, after a chemical reaction, becomes a completely new material, such as the plastic used by dentists for tooth fillings.
Composite materials have inherent strength and formability qualities, and are lightweight compared to traditional materials.
Today they are used in many different markets and applications. Composites are widely used in aerospace and motoring – for the body shells of Formula One cars and space shuttles, for example – and in construction, for bridges and wind turbines, and also for cladding, for architectural forms and in modular building systems.
The manufacturing process
Composite cladding panels are made of a number of different layers, which are cured to give the panels their durability and climate-resistance.
At Steni, a sheeting process is used, where panels are manufactured on a continuous steel belt which travels through the machine picking up different elements as it goes.
The process begins with the polyester resin layer, then a layer of glass fibre strands, then another layer of polyester. The next layer is the "core stone", a fine-grade stone which adds density and strength to the panel.
There is then another layer of glass fibre strands and another of polyester. This base panel is then heat-cured, to produce a composite material known as a fibre-reinforced polymer (FRP).
The subsequent finishing process depends on the required appearance of the panels. Colour panels travel through to an electron-beam curing unit, which adds a coloured layer and the required texture (high gloss, half matt or matt). This curing process enables the colour to weather ultraviolet light.
Panels with a natural stone finish are heat-cured in a series of five ovens after the stone coating is applied.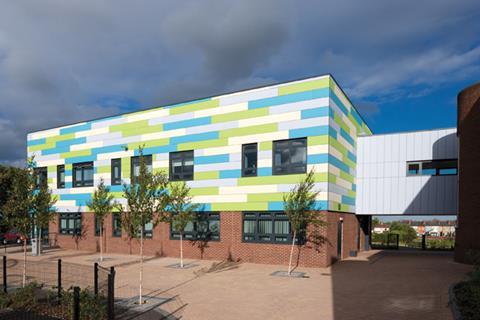 Benefits of specifying composite ventilated rainscreen facades
Composite materials are highly suitable for use in ventilated rainscreen facades, because they are durable and resistant to climatic conditions and to fire. The manufacturing process has a lower environmental impact than that for other cladding materials, and waste material and panels can be recycled.
Durability
Composite panels have a high strength-to-weight ratio and extremely good flexural strength, which means they resist cracking and fatigue and have a very high impact resistance. If broken, they do not splinter or cause shards.
According to Dr Sue Halliwell of the Network Group for Composites in Construction (NGCC), which represents construction composites manufacturers in the UK, recent improvements in the production of FRP components will lead to improved durability, and should enable design lives of between 60 and 100 years.
Climate resistance
Composite panels do not absorb moisture and are not affected by humidity, and can be submerged in water without being damaged. They are resistant to extremes of temperature and to UVA and UVB rays. They also have an extremely high chemical resistance, so are not affected by acid rain or airborne pollutants. A wide variety of cleaning methods are appropriate and graffiti can be easily removed without affecting the appearance of the panel.
Fire resistance
When exposed to fire, composite panels char rather than burn, producing an insulating layer. This means that they do not explode, melt, give off any droplets, or exude gases or dense smoke.
Under British standards, Steni panels meet BS 476 on fire tests for building materials and structures, parts 6 and 7, which cover fire propagation and the surface spread of flames, achieving a fire class of 0. Under European test standards BS EN 13823 and BS EN 11925-2, they achieved a grading of B-s1, d0 where "B" is the second best rating for fire behaviour after non-combustible, "s" refers to smoke production, with 1 the best rating, and "d" refers to flaming droplets or debris, with 0 meaning none.
Environmental impact
The manufacturing process for products made from fibre reinforced polymers has a comparatively low environmental impact, because relatively little energy is used, and it produces low levels of volatile organic compounds (VOCs) and other toxic chemicals (see graph).
Panels may be made to specific sizes depending on the design of a building, reducing the amount of waste during the construction process. These materials can be recycled, by being ground down and used as additives and fillers in concrete. In Scandinavia, there are companies that take reject panels from the manufacturing process and use them to construct a framework when pouring concrete. They can also be recycled via pyrolysis, or incineration, to produce energy.
Design flexibility
Composite cladding panels can be manufactured in a variety of sizes and shapes, including corner and curved elements, and in a variety of finishes and to match any colour.
Designers can mix and match any combination. Composite cladding panels can also replicate the finishes of
other materials such as bricks and render.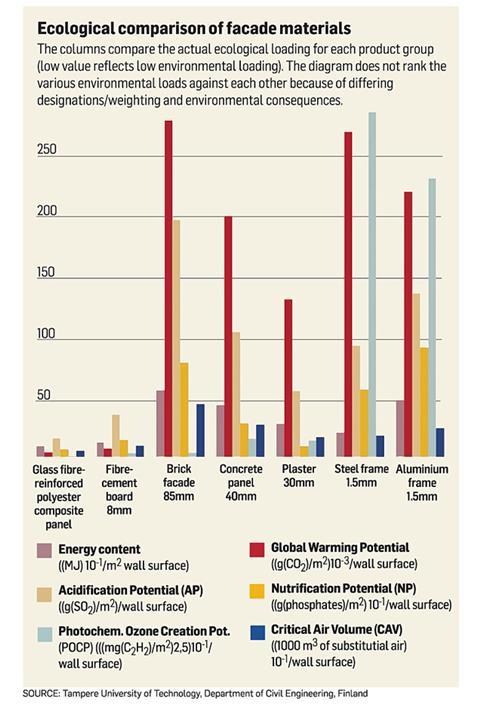 Considerations for building with ventilated rainscreen cladding
Rainscreen cladding systems are prefabricated, so they can be installed more quickly and require much less skilled labour than traditional construction methods.
Panels are lightweight compared to other materials and easy to handle, which improves site safety.
Cutting and trimming of composite cladding panels is best done with tungsten carbide- or diamond-tipped saws and drills, which ensure a longer life of the tools and give clean cuts and holes. No treatment of cut edges or holes is necessary.
The Health & Safety Executive's regulations for the Control of Substances Hazardous to Health (COSHH) mean regular face masks, goggles, gloves and foot protection should be worn. The panels do not give off any toxic dust.
Cladding should not be installed in non-ventilated situations.
Installing ventilated rainscreen cladding
Panels can be installed using a variety of fixing systems including screws for fixing the panels to timber, rivets to fix to aluminium sub-frames or adhesive for fixing to timber or to aluminium. They can be fixed in frames, and there are also a number of options for fixing to high-rise buildings. The most popular method is invisible fixing with adhesive.
When installing ventilated rainscreen cladding, Steni refers project teams to the guidance under BS 8200:1985, which covers the design of non-load-bearing external vertical enclosures of buildings. The standard has not been revised since 1985 and has now been withdrawn by the British Standards Institute, but there has been no replacement so Steni would still recommend customers continue to follow this technical specification.
Diagram A shows a typical solid-wall construction, in which there would be a load-bearing wall, probably insulated, with a cladding carrier system with cladding fixed to it. Diagram B refers to the use of modular or offsite construction, where there would be a frame made of metal or timber and filled with insulation, to which the carrier system and the rainscreen cladding would be attached.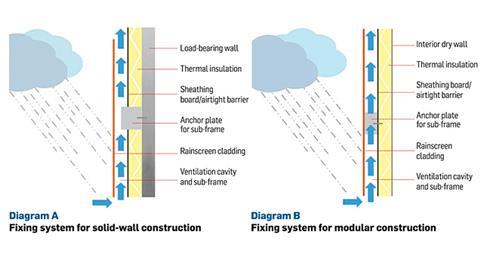 Take note of the ventilated cavity. This must be fully vented at the top and at the bottom of the cladding, and the cavity must be at least 20mm to allow equalisation of air pressure. Certain insurers may require wider cavities. For example, if the project is to be covered by an NHBC policy the cavity must be 38mm for panels with rebated joints and 50mm for those with open joints.
The benefits of ventilated rainscreen systems are that the inner leaf and the insulation of the building are always dry and in proper working order.
A ventilated cavity means that moisture from the outside cannot penetrate the insulation of the inner leaf. Also, any internal moisture or conden-sation in the cavity is vented out of the building. In extreme cases of moisture, it may drain through the vent opening at the bottom of the cladding.
When fixing a ventilated rainscreen system, installation is easier if the support system – whether timber or aluminium – is fixed vertically. This makes the ventilation of the cavity easy to achieve and pressure equalisation in the cavity is uninterrupted.
Under BS 8200, all cladding panels used in rainscreen systems should allow a gap for expansion and contraction. Composite panels do not require the same allowance as for panels made from traditional materials, but panels should be able to move up to 2.5mm per linear metre of cladding material, in both height and width. Steni recommends leaving 10mm gaps between panels both vertically and horizontally, so that there will always be sufficient room for expansion for panels of up to 4m, and so that the appearance of the building will benefit from uniform joints on all elevations.
How to use this module
BD Reviews' continuing professional development distance learning programme can contribute to your annual CPD activity and help you maintain membership of professional institutions and bodies. This module is now closed
MODULE 1 DEADLINE: March 31 2011
Privacy policy
Information you supply to UBM Information Ltd may be used for publication and also to provide you with information about our products or services in the form of direct marketing by email, telephone, fax or post. Information may also be made available to third parties.
"UBM Information Ltd" may send updates about BD CPD and other relevant UBM products and services. By providing your email address you consent to being contacted by email by "UBM Information Ltd" or other third parties.
If at any time you no longer wish to receive anything from UBM Information Ltd or to have your data made available to third parties, please write to the Data Protection Coordinator, UBM Information Ltd, FREEPOST LON 15637, Tonbridge, TN9 1BR, Freephone 0800 279 0357 or email ubmidpa@ubm.com.
Downloads
Other, Size 1.49 mb

Other, Size 2.05 mb
Postscript
Steni AS has been making quality composite panels since 1965. For more information, go to www.steni.co.uk