Vinyl floor tiles provide a durable surface that can replicate the appearance of natural materials — and new technology means they don't even need to be glued in place. This CPD module is sponsored by Karndean Designflooring
How to take this module


To take this module read the technical article below and click through to a multiple-choice questionnaire, once taken you will receive your results and if you successfully pass you will be issued automatically with a certificate to print for your records.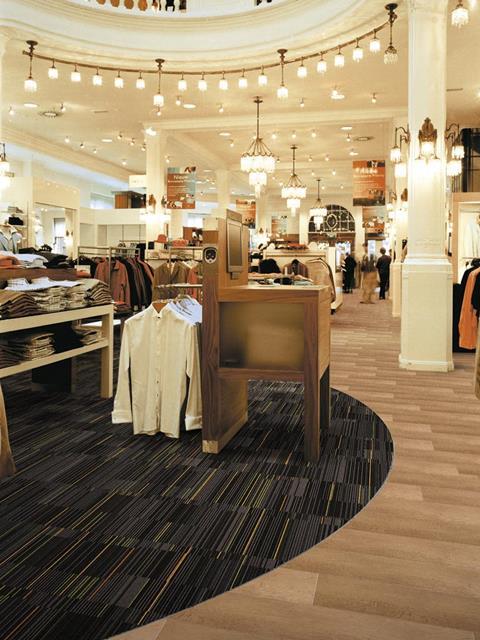 Flooring solutions have to fulfil exacting criteria in the hospitality and retail sectors. As a key part of any interior design scheme, flooring has a big impact on the overall atmosphere. It can help a restaurant to create a convivial air, or enable a retailer to reflect the look of the brands it is selling.
In both sectors, it is important that flooring is slip-resistant and durable, as public areas will face a high volume of traffic. It is also vital that it is easy to clean: bars and restaurants often have to deal with spillages and must maintain strict levels of hygiene; and shops' customers will usually have come in directly from the pavement, bringing in mud and moisture.
Businesses in both sectors may also require regular changes of décor. For example, a bar or restaurant might want to appear modern and ahead of the game, or alter its image to reflect a change in menu. A retailer may change its look to sell different brands or to adjust to a change in strategy. In any of these instances, flooring solutions that are easy to replace have clear benefits. Many options are available, including natural materials, such as stone or timber, ceramic tiles, carpet or vinyl.
This CPD module will consider the benefits of vinyl floor tiles and, in particular, systems that fix them in place magnetically. The benefits of vinyl floor tiles are:
Appearance Vinyl floorings are proving increasingly attractive to retail and hospitality businesses, as a variety of designs can be incorporated into installations, including logos and emblems. Vinyl floor tiles are now being manufactured that emulate the appearance of wood and stone (authentic texture can be applied: for example, wood ranges can be hand-carved or hand-scraped to pick out knots in planks).
Durability As with natural finishes, vinyl floor tiles can last for many years, depending on the depth of the wear layer. Supplier Karndean Designflooring recommends wear layers of between 0.55mm and 0.7mm for areas of heavy traffic.
Speed of installation Opting for vinyl floor tiles as opposed to ceramic tiles or wood flooring can also save time. For example, ceramic tiles and wood planks are thicker than vinyl flooring, so the installer may have to adjust doors, cupboards or pipe work before fitting. This is an important consideration for customer-facing businesses, as they want to be closed for as little time as possible.
Introducing magnetised vinyl floor tiles
A new system using magnetised vinyl floor tiles has been designed to further speed up the installation process. The principle is simple: using magnetism to fix the tiles, thereby eradicating the need for adhesives and drying time.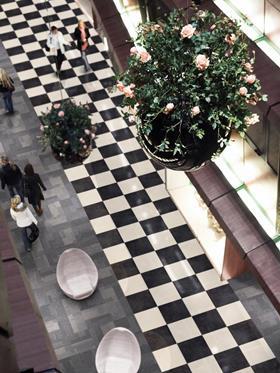 A quick-drying metallised resin is applied to the subfloor, and then the tiles, which have a magnetised backing, are laid on top. This patented system is called IOBAC and has been developed by 3M, Karndean Designflooring and Interface. It won the innovation award at this year's Ecobuild exhibition.
The force that fixes the tiles to the resin is paramagnetism. Although this is strong enough to fix the tiles securely, it is a very weak force and its main direction is downwards.
With a layer of vinyl or insulated carpet above it, the magnetic field dissipates a few millimetres above the floor. Once the tile has been removed, the magnetic field disappears completely. Therefore, the paramagnetic field serves only one purpose and will not interfere with other electrical instruments, such as heart pacemakers.
The principle is the same as for other uses of magnetism in retail environments: the scanners used to scan goods and take payment from your card, and the scanners used to ensure that goods are paid for as you enter and leave the store. Although these use electro-magnetism rather than paramagnetism, the important considerations are again the strength of the force and its direction.
For goods scanners, the magnetic field only stretches for a few inches and the direction is straight up. The entrance scanners are stronger and can penetrate bags several feet from the barriers, but they still do not interfere with other electrical equipment.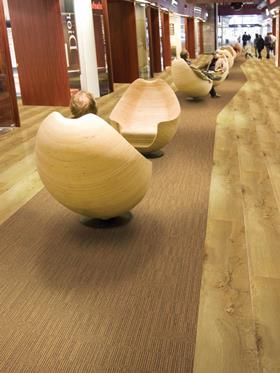 Installation
As with any vinyl flooring installation, the first step is to prepare the subfloor to ensure that the surface is dry and even. The preparation depends on the subflooring material:
New concrete floors should be cleaned and dried to remove any contamination — such as paint or plaster — before priming with neoprene or PVA primer.
Power-floated concrete floors require abrasion, either by scarification or light shot blasting.
Existing coverings, such as quarry tiles, mosaic, terrazzo or ceramics, should be degreased and abraded.
Asphalt should be degreased, then primed with neat neoprene or epoxy primer.
With conventional vinyl tiling applications, it is necessary to install a surface damp-proof membrane where moisture content is above 75%RH, regardless of the subfloor material. However the IOBAC metallised resin itself is water permeable, allowing any moisture in a damp subfloor to permeate through the resin. Magnetised tiling products can therefore be installed without additional treatments where the moisture content is up to 95% RH.
Traditionally, the next step for any of these surfaces would be to apply a 3mm minimum layer of smoothing underlayment and wait for this to dry. However,
with magnetised flooring, the metallised resin is now applied to the floor, which takes 60 minutes to set. The tiles are then simply dry-laid on top, fixed in place by the paramagnetic force.
Benefits
The metallised resin contains low volatile organic compounds, meaning it is less harmful to the environment than traditional adhesives.
Because there are no adhesives, the tiles can be taken up without damaging the subfloor, saving on preparation time, costs and materials. The replacement tiles can be laid immediately.
This also means that the original tiles can be reused in a new store or restaurant, or can be saved for later use, as they are undamaged by the removal process. They are also more easily recyclable than traditional tiles as they are not contaminated with adhesives.
Because the tiles are easy to lay and remove, displays can be
easily changed. Retailers can move walkways, highlight different areas to promote seasonal goods, sell floor space to different brands, and can even insert individual brand messages within the floor.
It is easy to mix products, or to swap between vinyl and carpet tiles, as the magnetised system is available in both.
Adhesives can weaken over time, particularly when exposed to water and cleaning products. This is not a danger with magnetic fixing.
Questions for Module 14: Magnetic vinyl flooring tiles
1. What is the recommended depth of wear layer of a vinyl floor tile specified for areas of heavy traffic?
a. Between 0.05mm and 0.07mm
b. Between 0.55mm and 0.7mm
c. Between 5.5mm and 7mm
d. Between 5mm and 7.5mm
2. Which of the following correctly describes the process of laying a magnetised flooring system?
a. Adhesive is applied to the subfloor, tiles are laid on top
b. A magnetised underlayer is installed over the subfloor, tiles with a metallised coating are laid on top
c. A metallised resin is applied to the subfloor, tiles with a magnetised backing are laid on top
d. A metallised resin is applied to the subfloor, tiles with a metallised backing are laid on top
3.Which of the following correctly describes the characteristics of paramagnetism, as used in flooring products?
a. It is a very strong force and its main direction is downwards
b. It is a strong force and its main direction is upwards
c. It is a very weak force, radiating both upwards and downwards
d. It is a very weak force and its main direction is downwards
4. Which of the following methods of subfloor preparation would you use for power-floated concrete floors?
a. Cleaning and drying, priming with neoprene or PVA primer
b. Abrasion by scarification or light shot blasting
c. Degreasing and abrading
d. Degreasing, priming with neoprene or epoxy primer
5. How long should a metallised resin be left to dry before tiles are laid?
a. 30 minutes
b. 60 minutes
c. 90 minutes
d. Overnight
How to use this module
BD's free continuing professional development distance learning programme is open to everyone who wants to develop and improve their professional knowledge.These modules can contribute to your annual CPD activity and help you maintain membership of professional institutions and bodies.
This module will contribute 30 minutes towards your CPD obligations. If success-fully completed, certificates will be distributed two weeks after the module closes.
To complete this CPD, go to www.bdonline.co.uk/cpd
Postscript
Privacy policy
Information you supply to UBM Information Ltd may be used for publication and also to provide you with information about our products or services in the form of direct marketing by email, telephone, fax or post. Information may also be made available to third parties. "UBM Information Ltd" may send updates about BD CPD and other relevant UBM products and services. By providing your email address you consent to being contacted by email by "UBM Information Ltd" or other third parties. If at any time you no longer wish to receive anything from UBM Information Ltd or to have your data made available to third parties, please write to the Data Protection Coordinator, UBM Information Ltd, FREEPOST LON 15637, Tonbridge, TN9 1BR, Freephone 0800 279 0357 or email ubmidpa@ubm.com.