Beast from the East partly to blame for fourth successive dip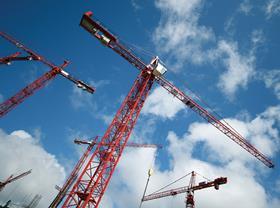 Construction output fell again in the three months to February thanks to a significant dip in repair and maintenance work, according to the latest Office for National Statistics figures.
The industry-wide output fall of 0.8% in the three months to February was largely driven by a collapse in the repair and maintenance sector, where output fell by 2.6%.
The ONS said the big decline in repair work was partially offset by growth in both infrastructure and housebuilding.
But while infrastructure output grew across the three-month period, it fell away significantly in the month-on-month series, with infrastructure new work contracting by 9.4% in February.
Construction output as a whole decreased in the month-on-month series, shrinking by 1.6%.
The ONS said the icy weather brought by the "Beast from the East" would have influenced February output, but said the degree to which it was a factor could not be measured.
Mark Robinson, chief executive of Scape Group, said the contraction in total new work and repair and maintenance was troubling, while the need for the country's infrastructure and services to be upgraded should not be underestimated.
"With only 12 months remaining in our Brexit negotiations, it is vital that the UK's assets and infrastructure are fit for purpose, attract inward investment and create a strong independent economy," he said.
Robinson said it was also important to reverse the decline in new work, "especially for the public sector where demand for services is only going to increase".
And Blane Perrotton, managing director of property consultancy and surveyors Naismiths, said only so much of February's slowdown could be explained away by the icy weather.
"Despite the modest upward revision to January's figures, the message from the first two months of the year is clear – activity is slowing and the brief burst of momentum seen at the end of 2017 is now all but forgotten."