Elephant & Castle developer appeals to supporters to speak up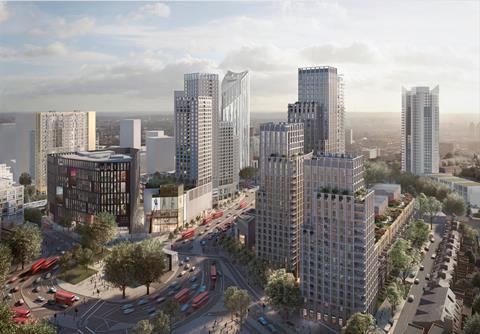 The developer behind Allies & Morrison's massive redevelopment plans for Elephant & Castle has stood squarely behind its architect after councillors voted against it.
Delancey confirmed it was "not considering a change of architect" and was still hopeful that the scheme would ultimately win consent, but did not comment on whether it would send Allies & Morrison back to the drawing board.
The developer also appealed for supporters to make their voices heard.
The plans, which include knocking down the ageing shopping centre, which is a hub for the Latin American community, and building a 34-storey tower, 1,000 homes and a new campus for the London College of Communications, were rejected by Southwark's planning committee at the end of a meeting that lasted until nearly 2am.
Protestors, angry about the way small traders and existing residents are being treated, turned up at the council's offices to object at the start of the meeting some seven hours earlier. The SE1 website reported that the scheme's "affordable" housing included a proportion "for people earning £60k-£90k".
#ThrowbackThursday to Elephant and Castle, 1960. Architect Paul Boissevain and his wife Barbara Osmond won the competition to build Elephant and Castle shopping centre which went on to open in 1965. Here he is the with the original architectural model #SE1 pic.twitter.com/JuB9d7ZzrW

— Southwark Playhouse (@swkplay) January 17, 2018
The committee voted four-to-three against the planning application but didn't throw it out entirely. Their reasons included the shortage of social rented housing and inadequate protection for existing traders. But because they did not formalise detailed reasons they will meet again on January 30 when the vote will be taken again.
"The final resolution is also dependent on, for example, any extra conditions that could be placed on the application, or any amends the applicant might offer to make before the final vote," said Southwark council.
Delancey said they were "proud" of their "ambitious and innovative" proposals and would not be looking for a new architect.
In a lengthy statement it said: "The motion proposed and recommended by officers was to approve these plans. We are disappointed that the committee, by a narrow margin, rejected this motion and recommendation. However, the committee were unable to formulate grounds for this refusal and in the absence of these, voted to defer to the planning committee on 30 January. As such, the planning application has not been refused at this stage.
"This is particularly disappointing as the proposals reflect four years of dedicated work. We have consulted widely and over 90% of people who took their valuable time to engage with us were in favour of the proposals.
"The proposals include desperately needed new transport, retention of London College of Communication at Elephant & Castle, 1,000 new homes where none currently exist, with 35% of these subsidised to an average of 50% of market rents. These homes will respond to the needs of many working Londoners with household incomes that currently makes Zone 1 housing unaffordable. Of course there is a wider issue around social housing. But Elephant & Castle town centre cannot answer all of these issues alone and remain financially viable at the same time, as concluded by the Council's own independent expert.
"We will continue in our campaign to retain London College of Communication, UAL and a new Northern Line Entrance and Ticket Hall at The Elephant. In the meantime we would encourage any supporters of our plans, those 917 consultees who registered their support, to make their voices heard. If we as supporters fail, a huge opportunity sought and actively planned for over the past 25 years, might be lost."
Mark Williams, Southwark's cabinet member for regeneration and new homes, said the council understood and shared local people's strong feelings about affordable housing and business space and respected the committee's decision.
"We remain committed to finding a solution for a new shopping centre and home for UAL's London College of Communication that works for everyone," he added.
The wider Elephant & Castle area is undergoing a wider £3bn regeneration that is being masterminded by Lendlease. Architects working on the scheme include AHMM, dRMM and Squire & Partners.