Football club blames 'unfavourable investment climate' for giving project red card out of the blue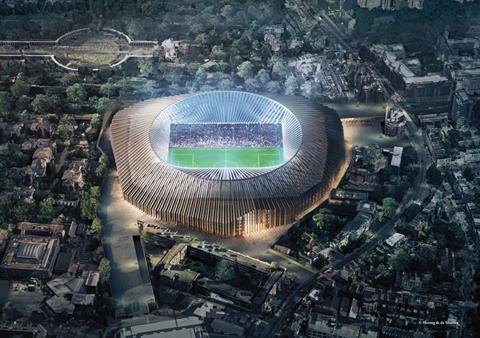 Chelsea Football Club has scrapped plans to build its new Herzog & de Meuron-designed Stamford Bridge stadium, citing an "unfavourable investment climate".
The planned £500m stadium, said to be inspired by gothic cathedral architecture, has been in the pipeline for years and had fended off various legal challenges.
Plans were formally unveiled in December 2015 to increase capacity of the ground from its current 41,600 to 60,000, putting it on a par with Arsenal's ground.
The Premier League club said in a statement that it had put its new stadium project on hold. "No further pre-construction design and planning work will occur," it added.
Chelsea said it did not know when it might reconsider its decision, which it said was made "due to the current unfavourable investment climate".
The announcement comes days after club owner Roman Abramovich became an Israeli citizen, a month after the UK delayed renewing his visa for this country. Twitter users immediately linked the two although Abramovich himself remained tight-lipped.
The new stadium was meant to be completed in time for the 2021/22 season, with planning approval secured from Hammersmith & Fulham council in January.
The project was to have included piling and diversion works and would have seen decking platforms built over the District line to the north west of the stadium and a mainline railway used by Southern trains to the east. Lifschutz Davidson Sandilands was involved at the early stages of masterplanning and did some work on the public realm but the stadium design is the Swiss practice's.
Herzog & de Meuron declined to comment.