'I'm not that stupid,' says Prince of Wales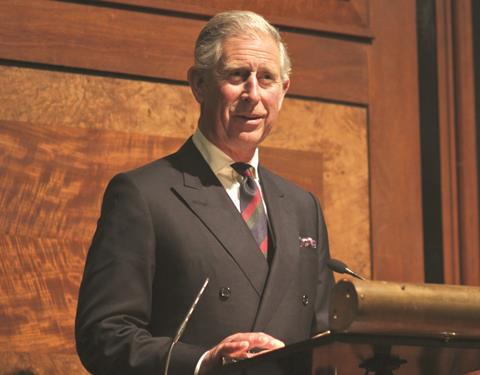 Prince Charles has said he would stop meddling in fields like architecture and politics if he becomes king.
The heir to the throne told a TV documentary to mark his 70th birthday: "I'm not that stupid."
But he defended his record as an activist on subjects close to his heart.
In Prince, Son and Heir: Charles at 70, which is due to air at 9pm tonight on BBC1, he will say it was "nonsense" to think he would carry on campaigning.
He said there was room for only one monarch at a time and said his role would change if and when he succeeded his mother.
But he added: "If it's meddling to worry about the inner cities, as I did 40 years ago, then – if that's meddling – I'm proud of it."
Charles is well known for his strong views and interventions on many subjects from farming to medicine. He has long been a divisive figure in architecture.
In the infamous "carbuncle" speech at the RIBA's 150th anniversary celebration in 1984 he dealt a fatal blow to ABK's winning proposal for the National Gallery extension.
He also told a City of London dinner at the Mansion House a few years later: "You have to give this much to the Luftwaffe, when it knocked down our buildings, it did not replace them with anything more offensive than rubble."
More recently Richard Rogers blamed the prince for getting Rogers Stirk Harbour & Partners removed from Chelsea Barracks by having a quiet word with his counterparts in the Qatari royal family, following lobbying from Belgravia residents.