Practice beat Hopkins and AOC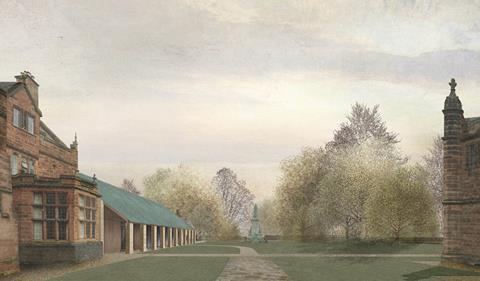 Caruso St John has won the competition to design a new building to sit alongside the grade I-listed Gladstone's Library in north Wales.
The practice beat Hopkins, AOC and Simpson & Brown to win the RIBA competition.
The competition sought to find an architect to design a new building to expand the work of the UK's only prime ministerial library, as well as re-developing the original 19th-century residential library.
The management of the library described the winning design as "deceptively simple and effective". It managed to combine openness and seriousness.
It uses local and recyclable materials and will have a low environmental impact.
Charlie Gladstone, president of Gladstone's Library, said they had always wanted to work with a "really good architect".
He added: "Our aim was to further enhance the library by creating a building of true beauty and national importance. And so we're thrilled to be working with a globally recognised firm with a phenomenal track record. Gladstone's Library is widely regarded as one of the world's most important centres of liberal thought and our extension will help to further our reputation and reach."
Michael White, chair of the trustees, said Caruso St John's words revealed an understanding of the precious quality of the library and its "unique offering of books, beds and conversation".
He added: "Modesty and appropriateness are important terms in their lexicon, as they are keen to produce a 'new hall' which achieves a strong presence without challenging or overwhelming our original gothic building.
"With its massive walls and long low profile, the new building has something of the monastic about it, referencing a long tradition of hospitality and reflection which we maintain at the library. In the new hall we can offer readers and visitors charming spaces in which to enjoy lively exhibitions, good food and engaging courses and lectures."
Peter Caruso said his practice's design for a New Hall would have a strong character of its own while respecting its context.