Bid to get 1930s market hall listed as entire town-centre block faces demolition
Campaign group the 20th Century Society has condemned plans to regenerate part of a south London town centre that will lead to the demolition of a 1930s market hall to make way for 742 new homes and new shops.
Panter Hudspith Architects and Glenn Howells Architects' plans for the "Spray Street Quarter" in Woolwich would deliver the new homes as well as 6,000sq m of retail space, 3,500sq m of leisure space – including a new cinema – and a new nursery on a 2.3ha site opposite the Royal Arsenal.
But the scheme, which features six buildings of up to 21 storeys, would require the demolition of Woolwich Covered Market which was built in 1936, along with all other buildings on site. They include locally listed Victorian and Edwardian shops and an inter-war neo-Georgian employment exchange.
The 20th Century Society said this week that it was formally opposing the development, created for developer St Modwen and affordable housing provider Notting Hill Housing, and called on Historic England to list the market building, which is currently in use as a pop-up street-food market.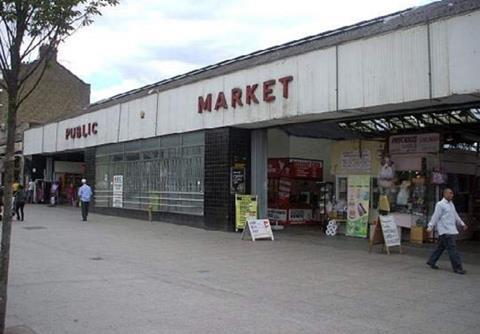 It said the market's roof was a "lamella" system patented in Germany in the 1920s and could be the UK's earliest surviving example – and a rare case of such a roof being used in a commercial building rather than a military structure. Lamella roofs are usually formed of steel or timber struts that generate very strong spans but don't require internal supports.
Senior conservation adviser Tess Pinto said that mooted proposals to incorporate salvaged parts of the roof into Spray Street Quarter – one suggestion involves using up to two-thirds of it to cover a public square – failed to recognise the building's significance.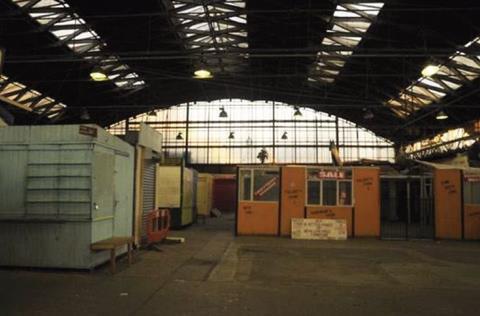 "Re-using bits of the structure seems like a token gesture – and doesn't conserve a key part of what is important about the market roof, which is its use as a big, uninterrupted space for people to gather in," she said.
"Our primary concern is the loss of the historic market place and the rare form of construction it exemplifies, but this scheme proposes to sweep away an entire city block of buildings which have grown up organically over the last 150 years, in a part of London that has already been transformed almost beyond recognition in the last few years."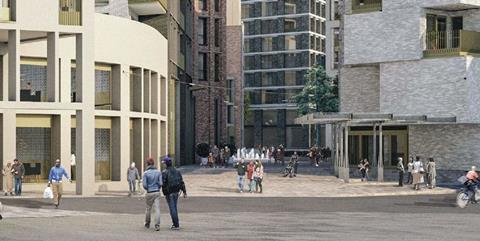 Supporting documents for the scheme, lodged with Greenwich in January, say architect Panter Hudspith had explored ways to keep some of the locally listed buildings in the scheme – including a run of shops in New Woolwich Road and the employment exchange. However it said that the measures would compromise the overall scheme and reduce the number of homes.
Instead, the scheme features new build structures of similar proportions to the existing shops facing the street in Plumstead Road and New Woolwich Road, with the scheme's taller elements stepped back.
Panter Hudspith is lead architect for the scheme and designed the four buildings in phase one. Glenn Howells is the phase two architect, responsible for the two buildings at the site's eastern extremity. HTA is landscape architect for the scheme.
Greenwich has yet to set a determination date for the proposals.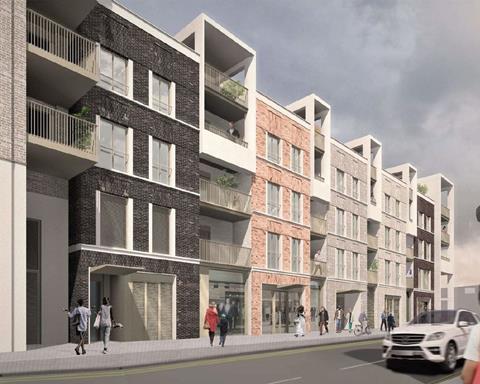 A spokesperson for Spray Street Quarter said: "We understand that an application has been made to Historic England to consider adding the Plumstead Road Covered Market building to its List of Buildings of Special Architectural or Historic Interest. The building is not listed on the Royal Borough of Greenwich's 'local list' of Buildings of Local Architectural or Historic Interest.
"Historic England is now beginning its assessment of whether the building should be added to its list.
"Spray Street Quarter LLP will continue to work with all stakeholders, including the council, Historic England and the Woolwich community to deliver new homes, including much needed affordable housing, as well as cultural and leisure facilities within a well-designed development that will provide wide-ranging benefits to local people."