A giant Antony Gormley sculpture of a crouching man and a huge warehouse for M&S are among the diverse winners of this year's Structural Steel Design Awards, given for excellence in structural and architectural use of steel.
Eleven successful projects, chosen from 18 shortlisted entries, were announced earlier this month at a SSDA presentation in London's Kings Place.
Four won top awards: Gormley's Exposure sculpture in Lelystad, the Netherlands; Foggo Associates' Cannon Place office development in the City of London; the American Express Community Stadium in Brighton designed by KSS Group; and the M&S warehouse on ProLogis Park in Bradford, designed by Stephen George & Partners.
Five more won commendations: the St Botolph Building and ExCeL Phase 2 in London, the River Suir Bridge in Waterford, Ireland, the Rose Bowl cricket ground in Southampton and the Hauser Forum in Cambridge.
Two were awarded merits: Gerry Judah's Goodwood Festival of Speed sculpture and the New Cross Gate flyover for the East London Line.
"These are extremely good projects. The quality that has been achieved is remarkable and particularly praiseworthy in such a tough year for the whole industry," says David Lazenby, chairman of the jury.
"The can-do attitude has been superb on these projects. People have gone out of their way beyond the call of duty to get the work done well."
Gormley's Exposure is the first skeletal sculpture to win a top SSDA prize.
"It makes something very beautiful and thought-provoking out of something very simple and lightweight," says judge Bill Taylor, who with Oliver Tyler represented the RIBA on the judging panel.
The awards scheme, launched in 1969, is administered by The British Constructional Steelwork Association (BCSA) and Tata Steel.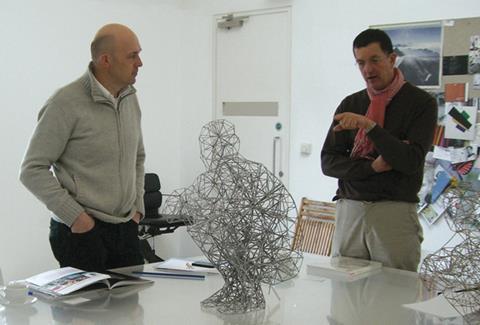 2011 JUDGING PANEL
Chairman David Lazenby, CBE representing the Institution of Civil Engineers
Gerry Hayter representing the Highways Agency
Joe Locke representing the Steelwork Contracting Industry
Martin Manning, Arup Fellow, representing the Institution of Structural Engineers
Bill Taylor, architect, representing the RIBA
Oliver Tyler, director of Wilkinson Eyre, representing the RIBA
HOW TO ENTER NEXT YEAR'S AWARDS
Entry is open for next year's Structural Steel Design Awards. Projects must be steel-based structures and can be situated either in the UK or overseas provided they have been built by UK or Republic of Ireland steelwork contractors using steel predominantly sourced from Tata Steel.
They must have been completed and be ready for occupation or use during the calendar years 2010-2011. Previous entries are not eligible. Projects can be submitted by anyone in the project team. The deadline for entries is 2 December 2011.
For Details and entry form go to www.steelconstruction.org