Jane Durham was one of the most influential women in 20th century British architecture, but despite being a founding partner her name was omitted from Chapman Taylor, writes Elizabeth Darling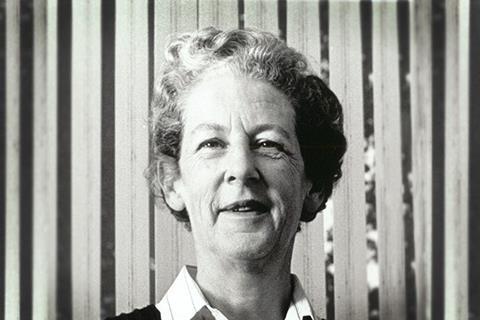 Jane Durham's name may not be a familiar one, but the practice of which she was a founding partner, and the many buildings it has designed, will be: Chapman Taylor Partners. It was in 1959 that she, Robert Chapman and John Taylor began the firm, their office at the top of the Grand Buildings (the former Grand Hotel), Trafalgar Square, with drawing boards crammed into the small space of a turret room reached by a spiral staircase.
Durham later regretted her absence from the practice's name and, had she had her time again, she later recalled, she would have put up a stronger argument against her partners' reasons for excluding her. These included a desire not to have a practice title with an unwieldy list of names, a belief that they wouldn't last more than a year and the assumption that she would soon leave to marry and have children.
Unconvincing reasons then as now, her lack of visibility in the practice name serves as an index of the curious paradox of women's presence in architectural culture: central to making it function, but not always being recognised for it. There, but not there.
Feminist architectural historians, including myself, have long explored the many ways in which women have shaped the built environment in roles as diverse as designers, writers, critics or users (to name but a few). But Jane Durham was a new name to me when I was commissioned by the Oxford Dictionary of National Biography (ODNB) to write about her as one of the entries for those who had died, like her, in 2019.
Researching her work and life opened a window into a somewhat overlooked part of the more recent architectural past. We are more familiar with the social architecture of the Welfare State and the architects associated with the design of housing estates and public buildings. But an equally important part of Britain's post-war development was the building of a new commercial infrastructure.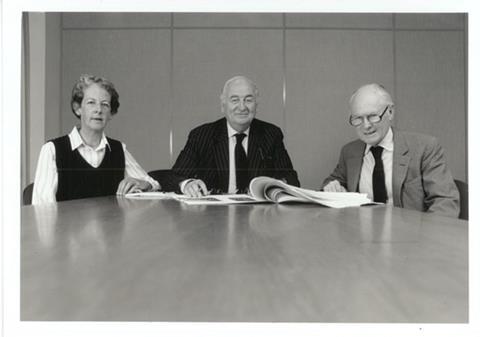 Alongside Gollins Melvin and Ward, and R.Siefert and Partners, Chapman Taylor Partners were at forefront of those who re-designed Britain's town and city centres from the 1950s onwards. Such large practices – like the better-known architecture departments of post-war local authorities – were important employers of the emerging (and increasing) generations of women who trained as architects from the 1940s onwards. Durham among them.
Born in 1930, Jane Durham was encouraged by her mother to become an architect. After a year as a pupil in the office of Sir Aston Webb and Son she joined the Bartlett School of Architecture in 1949. In her application she wrote that in architectural design "flats and houses for people with moderate incomes interest me most."
One of three female students in her first year, Durham achieved her diploma in June 1954, and her Part 3 in the October and with that her membership of the RIBA. The same year, she joined the practice of Guy Morgan as an assistant architect.
It was at Morgan's office that she learnt the tools that underpinned her career in practice. His was a tightly-run office, which was heavily involved in redevelopment work in and around 1950s London.
This focused on the planning and design of office blocks and other commercial properties; large-scale and complex work which had to meet not just the needs of the clients, but the requirements of local authority and government urban planning schemes.
Among the practice's schemes were the now demolished Bowater House (completed 1959), which had to respond to the London County Council's scheme for new transport infrastructure around Hyde Park Corner and a widened Knightsbridge; the Royal Thames Yacht Club, and the rebuilding of the east side of Stanhope Gardens, South Kensington, a project on which Durham played a major part.
Durham met Robert Chapman and John Taylor while at Morgan's. Increasingly frustrated by his refusal to make them partners, the three convened in Durham's Belgravia flat one evening and made the decision to form their own practice. It was her money (inherited from her father who had died when she was a child) that facilitated this move, and makes her exlusion from the practice title even more astonishing.
Despite this, the three were an ideal team to form a practice. Taylor was well-connected and it was through his networks that a steady client base was built up. Chapman was adept at winning projects and managing them from start to finish. Durham brought considerable financial acumen to the table and made sure that, from the start, the firm's business was properly administered.
Taylor's connections brought the practice its first commissions. From Nigel Broakes (who went on to found Trafalgar House) came a project, which Durham ran, for eight small houses in Wimbledon, south-west London. From Patrick Davies ( 2nd Baron Broughshane) of Greencoat Properties, came commercial projects, many in the area around Victoria Street, central London.
The partners became particularly adept at working their way through planning regulations to make the maximum use of the site for their clients. This process was exemplified in the project that became New Scotland Yard (completed 1966), which made the practice's name.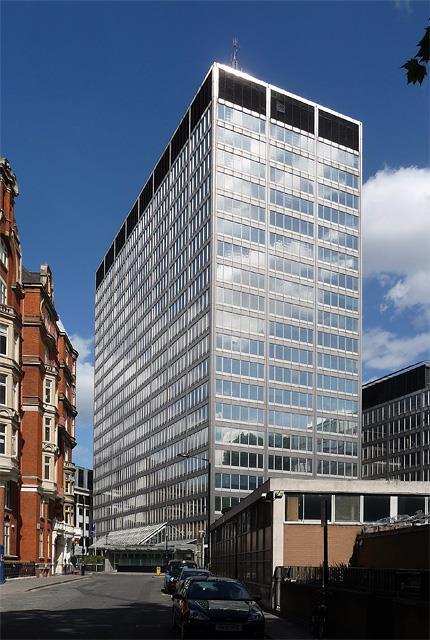 The awkward triangular site was at 10 Broadway, Victoria, and housed four inter-linked nineteenth-century office buildings. These had been bought by the developer, the Westminster Trust, who wanted a rectangular block with the maximum plot ratio and hence the maximum office space and profit.
The partners were able to successfully exploit a significant loophole (the so-called Third Schedule) in the 1947 Town and Country Planning Act, to achieve, quite legally, twice the plot ratio allowed by the London County Council, which was 3.5:1. Their design was for 400,000 sq ft of office space, a ratio of 7:1.
The final building, which was pre-let to the Metropolitan Police as its new headquarters, was an elegant exercise in a Miesian-influenced modernism. It was this ability to wrangle so effectively with planning regulations and permissions, combined with the design of high-quality architecture, that set the tone for the practice thenceforth.
Chapman Taylor established a blueprint of meticulous professionalism to ensure projects were high quality and delivered on time. Led by Durham, there was a Practice Manual from the start, which mapped how projects should be run from the moment they came into the office through to completion.
Projects were given to teams, led by a partner (whose number increased as the practice expanded) with weekly design reviews and technical reviews. Mapping the evolving nature of commercial architecture, the practice's work grew from office design to shopping centres, as well as the production of masterplans for clients that included the Grosvenor Estate, Cadogan Estate and the Crown Estate. It now works on a global scale.
She was known to have a good eye for detail and for being technically sound
Durham's business acumen was also evident in the central role she played in the establishment of the non-profit making mutual insurance association, WREN, in response to the extortionate rates being charged for professional indemnity by existing insurers.
However much she was involved in the business side of practice, Durham never lost sight of being a designer. She spoke of "the intense pleasure of designing buildings, the enormous thrill of getting them built"; no project left the office without her design approval.
She was known to have a good eye for detail and for being technically sound; an expertise reflected in her establishment of weekly technical reviews, and the fact that the partnership was an early adopter of computer-aided design.
Among the many projects on which she led, there were the urban renewal scheme in and around King Street, Floral Street and Rose Street, Covent Garden (for Sun Alliance, 1979-83) which entailed the rehabilitation and restoration of a large number of listed buildings, and High Cross, a substantial shopping centre in Leicester (1989).
Reflecting the interest in housing first mentioned in her application to the Bartlett, she also oversaw a scheme for the Kensington Housing Trust in Wheatstone Road, North Kensington (1980) and the Davey's Court scheme for the Peabody Trust at 33 Bedfordbury, Covent Garden (1982).
Jane Durham's entry in the ODNB joins what is now a substantial body of biographies on women involved in architectural culture. Many of these have been added as part of a deliberate policy of diversifying those remembered since the Dictionary went online in 2004.
Collectively they reinforce what Durham's career exemplifies, that women had and have a presence in making our built environment at all scales, in many different roles, and in the public and the private sector.
>> Also read: Two years after Patty Hopkins 'vanished', women are still being airbrushed out of architecture
Postscript
Elizabeth Darling is a reader in architectural history at Oxford Brookes University, with a particular interest in inter-war modernism, social housing, and gender. Her books include Re-forming Britain: Narratives of Modernity before Reconstruction, and an edited volume (with Lesley Whitworth), Women and the Making of Built Space in England, 1870-1950