The boss of the go-to sports and entertainment architect speaks to Dave Rogers about why business has never been better and what makes a good stadium.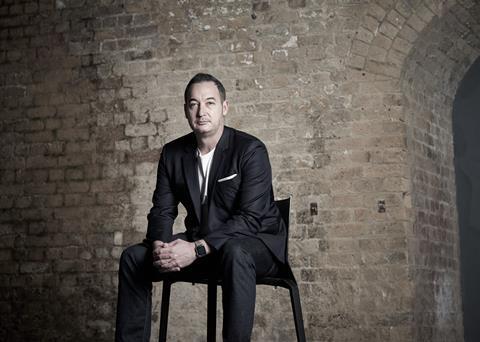 Chris Lee thinks for a moment and then says: "Look at the weather apps. I had one the other day which said it was going to rain, but I looked at it and it said 'sunny, sunny, sunny, one hour of rain, sunny, sunny, sunny, sunny'. On the English app, that's rain. Aussies have a slightly different attitude to life."
Born in Brisbane, the managing director of Populous's Europe and Middle East (EMEA) business has been in the UK for most of this millennium. His wife is English, he lives in London, he supports Arsenal and even goes easy on Australia's recent success in the Ashes.
But he misses the weather over there and finds the winters here – and their short, grey days – tough. "All my siblings are in Sydney and my parents still live in Brisbane, so I get back a lot which is nice."
He first arrived in the UK when he came to London to do his part I at Powell, Moya and Partners, an experience which was only supposed to last a year. "I love London, fell in love with it as a 20-year-old. I eked it out for two years before my dad told me to get back home."
He wanted to get back to London as soon as he could but was persuaded to stay in Australia by Rod Sheard – who designed the then McAlpine stadium in Huddersfield, before, later on, the Millennium stadium in Cardiff and Wembley stadium – to work on the main stadium venue for the Sydney Olympics in 2000.
It is no wonder, then, that Lee, now 51, who also sits on Populous's global board, is in charge of a business that for many is the go-to architect for a slew of new stadia and entertainment venues that have and are springing up in the UK and beyond.
Lee says the firm has been flat out this year and, since January, his division has taken on 100 extra staff. That brings numbers up to around the 290 mark, with the firm hoping to fill another 40 or 50 posts by the time 2023 is out. Most of its EMEA staff are based in the UK, with other offices including Paris and Milan.
Income from EMEA is expected to be around £40m – last year it was up 30% to nudge £30m – but Lee admits bringing in the right people has been a challenge for several years now.
"It's harder to get staff not being part of Europe," he says. "Brexit has had a huge impact on lots of bits of our business, from having to set up separate companies to operate in various jurisdictions, where we previously didn't have to, to access to staff.
"Brexit has cost us money, without a doubt. It's an identifiable figure. It has got better in the last 18 months but we don't have access to quality Spanish, French, Greek staff. There are just not as many around, so recruitment is a big issue for us."
Lee says 80% of its global workload, which is around £100m, is in the sport and entertainment sectors. For example, the firm's jobs in the UK include a new stand at Fulham's Craven Cottage ground, the Co-op Live Arena in Manchester – a 23,500 capacity venue being built by Bam that is due to open next spring – and work to expand the home of the recent Champions League winners Manchester City.

Overseas, it is also designing a new stadium for AS Roma and is working on several convention centres in the US, including Boston and Los Angeles, as well as upgrading ageing stadia in the Middle East, especially Saudi Arabia, a country that has launched a raid on several household names in football for its fledgling Saudi Pro League.
The marquee signing has been Cristiano Ronaldo and Lee says: "They're hellbent on making that the Premier League of the Middle East."
It was in the Premier League, though, that Lee cut his teeth and where Populous cemented its reputation and the key job was the Emirates stadium for Arsenal.
But before that there was the Millennium stadium in Cardiff, certainly for the construction industry one of its most notorious jobs given that losses on it helped send its builder, Laing Construction, into the arms of O'Rourke for £1.
Lee has an interesting take on how things went so wrong and why it was a benchmark job for stadia of the future.
Completed in 1999, just in time for the start of that year's rugby World Cup, he says: "It marked the end of the point where people saw stadiums as civils projects.
"They [Laing] rolled the team off the Severn bridge [the second crossing completed by Laing in 1996 ahead of work on the Millennium stadium starting the following year] and they had civils QSs on it who had no idea. They had the wrong team on it, they saw it as a civils project."
Lee loved his time on the Emirates. "The client was just so nice, it was a great team on it. It was one of these teams that just gelled. Ken Friar [former managing director] and [the late Arsenal director] Danny Fiszman were such gentlemen, incredibly lovely men."
He says the team is still in touch with each other and singles out main contractor Sir Robert McAlpine's construction director, Rolv Kristiansen, for special praise.
"You've got guys now who run construction sites and have never stepped foot on a site"
"He was a giant of a man, he was brilliant – the last of the old proper construction directors. He used to walk the site twice a day – at 9 in the morning and 3 in the afternoon. He intuitively knew if there were enough blockies on site.
"He didn't have a spreadsheet. You've got guys now who run construction sites and have never stepped foot on a site."
The Emirates was completed in 2006 and Lee remembers: "We had people saying at the time: '£220m? You're going to sink the club. Imagine spending a quarter of a billion on a stadium'."
He left the UK to help set up Populous's US office in New York before returning to work on the new stadium for Tottenham Hotspur.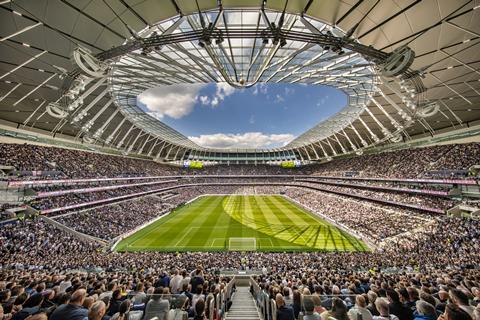 That project, he says, has become a calling card for Populous. "It has made some great openings, not just in the UK but globally. Someone told me recently that there have been some great stadium developments around the world, but Tottenham is the one that puts them together."
He puts much of this down to the club's chairman, Daniel Levy. "Daniel is incredibly driven, I've not met another person as driven. He wanted to create an amazing experience for fans.
"For so long, football fans have been treated as a captive audience and you are given a terrible experience. At Tottenham his thinking was that everyone should have an incredible experience. He was fixated on the American sporting experience.
"They're an impressive group, I must say – as an Arsenal fan," he winces. "It was non-stop for a long time."
Lee still hears from Levy and says the club is continually improving its stadium, which opened four years ago. It opened late and for a while it threatened to turn into a saga to rival that at Wembley a decade earlier.
It had an overall price tag of around £1bn, with construction costs swallowing up around £700m of that figure.
Mace built the scheme under a construction management deal and Lee says: "CM suited Daniel, he would have hated a fixed price design and build where he can't change anything because all the way through, even now, he still wants to improve it.
"People say there was a massive budget overspend. It was all planned, Daniel knew what he was doing, he knew exactly what he was spending. It wasn't out of control."
>>See also: Populous launches audiovisual and acoustics design agency
He says the Emirates has dated a bit. "We could revisit it," he adds. "The general admission is a bit tight. The turnstiles are old-school turnstiles. Some of the club levels have been changed, but very little in general admission."
The firm has just opened an office in Madrid and is looking at carrying out more work in Spain and Italy. Spain is eyeing a bid to host the football World Cup in 2030, after last hosting it in 1982.
Italy, too, is on its radar. There is the AS Roma job and it is working on a scheme to replace the San Siro in Milan. Local politics is holding that one up, Lee says diplomatically, but he adds: "Italy has fantastic clubs with huge fanbases, playing in infrastructure built for Italia 90 and which has not been touched since."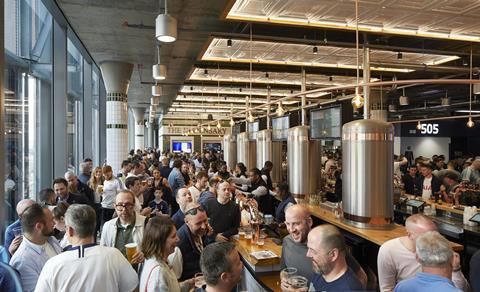 Given its reputation in sports and entertainment, does Populous not want to cash in and target other sectors? Not really, Lee bats back. "We want to keep our spread relatively tight."
Where it has branched out is into aviation and transport and the firm is working on Kansai International Airport at Osaka in Japan. "Lots of clients have been really interested in the way we've taken stadiums and reinvented them.
"With aviation, it's about process rather customer experience. Our view has been, 'why can't we think this in a different way?'."
This year will be the firm's busiest and Lee says it has not really felt the impact of inflation on the viability of its jobs. "The biggest issue is those schemes in progress of design.
"If you started a scheme two years ago with a different figure, it's either going back to value engineering, the client's budget increases or work is phased."
Clients, he adds, have by and large been prepared to accept what is going on. "They understand. A lot of our clients are one-offs but they are sensible and well-advised.
"No one gets shocked. We didn't have a job stopped during covid, which is incredible."
One final question: Which does he prefer, the Emirates or Tottenham's stadium? He has a think for a bit.
"I think as a piece of architecture Tottenham is a great building." 1-0 to the Tottenham, then.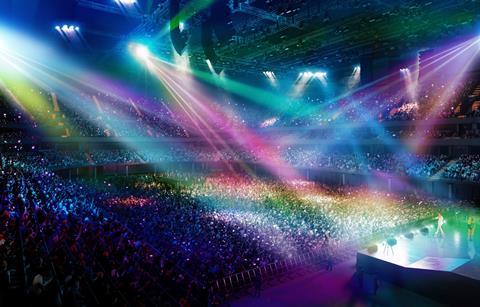 The popular Populous
Populous has 26 offices around the globe and three regional businesses – the Americas, EMEA and Asia Pacific. Its main base is in Kansas City and the firm employs around 965 people globally. Around 450 are employed in the US with 290 in the UK and a further 230 in Asia Pacific.
The firm had a global revenue of £100m last year and this is set to go up more in 2023, with turnover in the UK predicted to jump by around a third to £40m.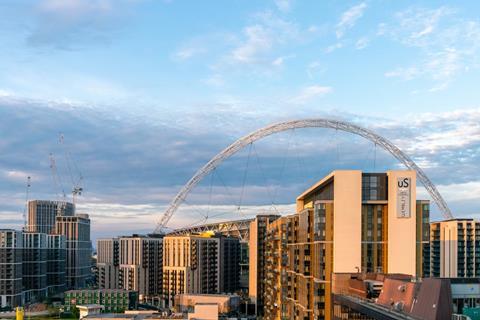 Populous was formed from a management buyout at the start of 2009, having emerged from HOK Sport and Australian firm LOBB, set up by Brisbane-born architect Rod Sheard. Those two firms merged in 1998 ahead of winning the job to redesign Wembley, with its signature arch designed by Foster + Partners, a year later.
Sheard, a founding partner of Populous, recently retired as chairman.
Swimming, brawls and Brisvegas
Growing up in Brisbane, Chris Lee was sufficiently proficient at swimming to merit a potential shot at gold medals in meets. "I was probably the third-fastest freestyle sprinter but I made a decision to go to architecture school instead of the Olympics."
Now he's a fan of open water swimming, heading to Shepperton in Surrey for a dip as well as competing in the annual Dart 10k, which starts in Totnes, south Devon. "It's a beautiful swim," he says.
He grew up watching rugby league, played mostly union but singles out watching the State of Origin rugby league games between Queensland and New South Wales in the 1980s. "It was a fantastic spectacle, there would be pitchside brawls."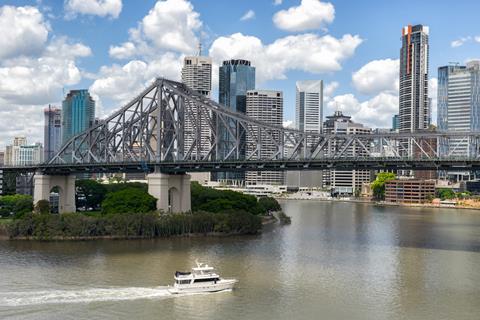 He missed the transformation of the late Australian sports icon Shane Warne from larrikin to Liz Hurley squeeze because he spent eight years in the US. "It was weird, he'd gone from a beer drinking lad to being preened and plucked by the time I came back."
Warne was from Melbourne and sometimes those in the south refer to Brisbane rather snootily as Brisvegas. "They're snobs down there," he laughs.
"When I grew up it was a country town, but it's a fantastic place. They've invested a lot in it. If I got to move back, it would be to Brisbane."