In a series celebrating BD's Architect of the Year Awards finalists, we look at the Social Value Award shortlist
Earlier this year BD announced all the architects who made it on to the shortlists for our prestigious annual Architect of the Year Awards.
Now we are shining the spotlight on each category in turn and publishing a selection of the images that impressed the judges.
This year's judges include: Jo Bacon, partner, Allies & Morrison; Murray Kerr, director, Denizen Works; Dav Bansal, partner, Howells; Kay Hughes, design director HS2; Peter Caplehorn, chief executive, Construction Products Association; Peter Fisher, director, Bennetts Associates; Anna Hollyman, Senior Sustainability Advisor, UK Green Building Council; Marta Galinanes Garcia, director, AKTII; Darryl Chen, partner, Hawkins\Brown; Lee Higson, director, Eric Parry Architects; Maria Joao Reis, senior associate, Maccreanor Lavington
Today's shortlist is for Social Value Award.
Curl La Tourelle Head Architecture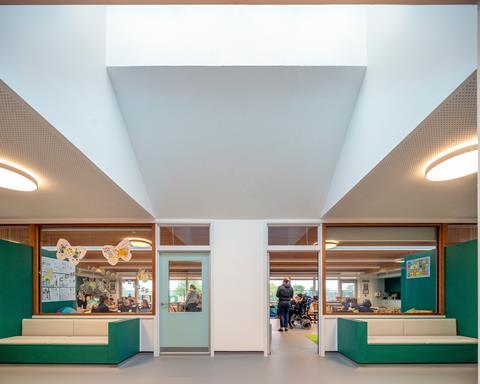 Four public sector projects demonstrate different aspects of social value. In Derbyshire, the £13.2million Alfreton Park Community Special School creates a secure and welcoming learning environment. In Sutton, energy-efficient social housing helps tackle fuel poverty while in Haringey, Hornsey Library has been upgraded to improve thermal performance and better meet contemporary needs. The entry is completed by proposed interventions to Herne Bay Central Bandstand.
Dallas Pierce Quintero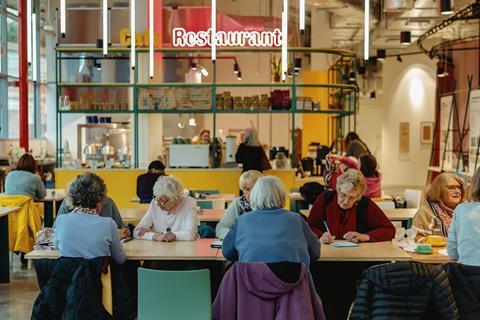 The entry includes two cultural projects in Enfield, north London. The temporary Culture Palace provided key community facilities including performance and exhibition space at the local shopping centre post-pandemic. This informed the practice's refurbishment of the Dugdale Arts Centre. In Dorset, the West Quay wayfinding trail in Poole and Lansdowne cultural strategy in Bournemouth both aimed to enhance the public realm.
Feilden Fowles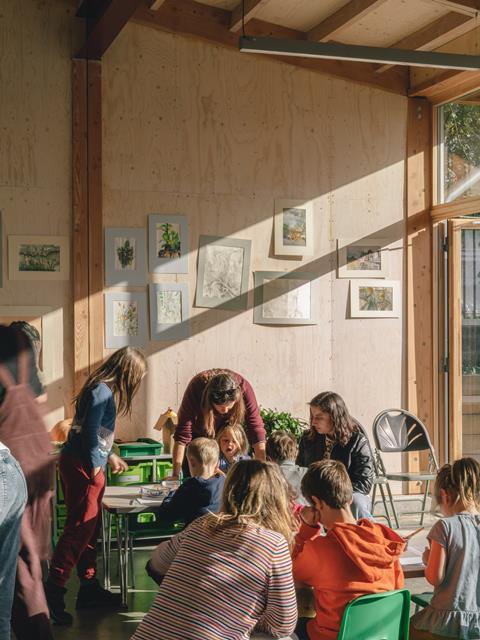 The practice's entry showcases its extensive outreach and engagement activities, its advocacy for social, environmental and economic sustainability, and how its own projects demonstrate social value. These include The Fratry at Carlisle Cathedral, which delivers an inclusive environment with new public amenities to support increased community activities. The proposed Urban Nature Project at the Natural History Museum will engage the public on biodiversity loss and climate instability.
Jan Kattein Architects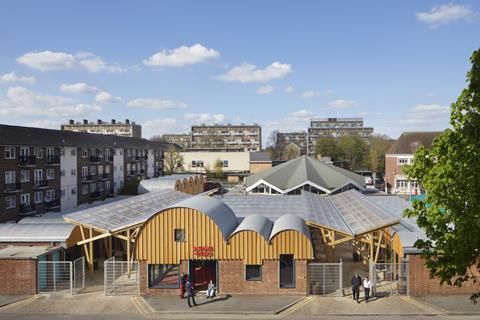 Three projects in Edmonton, north London, deliver various strands of social value. Living Room Library enables increased community activities in the town centre while Grove Street School Street helped encourage active travel to school. Angel Yard transforms a former garage site into workspaces for enterprise. In Canada Water in South London, a former industrial site is being turned into the Paper Garden educational building and ecology garden.
Mae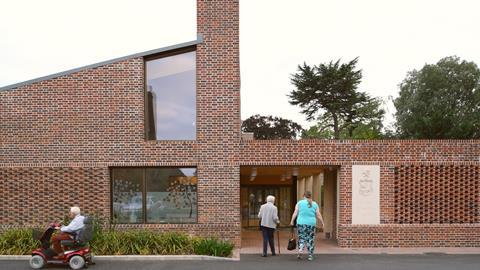 Mae's Stirling Prize-shortlisted John Morden Centre in Blackheath creates a new community heart at Morden College, which provides care services and accommodation for older people. Sands End Arts & Community Centre was designed to uplift the spirit in a deprived part of west London while in Camden, the Passivhaus Agar Grove project addresses fuel poverty by drastically cutting energy use.
Studio Weave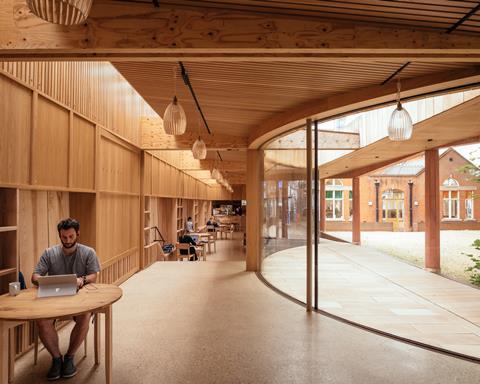 New indoor and outdoor spaces at Lea Bridge Library in east London has enabled increased activities and longer opening hours, with a fourfold rise in visitors. In south east London, the proposed Woolwich Pavilion will create a biodiverse and climate resilient market garden and pavilion in the town centre. Construction is expected to start next year on Grahame Park Community Hub in Barnet, conceived as a discovery centre for local regeneration.
We Made That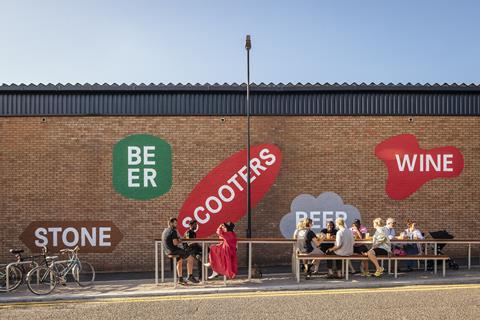 The B Corporation-certified practice works exclusively for the public sector and describes itself as committed to delivering public good. Its RE-SET-GO mentoring and paid workplace experience programme aims to help diversify those working in the built environment. Improvements to Lockwood Way Industrial Estate were co-designed with local businesses and supported local supply chains. In Folkestone, the practice led a successful funding bid for the creation of a more equitable town centre environment.
WGP Architects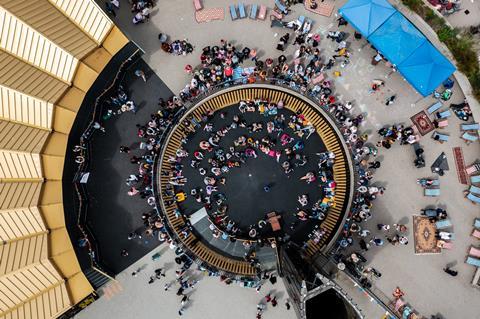 Three care homes are featured in WGP's entry, including two proposed projects specifically for those with dementia. A third completed project, Camberwell Lodge in London's Southwark, is a 96 bed care home designed to encourage social interaction. The entry also includes the NW2 theatre support building and associated Theatre Square, which includes a public performance area as part of a broader, mixed-use masterplan in Ipswich.
Postscript
The Architect of the Year Awards are on Tuesday 17th October 2023 at The Brewery, 52 Chiswell Street, London, EC1Y 4SA.
Book your place here.