Bjarke Ingels opens up on progress with masterplan to upgrade Washington DC museum camps
Work on BIG's $2 billion proposals to upgrade and expand core elements of the Smithsonian Institution in Washington DC is turning into "design by committee" the practice's founder has said.
Bjarke Ingels made the comments in the latest edition of the institution's magazine, which includes a profile of the work to date of the architect's practice as a backdrop to the Smithsonian's South Mall project.
In November 2014, BIG produced a 10 to 20-year masterplan to give the museum and research complex's buildings and gardens a revamp, adding new entrances and refurbishing the Smithsonian Castle – built in 1855 – along the south side of the National Mall.
The proposals included demolishing some buildings and digging up the gardens to insert earthquake-proof pad under the castle, as well as providing skylights for underground sections of the African Art Museum and Sackler Gallery.
According to the June edition of the Smithsonian Magazine, Ingels and the institution have been "chastened" by initial negative reaction to the proposals and are "backing away from the swaggering design, claiming that it was only ever meant to be a notional representation of some basic technical solutions".
It says BIG is painstakingly sifting through "hundreds of mutually contradictorary worries and recommendations" from stakeholders that include a "vast assortment of federal agencies, commissions and conservation groups".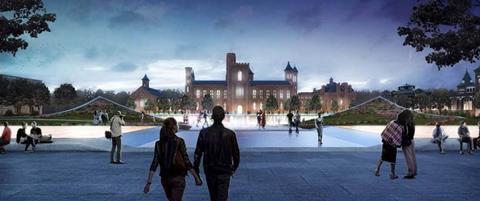 Ingels said: "Right now it seems as if it's heading right into the blades of design by committee but most projects are like that at some point."
The Smithsonian Magazine said BIG staff were "busy un-designing their big idea, repackaging sensationalistic visions into a more-neutral, broad-strokes plan" and that an enlarged and replanted garden would be added to the next proposal.
The magazine also quoted Smithsonian undersecretary for finance and administration and chief financial officer Albert Horvath, who said the organisation "overdid it with visual representations" and had presented "just one expression of how things could look" but was now seeking consensus on objectives.
The Smithsonian Institution is named after British scientist James Smithson, whose will funded its founding in 1846. It is the world's largest museum, education and research complex, boasting 19 museums and a zoo.
Last year, it pulled out of proposals to open an outpost at London's Olympic Park, as part of the Olympicopolis vision unveiled by then-mayor Boris Johnson in 2015.
The institution said it would instead collaborate with the Victoria & Albert Museum, which is taking part of an 18,000sq m museum being designed for the park by O'Donnell & Tuomey.
Other Olympicopolis occupiers include Sadler's Wells and the London College of Fashion. The project will also feature two residential towers of 30-40 storeys.
Overall design of the the cultural, educational and residential development is being led by Allies and Morrison.