Architect proposes 'uniquely Ghanaian' ceremonial landmark
Adjaye Associates' vision for a new National Cathedral of Ghana has been unveiled by the nation's president on the 61st anniversary of the country's independence from Britain.
The practice, founded by British-Ghanaian architect David Adjaye, was commissioned to design a "missing link" in Accra's architecture, which will sit in 5.6 hectares of newly landscaped gardens, and which will be a place where all faiths are encouraged to gather.
Its solution will house a series of chapels, a baptistry, a 5,000-seat two-level auditorium, a grand central hall, a music school and an art gallery. The cathedral will also be home to Africa's first Bible Museum and Documentation Centre.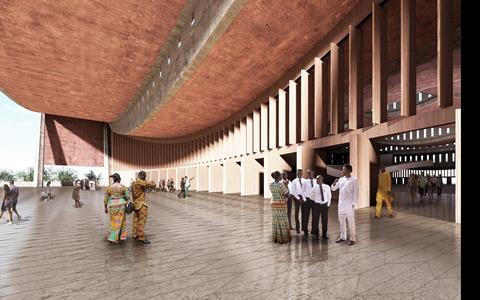 Adjaye said the practice's concept for the new national cathedral envisaged a unique, 21st-century landmark that drew inspiration from both Christian symbolism and Ghanaian heritage, and where religion, democracy and local tradition were "seamlessly and symbolically" intertwined.
"It is an immense honour to be granted the opportunity to contribute something of this scale and import to my home country," he said.
"I have sought to craft a building that not only understands its landscape but one that will be unique to Accra and the Ghanaian nation."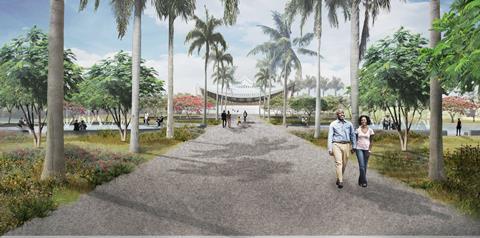 The cathedral proposals were unveiled by president Nana Addo Dankwa Akufo-Addo, who said they would sit alongside Ghana's prominent, celebratory landmarks of Independence Square, Osu Cemetery, the State House and Africa Unity Circle.
"The cathedral will address the missing link in our nation's architecture by providing a church of national purpose," he said.
"It will be an inter-denominational house of worship and prayer, as well as serve as the venue for formal state occasions of a religious nature, such as presidential inaugurations, state funerals and national thanksgiving services."
Adjaye Associates said it would commission some of the most celebrated and progressive Ghanaian and African artists who will collaborate with the practice to create the cathedral's religious adornment and furnishings.