Closing date for Architect of the Year submissions is February 2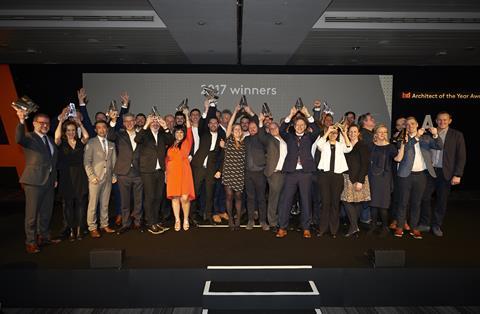 Building Design's annual Architect of the Year Awards (AYAs) 2018 has opened for entries.
The awards, which celebrate the best in architecture, include 15 categories for 2018 including the Schueco Gold Award for the best of the best from the winners of the other categories. Other categories include housing project of the year, public building of the year and young architect of the year. New for 2018 is the retail & leisure category which has been introduced to reflect the growth in centres that offer a mix of retail, sports, dining and other leisure activities.
The awards will be held on April 18 at the Park Plaza, Westminster Bridge in central London in a move from the Excel centre where the awards were hosted earlier this year.
Speaking about the awards, BD editor Thomas Lane said: "The BD AYAs are unique among architectural awards for celebrating a body of work and reward the most talented architects working in a wide variety of sectors from individual homes to major schemes.
"I am delighted to announce the AYAs are moving back to central London for 2018 to the Park Plaza, Westminster Bridge. I am looking forward to seeing the diverse range of skills and creativity the architectural sector has to offer; going through the award entries is always one the highlights of my year."
Closing date for entries is February 2 and to enter visit: awards.bdonline.co.uk
2018 BD Architect of the Year Awards categories
· Small Project Architect of the Year
· Individual House Architect of the Year
· Education Architect of the Year (nursery to 6th form)
· Education Architect of the Year (higher education)
· Housing Architect of the Year
· Interior Architect of the Year
· Masterplanning & Public Realm Architect of the Year
· Public Building Architect of the Year
· Infrastructure Architect of the Year
· Retail & Leisure Architect of the Year
· Sustainability Architect of the Year
· Office Architect of the Year
· Refurbishment Architect of the Year
· Young Architect of the Year Award