Drone specialist wants rooftop areas for vehicles that could eventually carry passengers
Architect Barr Gazetas has won a contract to identify London locations where passenger-carrying drones can take off and land.
The studio will work with start-up Skyports to look for rooftop locations where landing infrastructure, known as vertiports, can be installed.
Skyports is creating a network of vertiports across London to service densely packed areas of the city. The company has already bought the rights to 15 rooftops in London but is looking to acquire more places to install the launch pads.
Initially drones will carry packages – in particular medical supplies – for same-hour or same-day delivery. But the firm has said passenger-carrying vehicles will follow in the very near future.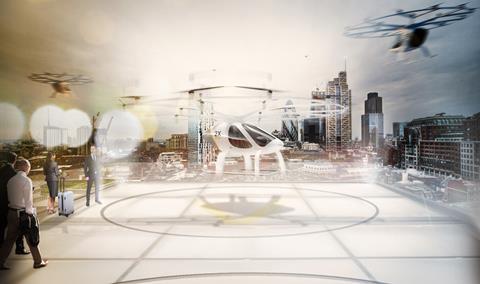 Barr Gazetas, which has worked on projects including at Camden Wharf and the Shanghai Dream Centre, will incorporate cargo and passenger vertiports into a variety of buildings and sites, from open spaces to West End blocks and suburban shopping centres.
Managing director Jon Eaglesham said: "Air taxis might feel like a futuristic invention but they will be filling our skies before we know it."
A report published by PwC in May suggested there could be 76,000 drones flying in UK airspace by 2030, with the industry worth £42bn to the UK's GDP.