Practice seeks planning for £20m conversion of RMC HQ
Ayre Chamberlain Gaunt has revealed its proposals for a £20m scheme to repurpose Ted Cullinan's grade II* former RMC headquarters in Surrey and neighbouring buildings as a retirement living complex.
The plans, drawn up for developer Eden Retirement Living, will restore Cullinan's 1990 office building, known as Cemex House, and the other 18th- and 19th-century buildings on the site. The refurbished buildings – and one new residential structure – will deliver 81 apartments.
Ayre Chamberlain Gaunt's proposals, which have the backing of both Cullinan Studio and the Twentieth Century Society, will maintain the recreational facilities from the original scheme – including the swimming pool, spa, squash courts, restaurants and dining areas.
The plans, which have now been submitted for approval to Runnymede District Council, also include the addition of a residents' lounge and library, staff accommodation, guest suites and two winter gardens.
Practice director David Ayre said the design team had been inspired by the way the campus' contrasting architectural styles interrelated.
"Our intention is for the new development to read as a new layer against the existing buildings and new elements of the proposed conversion to be considered to be like pieces of furniture or joinery inserted into the existing buildings," he said.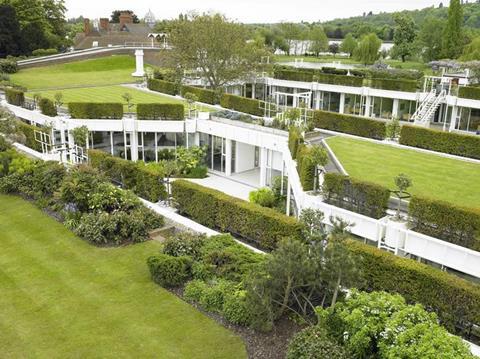 The new-build element of the scheme delivers 25 apartments arranged in three clusters at the east of the 7ha campus. Green roofs provide additional communal spaces, while private picture garden courtyards to the south offer views to the landscaped grounds.
Cemex House was earmarked for demolition in 2013 under a scheme that would have seen Barton Willmore deliver new housing on the site, but a high-profile campaign backed by Richard Rogers and Nicholas Grimshaw saw the structure achieve listed status.
Tess Pinto, senior senior conservation adviser at the C20 Society – which was a key player in the campaign – said the plans were exemplary conservation practice.
"This scheme is the combination of a forward thinking client and good architects with a real grasp of what's important about the building and who let the original design speak for itself," she said.
"It shows that listing can bring a sea-change in attitude, and can initiate sensitive and creative schemes that retain the most important parts of our modern heritage."
Located at Thorpe, next to the Thorpe Park theme park, Cemex House was designed around an 18th-century grade II-listed country house as well as a 19th-century stable block and half-timbered house.
The building has been lauded as an exemplar office complex. In its listing recommendation, Historic England said: "We have given particularly careful thought to this case which considers the structures and integrated landscape of Cullinan's ground-breaking scheme for commercial offices, and its response to its setting in the Green Belt." It added that it should be listed "for its high degree of special architectural and historic interest in a national context".
Ayre Chamberlain Gaunt said work on its plans could start on site as early as November, for completion in 2021, subject to obtaining planning consent.