YAYA winner's development has 72 homes in four 'lightweight pavilions'
Ayre Chamberlain Gaunt has submitted a planning application for a 72-home development in north London created to blend with nearby wildlife.
The practice, which is BD's 2017 young architect of the year (YAYA), designed the four-block scheme for estate-management firm Marson Property.
Earmarked for land off Plevna Crescent, in south Tottenham, the development will deliver a mix of home sizes ranging from studio flats to four-bedroom apartments in lightweight cedar shingle-clad pavilions, that "float" on top of a grounded stone plinth – in the form of ground-floor gabion walls.
"Over time the walls will be inhabited by local wildlife, bringing nature and ecology into the development," said the practice.
"Green roofs will also offer habitat for existing ecology."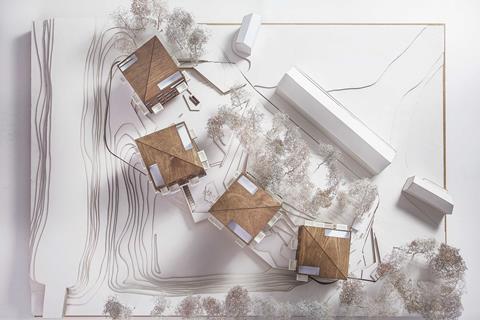 Ayre Chamberlain Gaunt said the development sought to embrace the existing landscape of the site, two sides of which are bounded by London Overground railway lines, and deliver a "pleasant woodland feel".
The practice said its proposals had deliberately chosen to orient the blocks' pitched roofs so that the highest points signalled entrances to the development, while the apartments themselves were designed to maximise dual-aspect views.
Marson said it expected to get Haringey council's decision on the scheme in the autumn.