Practice blames Brexit for UK gloom and predicts negative group revenue for 2018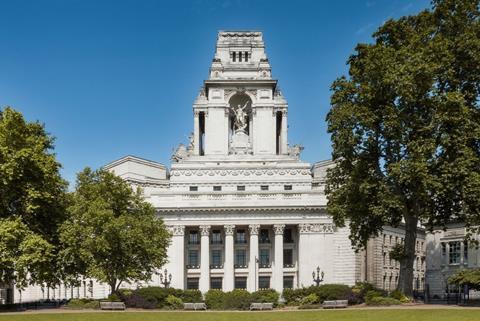 Aukett Swanke has reported a pre-tax loss for the year to September 30, following an 11.7% drop in group revenue, and warned of a likely lack of profits for 2018.
The practice, which ranked 43rd on BD's latest WA100, has 400 staff across its wholly-owned and joint-venture operations in the UK, Europe and the Middle East, said a 2016 pre-tax profit of £927,000 had turned into a pre-tax loss of £325,000 in 2017. Revenue was £18.40m, down from 2016's £20.84m.
Figures for the UK alone showed a 27% drop in revenue, down to £8.92m compared with the year before. The practice said that while its UK operation was completing a large number of projects in the current cycle, less progress had been made with "the conversion of new commissions" because of the "uncertainty" of the Brexit process and last year's snap general election.
It said the UK market was the only area of its operations that lacked "significant clarity", with the markets served by its Turkish and Russian operations believed to be at the "bottom of the cycle" and its German and Middle East operations expected to turn 2018 profits.
But it concluded that the whole group was "unlikely to be profitable in the 2018 financial year" because of the "exogenous economic and political issues" its markets faced.
Aukett Swanke chairman Anthony Simmonds said Brexit-related uncertainty in the UK – particularly in relation to commercial development – had "impacted adversely" on the whole group's performance.
"We believe it will take the UK more than one year to recover its previous profitability at reduced revenue levels," he said.
"An improvement in the company's UAE operations culminated in a major contract award for the development of a substantial retail mall in Dubai which was formally signed just after the year end.
"The financial benefits of these activities in the UAE should be seen over the next two years."
Simmonds said that while Aukett Swanke's joint venture and associate operations in Germany and the Czech Republic had turned profits in the year to September 30, they had not been enough to offset losses in Russia and Turkey, where turnover had "fallen sharply".
He added that he was "encouraged" that the "diversified and enlarged business footprint" established over the past few years "should provide financial rewards in the not-too-distant future".
The report said the practice's 2015 acquisition of Dubai-based John R Harris & Partners had been a success, with the original purchase price "recovered in net profit terms in under three years", but it said 2016's acquisition of Shankland Cox, which has bases in Dubai and Abu Dhabi had been "problematic".
Aukett Swanke said Shankland Cox's trading had fallen "far short of the pre-acquisition forecasts" and the group had needed to "absorb significant losses" as well as restructuring the management team.
Among the practice's UK highlights for the year was its Ten Trinity Square conversion of the grade II*-listed former Port of London Authority Building being named runner-up in the City of London Awards. The landmark is now a five-star hotel operated by the Four Seasons group.
It also listed a number of UK projects that are on hold – including "a series of commercial buildings in Birmingham; a large HQ building in Bristol; a number of mid-tech buildings requiring pre-lets; a residential scheme in Hemel Hempstead; and a building at Cambridge Science Park".