King's School Worcester to use SPACE building designed by Birmingham architect
Birmingham-based practice Associated Architects has secured planning permission for a sports and performing arts centre in Worcester.
The SPACE building at King's School Worcester will provide fitness facilities, dance and drama studios, classrooms and a sixth form centre.
Associated Architects said the design was intended to reflect the context of the site. The building will be built opposite the former Royal Worcester Porcelain works.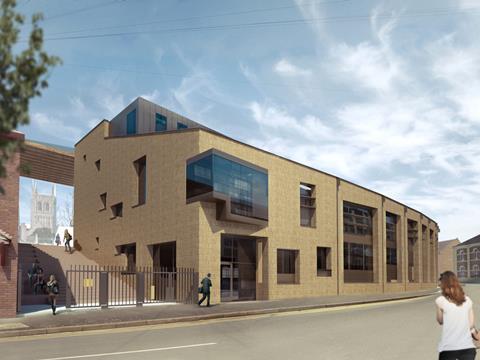 Bronze-coloured metalwork and art will be integrated into the facade in a reference to Bronze Age Worcester.
A flight of external steps creates a new route from the street into the school and frames a view of the nearby cathedral.
The building is being funded by the King's Foundation Development Trust and donations from supporters of the school.
Construction is due to start in February 2013.