Architect topped shortlist of five to land £8.5m redevelopment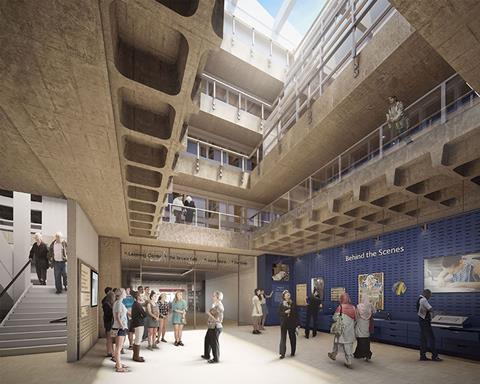 AOC has won a competition for the £8.5 million redevelopment of the National Archives at Kew.
The architect-led team beat a shortlist of five to land the job.
The project will involve a major overhaul of the 7,300sq m landmark brutalist building beside the Thames which was designed by the UK government's Property Services Agency and completed in 1976.
The scheme will see the creation of a new Hall of Archives providing better public access to the archive's collection which includes original copies of the Domesday Book, Magna Carta and Shakespeare's will and other priceless documents dating back more than 1,000 years.
A new flexible gallery space and improved public facilities are also part of the brief.
The practice was first appointed in 2015 to undertake a phased masterplan for the campus. It has since delivered the first two phases, including a revamp of the ground-floor restaurant and a new first-floor events space.
Caroline Ottaway-Searle, director of public engagement at the National Archives, said they had ambitions to double the number of visitors to Kew by creating distinctive and welcoming spaces for them to engage with Britain's history.
They wanted to challenge the way that people think about archives, she said.
She added: "AOC have an impressive track record delivering inspirational museum and archive projects, helping institutions to improve public engagement with their collections. We are delighted they are now our design partner and will be an essential member of our team as we turn our vision into reality."